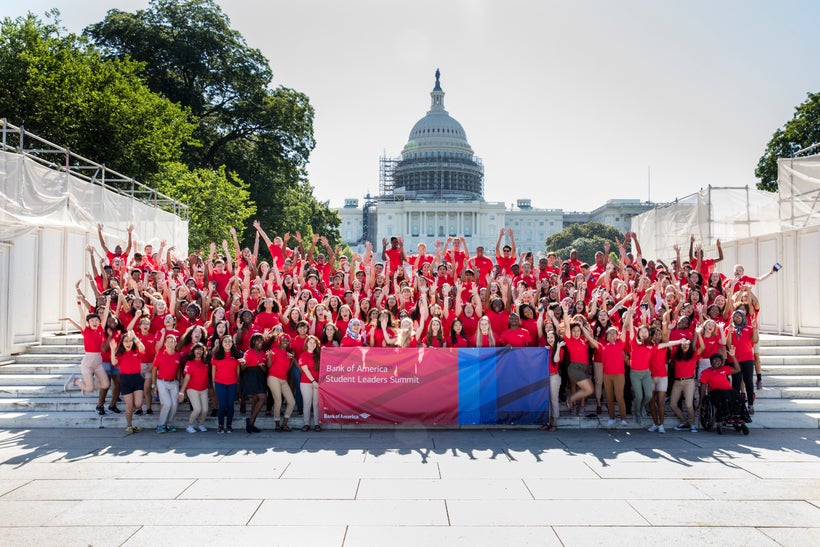 It's easy to reflect on the past decade and recognize the advances we've made as a society – from reducing the national unemployment rate to making inroads on the fight against HIV/AIDS globally. But our work is far from complete. With nearly 50 million people at risk of food insecurity, and unemployment disproportionately impacting youth and communities of color, there is still much to be done to overcome underlying challenges perpetuating poverty and inequality in our communities.
These challenges will not be solved overnight. In reality, those entering the workforce today will play a significant role in fostering more opportunities for youth, ending homelessness, and ultimately paving pathways to prosperity in communities where the need is greatest.  And the list of areas where we must make progress can seem overwhelming.
The good news? Young people are eager to step up to the plate and are committed to building a more inclusive society. In fact, research shows that, 84% of young people made a charitable donation and 70% spent at least one hour volunteering in 2014. Moreover, 88% of millennials list an employer's commitment to purpose as a leading reason for accepting a job. With the drive to make the world a better place and a unique set of online and digital skills, the potential of this generation is huge. But they can't do it alone. We must harness their appetite to make a difference, and give them the tools that will put them and our communities on a pathway to success.
The first step to unlocking this potential is connecting young people to employment, full stop. With more than 3 million people age 16-24 neither working or in school, we have a responsibility to help young people access the early employment opportunities that enable them to form connections and build skills, all while earning a paycheck and learning better money habits.
From there, it also requires listening to them, understanding how they see the challenges facing our communities, and the measures that need to be taken in order to overcome these challenges. It involves mentorship— helping young people to understand their passions and determine areas where they want to lead. And finally, it means connecting them to early experience that —at an individual  and community level—will lead to long-term stability and prosperity.  On an individual level, when young adults have an opportunity to earn a paycheck, they are able to gain skills in financial management and start saving for their future. And, by investing in their leadership skills and helping to guide them on how to advance change, we can help prepare them to lead the charge against issues impacting communities today.  And if individuals have the opportunity to flourish and grow, the community does too!  
For example, Michael Bervell is an alumnus of Bank of America's Student Leaders® program, an annual initiative that connects more than 200 high school juniors and seniors from around the country to a paid nonprofit internship and a week-long leadership summit in Washington D.C. As a Student Leader, Michael worked a paid internship at Housing Hope, a Seattle based nonprofit focused on helping homeless individuals obtain housing. Not only did Michael learn about housing challenges facing the Seattle community, but he was also able to save $4,000, which he used to pay for college. Now a student at Harvard University, Michael continues to seek opportunities to drive impact. He is currently CFO and Executive Director for Hugs for Ghana, a nonprofit focused on delivering materials and money to underprivileged children in Ghana.
Michael represents a generation of many who are eager to make a difference, and the future success of our communities and economies hinges on their ability to achieve their goals. For this reason, Bank of America is investing more than $40 million over the next three years to support 100,000 young people through early employment, education and job training that will put them on a path to future success. In this powerful video of Student Leaders, we see that young people have a very clear view of the challenges we face and the change they want to create. By connecting youth to mentorship and skills-building opportunities, we can lay a foundation for this purpose-driven generation to realize their vision and drive the long-term success of our communities and sustainable development of our economy overall.
Kerry Sullivan (@KerryHSullivan) is President of the Bank of America Charitable Foundation. Now in its 12th year, the bank's Student Leaders Program has connected nearly 2,500 community-minded high school juniors and seniors to paid internships at nonprofit organizations around the country, giving them the opportunity to learn about how nonprofits address challenges in their communities, and skills-building through a national leadership summit. Student Leaders is an example of the bank's $40 million investment to help young people succeed.
REAL LIFE. REAL NEWS. REAL VOICES.
Help us tell more of the stories that matter from voices that too often remain unheard.
This post was published on the now-closed HuffPost Contributor platform. Contributors control their own work and posted freely to our site. If you need to flag this entry as abusive,
send us an email
.