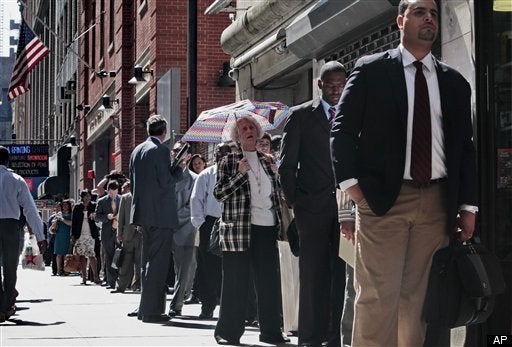 Jim Sullivan lost his job as a manager at a wholesale distributor in June 2009, but he kept his health insurance thanks to the stimulus bill, which lowered his monthly premium from $638 to $223.
"If I didn't have this insurance I'd be screwed," said Sullivan, who is 52 and lives in Lansdale, Pa. He said he suffers thyroid disease and has had two hernia operations since his layoff, and that as far as he could tell his condition would make the individual insurance market ridiculously expensive. "When you're only making $2,300 a month on unemployment and the mortgage and rent is over $1,000, and you got a car payment and other bills, it's probably one of the things you forgo."
Unfortunately for anyone laid off after May 31, deficit-weary House Democrats decided to forgo reauthorizing the 65 percent subsidy for COBRA, the federal program that allows laid off workers like Sullivan to continue their former employer's health insurance for 18 months.
Without the subsidy, COBRA is prohibitively expensive in most cases. According to a new report from Families USA, unemployed workers who choose to buy health insurance via COBRA have to hand over 84.3 percent of their monthly unemployment benefit, on average.
"The elimination of COBRA subsidies means that people losing their jobs will also lose their health care coverage," said Families USA director Ron Pollack in a statement. "Such a loss of health coverage flies in the face of the recently enacted health reform legislation that is intended to expand health coverage to tens of millions of people."
The Treasury Department reported in May that 15 percent of people receiving unemployment benefits are taking advantage of the subsidy. That's roughly 1.5 million people (67 percent of the 15 million unemployed receive benefits).
"[T]he subsidy appears to have been especially important for maintaining health insurance coverage for middle-class families during the recession," said Treasury's report, which noted that families earning between $30,000 and $134,000 accounted for most of the people using the subsidy. "Indeed, the availability of the program may have significantly slowed the growth of the uninsured population, which had been skyrocketing through February 2009."
Conservative Democrats in the House, by pushing for the removal of the COBRA subsidies from a "tax extenders" bill to reauthorize several other expiring domestic aid programs, shaved less than $8 billion from the bill's original $123 billion impact on a federal budget deficit expected to reach $1.5 trillion or so this year. The Senate will take up the legislation on Monday night. House Speaker Nancy Pelosi (D-Calif.) said she planned to revisit the COBRA and Medicaid funding provisions soon.
"It's obscene," said Rep. Dave Obey (D-Wisc.) of the COBRA cut, which happened as the House approved the bill at the last minute before its Memorial Day recess. The Senate adjourned before the House even finished the bill; several programs, including subsidies for doctors who take Medicare patients and extended unemployment benefits, lapsed during the break along with the COBRA subsidies.
"It is essential that the Senate put the COBRA subsidy back into the bill it will be considering this week," said Judy Conti, a lobbyist for the National Employment Law Project. "Without this subsidy, it is unlikely that many unemployed workers and their families could continue their health insurance as COBRA premiums for a family can easily exceed the sum of monthly unemployment checks.
"Equally important is the symbolic value of fighting for the COBRA subsidy -- last week's jobs report shows us that now is NOT the time to start cutting back our support of those who are unemployed through no fault of their own," Conti said. "If we allow COBRA to slip this time, who knows what could be next."
Democrats also jettisoned $24 billion to help states with Medicaid costs.
"As a result, states across the country are likely to exacerbate the Medicaid cuts already planned," says Families USA. "The additional state cuts are likely to include cuts to Medicaid benefits, increases in the out-of-pocket health costs that low-income families must bear, and lower payments to health providers, thereby making needed care unaffordable and/or unavailable."
The rebellion among conservative Democrats signaled that Congress is shifting from fighting the jobs crisis to worrying about the deficit, even though the unemployment rate is higher now than when the expiring programs were created.
REAL LIFE. REAL NEWS. REAL VOICES.
Help us tell more of the stories that matter from voices that too often remain unheard.