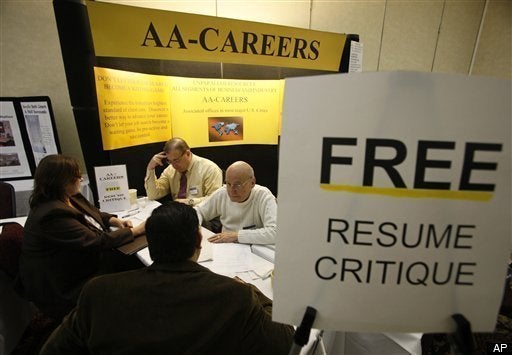 In recent months, as the unemployment rate has unexpectedly climbed, experts have put the blame on a lean job market, asserting that employers still spooked by the Great Recession have proven reluctant to hire. But a disturbing new trend appears to be emerging, one that may portend even deeper, longer-lasting problems for the American economy: Layoffs are again on the rise.
Though economists stress that it remains too early to assert this with certainty, recently released government data suggest that layoffs exceeding weak hiring was the primary cause for rising unemployment in May and June.
New weekly unemployment claims have topped 400,000 a week for more than three months -- the level generally considered the dividing line between an improving labor market and a stagnant one. The most recent government snapshot of the job market found that, in June, the number of people officially unemployed for less than five weeks climbed above 3 million, from 2.6 million in May.

The last two months have shown a significant jump in layoffs, according to Challenger, Gray & Christmas, an outplacement consultancy group in Chicago. The firm cites declines in government spending and concerns among employers that the economy is not growing enough to justify their current payrolls as drivers of the trend.
"It's really simple," said John Challenger, the company's chief executive officer. "It's demand. It's orders. I think employers are very cautious right now. Most business people are just looking at their sales prospects. What revenue is in? What are my sales people telling me is coming? How many people do I really need to maintain profitability?"

A recent analysis of Labor Department data by Goldman Sachs concluded that, in May, "the downshift in employment growth was primarily caused by an increase in layoffs."
For an American economy still struggling to recover from the worst economic downturn since the Depression, a sustained return of layoffs would be both an indication and a cause of fresh trouble: Businesses have apparently yet to gain sufficient confidence in improving sales prospects to invest in expansion. By eliminating paychecks, they are further weakening spending power throughout the broader economy.
"There's obviously been a decision made by businesses that the economic outlook is not as bright as it was three months ago," said Bernard Baumohl, chief global economist at The Economic Outlook Group, who last summer was envisioning a more vigorous economic recovery.
Baumohl is still undecided on whether the rise in layoff is a momentary occurrence, or the beginning of a firm trend. But if it's the latter, he said, the economy could sink into a second recession.
"If layoffs accelerate and the unemployment rate increases, households would end up spending less," he said. "If they spend less, then inventories at companies would start to balloon. If unwanted inventories start to balloon and companies are finding themselves stuck with goods they were hoping to sell, then they will stop ordering new supplies from factories. If factories start getting fewer orders, they lay people off. This is the vicious cycle that will ultimately cause a second recession."
During the worst of the recession in late 2008 and into 2009, as businesses absorbed the twin threat of rapidly declining sales and a severe pullback in credit, mass layoffs characterized the situation. And even as the fear subsided and modest economic growth resumed last year, tepid hiring remained the practice: The recession reinforced a predilection among American companies to find ways to rack up more sales with fewer people on their payrolls -- a task accomplished through increasing reliance on automation and outsourcing, along with the perpetual pursuit of more efficient means of production.
Today, companies are producing more goods and services than ever before -- with some 7 million fewer workers than were employed in late 2007, when the recession officially began.
Budget shortfalls at the state and local level have prompted months of layoffs by governments. In the private sector, layoffs in May were concentrated in professional and business services, which includes lawyers, accountants, consultants and other office-dwelling employees, as well as in manufacturing, according to Goldman's analysis of the Labor Department's Job Openings and Labor Turnover Survey.
Layoffs have also hit recreation-related industries such as hotels. In May, MGM Resorts International laid off about 60 employees who once staffed the Gold Strike, a 500 room hotel and casino in Nevada. The company said declining business forced the layoffs, the Las Vegas Review Journal reported. The company did not respond to a request for comment.
Layoffs have also hit temporary workers, whose declining fortunes amount to a particularly troubling sign for future hiring prospects. Through much of 2010, more optimistic economists cited moderate growth in temporary jobs as a signal that American employers would soon hire aggressively. Temporary jobs were seen as early, tenuous efforts by businesses to expand as they exploited growth opportunities. Once a firmer recovery took hold, employers were supposed to start amassing bigger permanent payrolls.
But the second part never happened, and now temporary hiring is going in reverse: The overall number of temporary employees dipping between May and June, according to the Bureau of Labor Statistics.
Some economists dismiss fears of growing layoffs, suggesting that recent job cuts are the result of acute developments such as the Japan tsunami -- which disrupted the global supply chain, particularly in the auto industry -- and spiking gasoline prices, which have subsequently fallen.
"I'd prefer that layoffs don't increase, but I don't think this is the start of a pullback by businesses," said Mark Zandi, chief economist of Moody's Analytics. "Even transitory events can turn into big problems if they undermine confidence in hiring. And the odds of that are higher in the current circumstances because we're all shell-shocked."
But others see a troubling trend unfolding as layoffs climb -- particularly as the boost from the government's package of spending measures aimed at stimulating the economy becomes exhausted.
"The stimulus provided some lift to the economy through 2009, 2010," said Dean Baker, co-director of the Center for Economic and Policy Research. "It's fading out, and there is just nothing to replace it."
As government payrolls shrink, the loss of economic activity is rippling out across the rest of the economy.
"The government is in recession," Challenger said. "That affects a lot of businesses as well, because a lot of businesses depend on government orders."
In June, Lockheed Martin, a Maryland-based defense contractor, initiated a wave of layoffs expected to reach 300 after the U.S. Navy opted not to deliver what had been an anticipated order for an aircraft maintenance facility. The company also cut 2,700 jobs from its space systems and aeronautics divisions, said spokesman Chris Williams.
For some companies, continued difficulties securing financing amid tightened credit standards, combining with weakening sales prospects, appears to be yielding job losses.
In Little Rock, Ark., Yarnells Premium Ice Cream ceased operations and laid off 200 workers on June 30. The family-owed business had produced ice cream for 80 years, employing people in Arkansas, Tennessee and Mississippi. The company said it closed its doors because of declining sales, intensive competition and rising material costs. But it also cited an inability to secure financing.
"This has been an extremely tough year for the ice cream industry in general," said Christina Yarnell, chief executive officer of Yarnell's, in a press release. "We have examined many possible avenues to keep the company afloat – actively marketing the company to investors and strategic buyers – the majority of whom are undergoing the same financial distress we are. However, we've been unable to obtain additional financing from our lenders or locate a buyer, and have come to the difficult decision that the appropriate course of action is to shut our doors."
For publicly traded companies whose stock prices are dependent on remaining profitable, diminishing business prospects appear to be generating momentum for cost-cutting through layoffs.
In May, the H.J. Heinz Company began layoffs as it closed several factories worldwide, including one in Pennsylvania, where 60 people lost their jobs, according to the company. Heinz intends to shutter another American plant in an as-yet undisclosed location, a spokesman added.
"To provide fuel for future growth, Heinz is investing in initiatives to increase our manufacturing efficiency and accelerate productivity on a global scale," said Michael Mullen, a company spokesman, in an email.
All in all, Heinz is expected to shed 1,000 total jobs worldwide, according to Challenger, Gray & Christmas.
Despite the recent spike in layoffs, most experts say it is far too early to forecast another economic downturn.
"I'm not buying that yet," said Challenger. "The economy is slipping right now. It's sliding. But we've seen periods of much heavier layoffs in the past. I don't feel like we know yet whether or not the economy is going to continue to slip and not have much momentum or whether or not it'll catch some wind and pick up again later this year."
James Sunshine and Janell Ross contributed to this report.
Calling all HuffPost superfans!
Sign up for membership to become a founding member and help shape HuffPost's next chapter