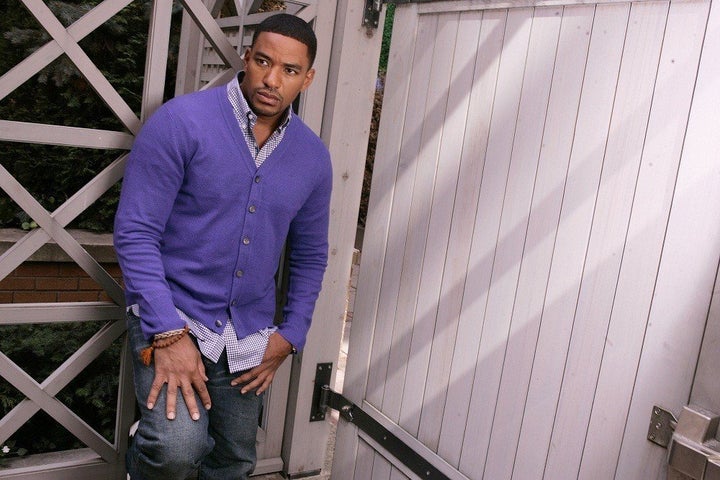 In the digital short, the leading bi-cultural cable network tapped various celebrities, musicians and journalists of African heritage, who all express their experience growing up in the often-misrepresented segment of the U.S. Latino population, as well as how it impacted their careers.
We recently caught up with "Avatar" and "Jumping the Broom" star Laz Alonso, who opened up on his participation in the documentary as well as his future plans to become a film producer.
How important would you consider your role in the "Black and Latino" project?
For me it was really important to participate in the documentary because being Black and being Latin is something that at times I have to explain in my entire life how you can be both. And a lot of people think that you can be either one or the other because they don't understand that race & ethnicity are two different things. You can be both. The same way that Latins can be Black & Latin is the same way you can be Black and Jamaican, or Black and British, or Black and Canadian. It doesn't mean that you're not Black. So for me it was really a great opportunity to participate in this.
Has the question inspired your form of expression in any way as an actor?
I think it inspires my form of expression on and off the film set. I feel like there are many different forms of expression. You express yourself verbally, you express yourself non-verbally. And there are a lot of influences that affect a person's performance. So I like to draw from both my African-American influences as well as my Latin influences and add color to whatever characters that I may be playing. But at the same time, I have to be authentic. So if the character is just straight African-American I'm not going to add any Latino or vice versa. But, when it comes to the vibe and the swag that I bring, I bring a little bit of both worlds. Which I feel at times can help separate me from the rest of my peers.
More recently your unique craft has landed you an NAACP Image Award nominee for "Outstanding Actor in a Motion Picture" [In "Jumping the Broom"]. How does the nomination define your career as an actor?
If you look at the name, "NAACP," the National Association for the Advancement of Colored People. "C.P." is the operative, people of color. And I feel like that's all inclusive. I feel like it doesn't say, "only this person of color," or "only that." It includes all people of color who are advancing within their respective careers. And for me, I take great pride in being recognized by the NAACP, because I have always seen myself as represented by the NAACP. I benefited greatly from the NAACP, primarily back when they were back here in Hollywood speaking out, trying to get Black and Latino representation on network television shows. And that was somewhere near the year 2001. Here we are 2012, 11 years later, and I'm able to star as the lead in my television show, "Breakout Kings." I have the NAACP to thank for that, because they took the lead of the charge and making that something that Hollywood had to reflect on and say, "OK, they have a point."
After the NAACP did that there started being a lot more diversity showcases where the networks started looking for African-American talent ... and it's just things that you look at. I've been able to see changes throughout the time that I've been professionally acting. And a great deal of those changes came from the NAACP's involvement. So I have a lot to thank them for, not only for this nomination, but also for taking on certain issues that needed to be raised in a positive dialogue so that Hollywood can continue to provide opportunities for everyone that this nation represents.
Moving forward to this year, are there any projects that you're currently working on? What's the status of your film with Chris Brown, "Planet B-Boy"?
We actually wrapped "Planet B-Boy." I'm really excited about a film that I co-wrote with my writing partner Rafael Riera. It's a film that takes place in Haiti right after the earthquake. But once again, they're Black and they're Haitian. It's a story that I'm very passionate about telling and it's just a heartfelt story. If you think of something along the lines of "Hotel Rwanda" and "Man on Fire." It's that type of heartfelt, third-world story about what's going on over there.
Do you and your writing partner have a tentative release date and title for the film?
We haven't shot it yet. We finished inking it a few months ago and now we're going through the process of pitching it to investors, looking for other talent to attach to it, and directors. So for me it's really exciting because I get to put on my business cap again and go back to my previous life before I was an actor and try to get this thing financed, shot and picked up by a studio. So I'm really excited about playing that side of the business as well.
Is that something you're looking to pursue more of in the future, producing & funding your own films?
Absolutely! I feel like as storytellers there is many different ways to tell a story. And as much as I would like to think I could tell a story the best way ... there are some stories that I just can't tell as an actor but I still want those stories to be told. So I want to be able to bring those stories to light and have a say so in how those stories are being told. Eventually one day I want to direct, but as of right now my next cap that I'm looking for is the producer cap.
Calling all HuffPost superfans!
Sign up for membership to become a founding member and help shape HuffPost's next chapter