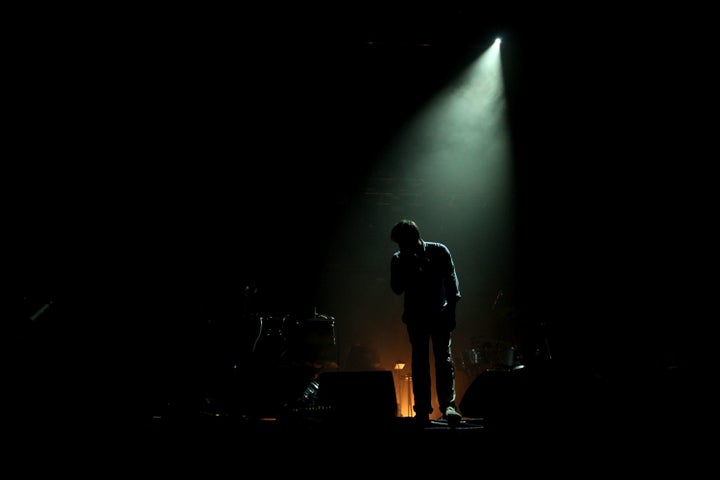 Early on during LCD Soundsystem's Monday night show at Webster Hall in New York City, lead singer James Murphy told the audience he was battling the flu, and that he might not be able to hit all the usual notes. 
It was the second of the band's two shows at Webster Hall this week -- their first performances since LCD Soundsystem's big blowout retirement/goodbye party nearly five years ago at Madison Square Garden, an extravagant and nostalgia-heavy affair that was documented in the film "Shut Up and Play the Hits."
To enter the venue, concertgoers had walked through the front door under a marquee that read, "Test In Progress Please Stand By." Presumably, many people in the room had been unsure whether they'd ever get a chance to see this band again, and thus seemed to be willing to follow Murphy wherever the night ended up going. The crowd had to have considered themselves lucky, even if they knew the night was just a warmup for a coming summer tour, as they had all made it inside the building one of two ways: by winning a ticket lottery or having connections.
After Murphy's flu announcement, the crowd's cheers grew louder, although he wouldn't end up needing the extra support. His stellar performance throughout the night solidified the weekend shows as an iconic moment in, well, something. 
"Idk how to feel about this reunion!" a close friend of mine texted me while I was at the show.
"Idk how to feel about this reunion!" a close friend of mine texted me while I was at the show. "I spent so much time mourning them."
It can be easy to fault LCD Soundsystem for coming out of retirement so soon after they said such a perfect goodbye in 2011. Fans had paid hundreds of dollars to see a definitive ending at Madison Square Garden. Murphy, who became something of a cult icon during the band's rise, rode off into the sunset, out of Manhattan and back to Williamsburg to open a wine bar. Fans could retain the music of the band that seemingly defined their experience of New York for a decade in their own memories, however the devotees saw most fitting. 
When LCD Soundsystem returned to the stage at Webster Hall on Sunday and Monday, that perfect ending got thrown out; that 2011 moment could no longer be called Murphy's final bow onstage.
As someone who still often wears the lightning logo shirt created by Murphy's personal record label, DFA, I certainly had initial reservations that something perfect was being ruined when I first heard the announcement. Murphy certainly had some sort of egg on his face, I thought.
But as Murphy brought up his flu, I couldn't help but be reminded of an oddly parallel moment in pop culture -- a moment when someone else from Brooklyn feigned retirement before coming back and playing through the flu to establish himself as the greatest ever.
Someone whose initials where a mirror of James Murphy's: Michael Jordan.
It may have been a bit strange when Jordan came out of retirement the first time, after a failed attempt at playing professional baseball in the MLB. But coming back undoubtedly earned Jordan more respect, and more important, helped him nab his most iconic moment. In 1997, nearly four years after his first retirement, Jordan battled through the flu in Game 5 of the NBA Finals to lead the Chicago Bulls to a much-needed win on the way to yet another NBA Championship, the fifth of the six he would eventually claim.
Jordan's second stint with the Bulls wasn't a rehash, or his first go-around. It was a separate era, during which he gained new fans who may have not even been aware of what he'd accomplished before.
Murphy appears to want something of the same: to create something new, not to shut up and play the same old hits. 
The retirement documentary and so-called final show will remain at least a bit embarrassing in retrospect, given the huge deal Murphy made about saying goodbye. By playing his reunion shows on Easter weekend, Murphy positioned himself as a savior figure of sorts -- posters advertising the event read, "LCD Soundsystem will rise from the dead this Easter Sunday." 
Whether the band's intention was to save concert attendees from a city without Jesus James or an underwhelming New York music scene is yet to be seen.
When my friend texted asking how I felt about the reunion, I responded, "I've decided to think of it like when Jordan came back from retirement after baseball and then won like three more championships."
My friend was only somewhat having that idea.
"Haha alright well hopefully that'll be what happens," she said. "Rather than [LCD Soundsystem] being Dennis Rodman," desperately clawing to stay relevant in pop culture to diminishing returns.
Right after Murphy's announcement that he had the flu, LCD Soundsystem launched into their 2010 hit, "I Can Change." The first chorus pleads for an object of desire to "never change," but as the narrator matures to realize a lover can't be a statue, the song proceeds to the chorus and becomes self-reflexive.
Murphy sings, "But I can change, I can change, I can change, I can change / I can change, I can change, I can change / If it helps you fall in love."
As someone who grew up with Jordan, I want to believe that James Murphy can change one more time. That he has another act. That he can, once again, be someone great who's never gone.
REAL LIFE. REAL NEWS. REAL VOICES.
Help us tell more of the stories that matter from voices that too often remain unheard.
BEFORE YOU GO
PHOTO GALLERY
14 Music Documentaries Worth A Watch