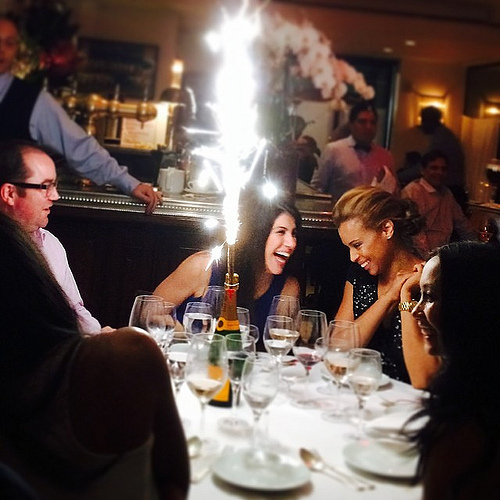 If you haven't been to Le Bilboquet in Midtown and you call yourself a New Yorker -- you shouldn't. After losing its lease of nearly 27 years, in October 2013 this sweet spot reopened a grander locale just blocks away from the original. Hey, it wouldn't be Manhattan if we weren't completely heartless to every business establishment -- even the classics. But the new and improved Le Bilboquet is heating up this spring and is already a place to see and be seen.
Le Bilboquet's clientele is la crème de la crème and its takes on bistro classics will blow your mind, but its after the 8 o'clock dinner crowd retires that this restaurant truly comes to life.
Music blasts, staffers take shots with their livelier tables and the entire restaurant sings along to eclectic hits by everyone from Ray Charles to Robin Thicke to Brigitte Bardot. You'll be dancing in the aisles with new friends and ordering more Veuve than your credit limit allows before you get the check. But something about the spot, while chic and trendy, is still nostalgic and reminiscent of the "good ol' days," making it a hit with all age groups.
The signature dish at Le Bilboquet is the cajun chicken, which is served with a generous portion of perfectly crisped pommes frites and salad. Other than the roast chicken at Le Grand Colbert in Paris, no other chicken dish rivals this perfection. Other standout items include the foie gras terrine, sautéed calamari, hangar steak and the chocolate mousse.
So drink up and clink cups with socialites and celebrities alike. Don't be surprised if you rub elbows with Hugh Jackman, Bill Clinton or Eric Clapton (who happens to be a partner of this fab establishment). Reserve a table for 9:30 p.m. or later when you can witness Le Bilboquet's je ne sais quoi! Prepare to be greeted with the typical French charm -- or what we New Yorkers like to call snootiness. But even if some of the staff may be pretentious, the cuisine is not. And besides, it's all part of the experience, n'est-ce pas?? Bon appétit!
20 East 60th St., 212-751-3036
Popular in the Community