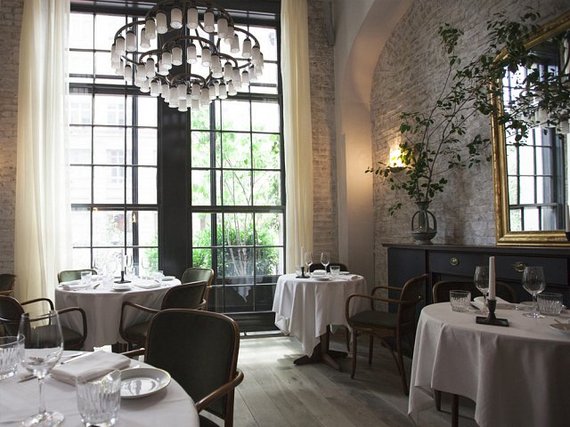 Here's my prediction: When the trend-frenzied foodie magazines come out with their best new restaurant lists for 2016, Le Coucou will not be on any of them. Apparently, owner Stephen Starr and chef Daniel Rose did not get the memo that no one any longer wants to eat at a beautiful, softly lighted, civilized restaurant with exquisitely crafted food, a superbly selected wine list, accepts reservations, and has a professional staff taught to smile and say "thank you" and "hope you enjoyed your meal" when you leave.
Le Coucou means "the cuckoo," which Starr might have churlishly chosen to suggest an idea that's a little crazy. Fortunately, NYC's more inclusionary food critics, like Steve Cuozzo of the Post and Adam Platt of New York magazine, have been in high praise of Le Coucou, not least for its grown-up approach to dining out. Let me add my own fervid kudos.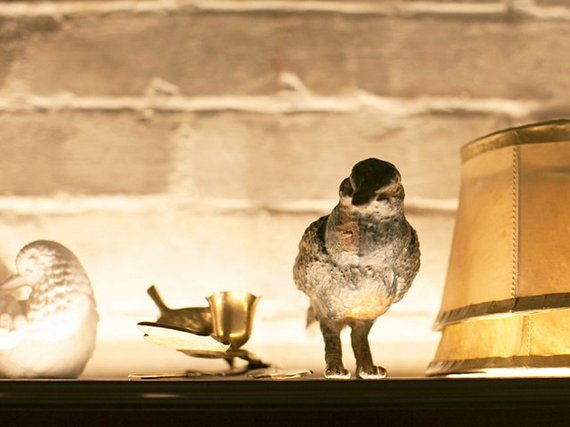 At Le Coucou, Starr, who knows well the casual dining segment as well as the big house scene (Buddakan, Morimoto), has given NYC his most ambitious fine dining restaurant, while Chicago-born Rose, who has two restaurants in Paris, has taken the leap across the pond to show that French cuisine still has its fans at a time when the NYC restaurant scene teems with hole-in-the-wall eateries winning multiple stars for veggie burgers and bowls of pho.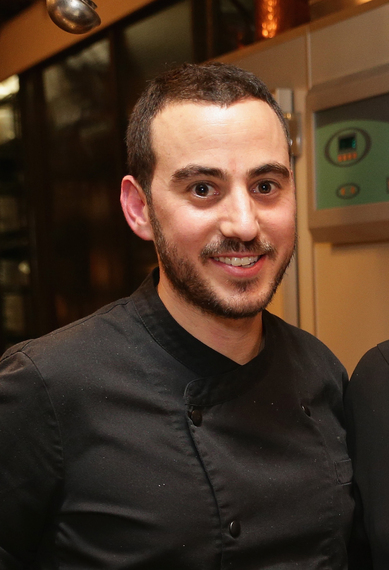 Despite Le Coucou's residence in a hotel innocuously named 11 Howard (it serves breakfast daily), the onus usually attached to that situation immediately evaporates when you enter this 80-seat dining room of such stunning good taste, from the pewter chandeliers hung from a high ceiling and heavy curtains over triple-hung windows, to the swank bar and the bright open kitchen. The rough brick walls are off-white, the wooden floors bleached, the chairs extremely comfortable, and the white linen tablecloths have a soft heft. You'll still find many restaurants in France looking this refined, but they are now rare in NYC, so you may be forgiven if you allow yourself the daydream of thinking you are in a polished auberge in a city like Chagny or Eugénie-les-Bains.
Some may no longer know French cuisine when they see it, but you will when you taste the food at Le Coucou. Balance, subtlety married to rich flavors, and a harmony with wine, these are the hallmarks of what Rose (below) has devoted his career to following and producing. You will not wince at a strange concoction, never doubt that each dish has been thoroughly thought through rather than "created" on a whim, and you will never have to guess what an ingredient is.
The menu has a judicious number of items that the kitchen can turn out with great attention to detail, though it's printed in somewhat confusing categories of hors d'oeuvres and "gourmandises," then "poissons et viandes," although the gourmandises function as small main courses, and since everything is à la carte, you can eat very well at a good price.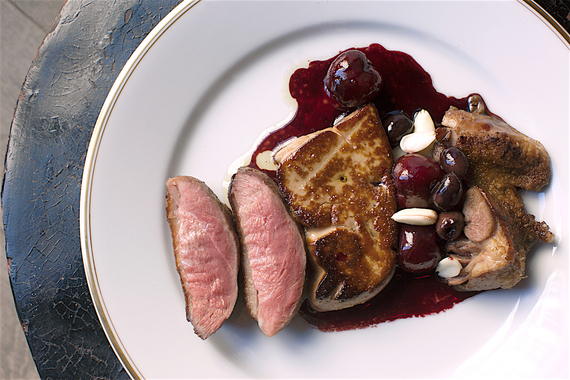 Lobster is stuffed into golden-green squash blossoms with yogurt, mint, dill and cucumber ($21) that gives you your last taste of summer, as does chicken and foie gras with warm fruit ($25), while veal tongue with golden ossietra caviar and crème fraîche ($38) seems a precursor of autumn. If you wish to know what they are cooking in Paris these days, one bite of Rose's marvelous sweetbreads with tomato cream and tarragon ($24) will tell you, with great finesse. I always seem to order quenelles of pike with a Nantua sauce out of duty, but Rose's, with a similar lobster sauce Americaine ($26), was a revelation--the quenelle light as helium, not at all spongy or fishy, with a very delicate taste buoyed by an unapologetically rich sauce of tomato, white wine, brandy, plenty of butter and a touch of cayenne in the reduction of lobster meat and shells.
"Wagyu tripe with green tomato and olives" ($12) sounds like a lily gilded, but in fact it's a crispy finger of tender American wagyu tripe, gone in a few bland bites. The only real--and puzzling--disappointment was a bourride of black bass and shellfish with aïoli ($38), because the fumé itself was insipid.
A dish called "Tout le lapin" (all the rabbit) includes renditions of meaty legs, saddle and liver treated to an herb-mustard basting and pan juices enlivened by some Manzanilla sherry. Very juicy duck breast (above) comes with sweet Mission figs, lustrous foie gras and black olives ($38), which is as Provençal-inspired a dish as you will come by in NYC.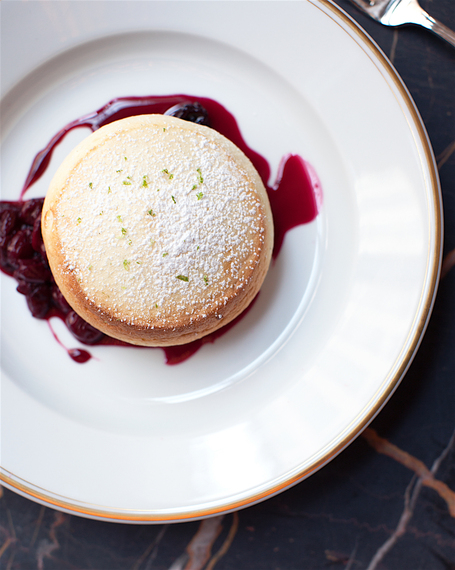 A must in any serious French restaurant, a selection of cheeses is offered at Le Coucou (one for $7, three for $21, five for $35), and Daniel Skurnick's desserts maintain the same balance as the first and second courses. A chiboust à la vanilla (above) with red wine cherries ($12), rice pudding with pistachios and chartreuse ($11) and a pavé of chocolate with gold leaf, glace and pralines ($11) show delicate refinement and complementary textures.
The 600-label wine list, put together by Aaron Thorp, is largely French, remarkable not just for its breadth and depth but for the pricing, with dozens of bottles under $70 in every category and an amazing range of wines you simply won't easily find anywhere else. But presenting it all in a loose-leaf binder is pretty tacky.
That last small detail stands out only because it does stand out in a restaurant of such attention to every detail, a trifle amidst an array of impeccably thought-out style and cuisine. For which reason most people dress accordingly, despite the restaurant allowing some ostensibly adult men to sit down wearing t-shirts and jeans.
In almost every way, then, Le Coucou is not a beacon but a testament to the enduring appeal of an evening where the management and the kitchen want nothing more than to manifest their own pleasure in having you as a guest.
LE COU COU
138 Lafayette Street (near Canal Street)
212-271-4252
lecoucou.com
Related