Bonjour! Le Huffington Post, an international collaboration bringing together Le Monde, Les Nouvelles Éditions Indépendantes, and the Huffington Post Media Group's signature mix of news, blogging, community, and social engagement, arrives today. Our mission: taking the sort of discussions traditionally heard at water coolers and around dinner tables and helping to bring them online.
The launch comes at a time when France -- like America and much of the rest of the world -- is facing more than an economic crisis. It is a country where the disconnect between those who govern and those they are elected to serve grows daily; where people's trust in institutions is eroding; and where many are looking to each other and their communities -- offline and online -- for the creativity, ingenuity, and empathy that will lead to real solutions.
Le Huffington Post will bear witness to this unfolding story, through our journalists and bloggers, in text and in video, using the most innovative social tools to engage our community. The best journalism of the future will embrace the fundamental tenets of traditional journalism -- the pursuit of truth, accuracy, and fairness -- with the best that new technologies can offer: immediacy, transparency, and engagement.
This hybrid approach is rooted in the belief that we need fewer autopsies and more biopsies. We will cover the important stories of our time obsessively -- we'll chomp down on them and stay with them until we can break through the static, helping push issues into the national conversation.
And while we will be importing the platform, technology, and tools from across the pond, Le Huffington Post will be rooted in French culture and will reflect France's own unique personality, rich culture, and diversity of voices. And it will do so at a time when France's fortunes, challenges, and decisions are of great consequence not only to the people of France but to all of Europe and the world beyond.
Le Huffington Post's editorial director is Anne Sinclair. I have gotten to know and work with Anne over the past few months, and have been continually impressed by her dedication, the pursuit of excellence that she brings to every task, and her passion for ideas. When she spent time in our newsroom in New York (where we discovered that we were both born on July 15, just two years apart), our young editors kept commenting on her desire to delve into even the most obscure aspects of the technology that drives HuffPost. And of course she had established her new media chops long before she joined forces with HuffPost -- she's been blogging for years at annesinclair.fr.
It has also been a pleasure working with our partners at Le Monde and Les Nouvelles Éditions Indépendantes, especially Louis Dreyfus, Matthieu Pigasse and David Kessler, who have been so instrumental in bringing Le Huffington Post to life. And I am thrilled that Le Huffington Post is in the capable hands of Paul Ackermann, the editor-in-chief in charge of daily operations, who joined us from Le Figaro.
Our launch day lineup of bloggers includes University of Paris professor Guy Carcassonne on the problems with the French parliament; fashion designer Emanuel Ungaro on the intersection of art and fashion; war reporter Anne Nivat on whether the recent deaths of French soldiers in Afghanistan might revive France's flagging interest in that war; member of Parliament Julien Dray begins a regular HuffPost column on the French election; member of European Parliament and former minister of justice Rachida Dati on what makes a successful presidential campaign; historian Benjamin Stora on the complex legacy of the Arab Spring; blogger Catherine Cerisey on her 11-year battle with cancer; comedian Nicolas Bedos on this weekend's news, and journalist and sociologist Guillaume Erner on the lasting impact of legendary French sociologist Pierre Bourdieu, who died ten years ago today.
For me, today's launch is the culmination of a lifetime of loving France, a love affair that began when I was 11 and my father took me and my sister Agapi to Paris -- our first trip outside of Greece.
I'm delighted to invite readers in France and French speakers throughout the world -- as well as those who care about its people, issues, and rich culture -- to join the conversation. Please use the comments section to let us now what you think.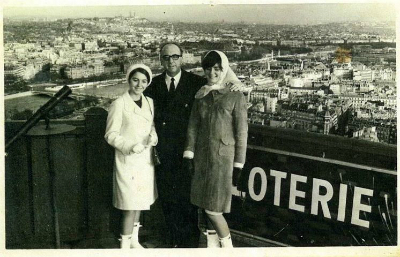 In Paris, 1961, on my first trip outside Greece with my father and sister, Agapi
Related
Popular in the Community