MONTREAL -- I'm in Montreal today, delighted to announce the launch of our fourth international edition, Le Huffington Post Québec, which joins HuffPost Canada in covering America's neighbor to the north.
This is the first time we'll have two HuffPost editions in the same country. But it won't be a sibling rivalry; it will be a powerful collaboration, a reflection of our commitment to being a hub of reporting, comprehensive curation, group blogging and engagement across all of Canada. And since it's part of HuffPost's DNA to foster community -- and also because it just makes a lot of sense -- Le Huffington Post Québec's editors will work closely with Le Huffington Post France to bring Quebecers the most relevant news and opinion from France, and vice versa.
This French-language edition will encompass all things Québec and be run by a strong locally-based editorial team with deep personal and professional roots in the province. We'll cover everything that makes Québec unique, from its French-speaking heritage and stunning architecture to its politics and vibrant entertainment scene. As Francisco Toro recently wrote in the New York Times, "Québec has its own television personalities, its own pop icons, its own celebrity chefs -- household names in the province all blissfully unknown in the rest of Canada." HuffPost Québec will be a place to passionately -- and civilly -- discuss, among other things, the issues of language, culture and identity that make Québec at once part of Canada and utterly distinct.
And of course we'll be applying HuffPost's signature mix of news, blogging, community, and social engagement to telling the stories that Quebecers most care about -- and just as important, to helping them tell their stories themselves.
In the last three months of 2011, Québec lost nearly 70,000 jobs, a loss estimated to be the province's worst in nearly three decades. In December 2011, Québec's unemployment rate was 8.7 percent, a full percentage point higher than Ontario's. Montreal's infrastructure is a perpetual concern. Last summer, a concrete expressway collapsed, spurring conversations about the crumbling state of Montreal's roads. And the decaying Champlain Bridge -- which will eventually be replaced by another bridge over the St. Lawrence River -- has worried Quebecers for years.
At the same time, we'll be spotlighting the people and organizations improving lives and strengthening Québec communities with their creativity, empathy, and perseverance. Among them are Jeunesse au Soleil, which since 1954 has provided educational, athletic and social opportunities, as well as food and clothing assistance, to Quebecers of all ages; Centraide, the United Way of Canada, which directs donations to fight poverty in Laval, Montreal, and the South Shore; and Moisson Montreal, the city's largest food bank, which distributes food to hundreds of thousands who could not otherwise afford it. And as a Greek with a lifelong interest in Greek immigrants and communities all over the world, I have to point out that Montreal's Hellenic community -- from its small businesses to its many Park Avenue restaurants -- has been a vibrant part of the local culture for more than 100 years.
On the entrepreneurial side, there are young innovators like Steve Couture, Philippe Bégin, and Christian Daigle, who founded Frima Studio in 2003 and have since established themselves as leading makers of multiplatform video games. "We want to use our wealth of homegrown talent to create and export intellectual property around the world," Couture said last year.
Operating at the intersection of politics and technology, Henri-François Gautrin, a Member of the National Assembly, has devoted considerable time to asking how Québec's government can use tools available on the web -- including blogs -- to make government more transparent and effective.
Le Huffington Post Québec's managing editor is Patrick White, a Québec City native with more than 20 years of media experience. He is a graduate of Laval University and joins HuffPost from Canoe.ca, one of Canada's leading interactive media companies. Jean-Philippe Cipriani, HuffPost Québec's news editor, joins us from Radio-Canada, and blog editor Tamy Emma Pepin comes to us from Le Journal de Montreal, Québec's largest tabloid newspaper.
On launch day, our original reporting includes Nils Saryas's analysis of the latest census data; Caroline d'Astous's report on the Québec Society of Casinos' use of facial recognition to discourage compulsive gamblers; Nicolas Laffont's multimedia look at a military practice by soldiers of Quebec City's Valcartier base; Rachel Nadon's live coverage of Montreal Fashion Week, along with her interview with Marie-Sissi Labrèche, author of Amour et autres violences; Catherine Matusiak's early look at Québec's contributions to the Berlin Film Festival; and coverage of last night's game between the Pittsburgh Penguins and the Montreal Canadiens -- the start of our obsessive coverage of the iconic and beloved team.
Our lineup of featured bloggers includes President of Haïti Michel Martelly on the importance of attracting foreign investors to rebuild his country; TV and radio host Anne Marie Withenshaw's interview with the young actor and filmmaker Xavier Dolan; documentary filmmaker Francine Pelletier on the singer Coeur de Pirate; an open letter from Karel Mayrand, director of the David Suzuki Foundation, to Prime Minister Stephen Harper; actor Sébastien Dhavernas's proposed solutions to the recent cases of floor-crossing MPs; Université du Québec à Montréal's Louis Balthazar on the deterioration of the Republican Party; National Assembly member Fatima Houda-Pepin on the need to protect women from religious traditions that threaten their rights; digital communication specialist Bruno Guglielminetti on Twitter censorship; and National Assembly member Yves-François Blanchet on his decision to blog for Le Huffington Post Québec.
So, for everyone in Québec -- as well as those of you who speak French, and are interested in Canada's largest province (in terms of size; Ontario is tops in population) -- check out Le Huffington Post Québec, and join the conversation. Please use the comments section to let us know what you think.
To celebrate the launch of Le Huffington Post Quebec, I spent Wednesday in Montreal: a whirlwind day of interviews, meetings, a lunch speech, and a party with our amazing Quebec editorial team. Here are some photos of the day.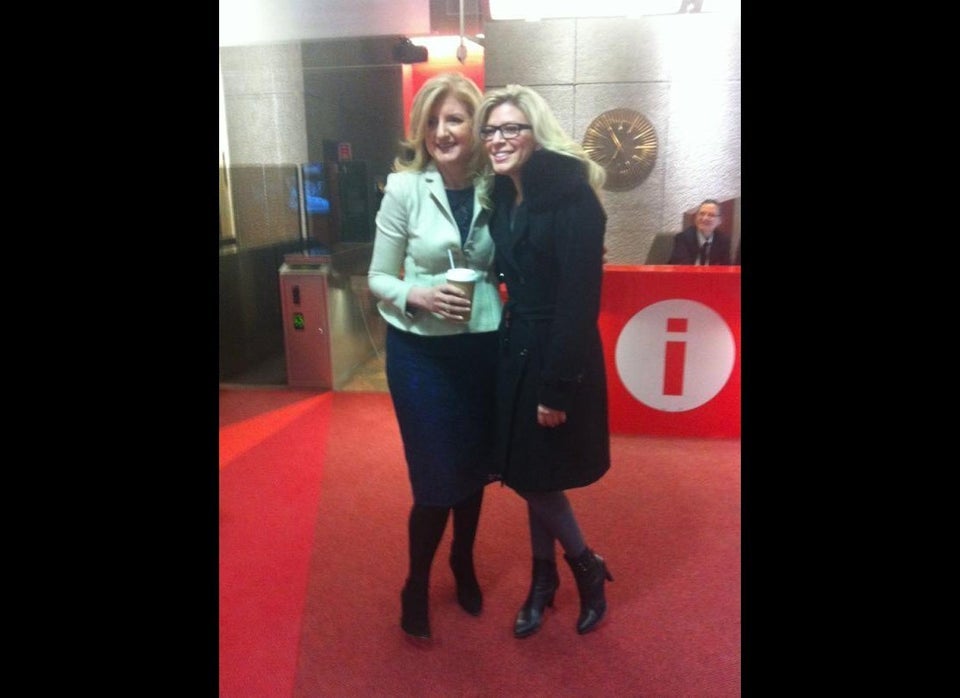 Gallery
Popular in the Community