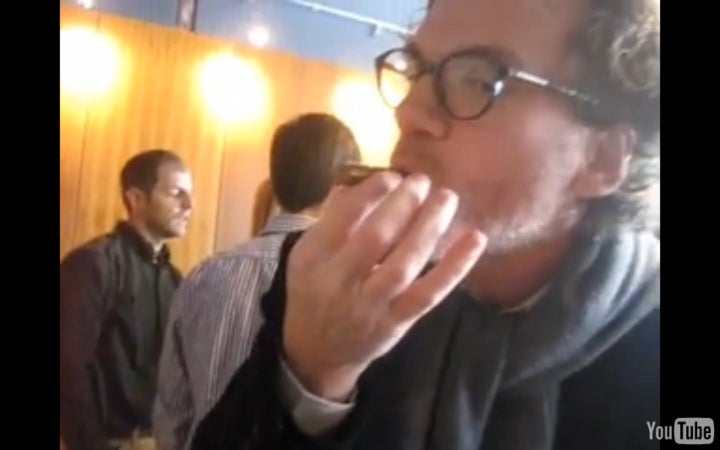 Why drink your coffee when you can inhale it?
Thanks to creative engineering by Harvard professor David Edwards, coffee addicts can now breathe their morning cup of joe (and get their caffeine fix) using a product called Le Whif.
Le Whif 'gives us the kick of coffee without the cup,' says Edwards.
How does it work? Users place one end of the stick, which is about the size of a lipstick tube, to their lips, then inhale gently (see diagram below).
'Whiffers' intake about 100 milligrams of caffeine (which is equivalent to a small cup of espresso) and less than a single calorie with each Le Whif.
The Le Whif product was made through particle engineering, which reduces coffee particles so that they're small enough to be airborne, but too large to enter the lungs. It was developed through ArtScience Labs, an 'international network of art and design labs experimenting at the frontiers of science' that seeks to 'promote socially beneficial innovations.'
The sticks come in three additional flavors--chocolate, raspberry chocolate, and mint chocolate--and, according to Le Whif's global operations manager (via the Harvard Crimson) the company is working on 'an inhalable three-course meal.'
'It's kind of like smoking chocolate,' says Edwards in an interview with the Cambridge Chronicle (see video below).
According to the New York Post, Le Whif has been a huge hit: 'Dylan's -- the city's sole purveyor of the kooky coffee -- sold out of 108 individual servings and 93 three-packs in a matter of hours during Thursday's unveiling.'
Business Insider calls the 'smokeless caffeine cigarettes' the 'coolest invention ever.'
What's your take? Tell us below.

WATCH:
Popular in the Community