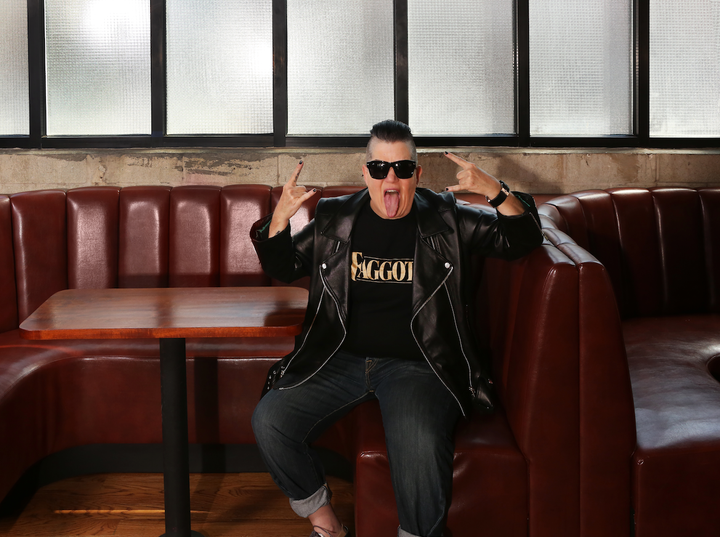 No, your eyes aren't deceiving you: Lea DeLaria is about to turn 60.
From becoming the first openly gay comic to perform on broadcast TV in America in 1993 to winning accolades for her performance as Big Boo on Netflix's "Orange Is The New Black," the preternaturally youthful star has lived many lives during her almost six decades on our fair planet. And she doesn't intend to give up the spotlight ― or her penchant for younger women ― anytime soon.
A month before she celebrates the big milestone ― and takes to the stage in New York City with her friends Jesse Tyler Ferguson, Sandra Bernhard and Alan Cumming for a special birthday show titled "This Is What 60 Looks Like, Bitches!" ― DeLaria talked to HuffPost about growing older in Hollywood, the perks of becoming a "daddy" and why she never worries about dying.
It's honestly really odd for me to be turning 60 next month because I never thought I'd make it this far. In my 20s I was convinced that I was going to be shot by some creepy Christian at a gay pride rally. By the time I was 30, I was certain I'd be dead by the time I was 40 — and if you knew me then, you'd understand why.
I was living an incredibly wild life in my 30s. I had become a very well-known performer in San Francisco when I was in my 20s and then, in 1993, I became well-known around the world because I was the first openly gay comic to perform on television in America.
Back then I was traveling all over the fucking place performing constantly in front of lesbians in every country. Anywhere that people understood English, there I was being a very out, very in-your-face dyke and enjoying the insane life that came with that kind of intense touring.
Scott Thompson, from The Kids in the Hall, loves to tell a story about when he was staying with me at the Edinburgh Festival in 1993. He came downstairs to the bedroom I was staying in and said, "Lea, there's someone here for you at the door," and I said, "Oh yeah, that's Nicki, I've got a date with her tonight." And he goes, "Yes, well, remember the girl you fucked last night? She's here too! It's like a French farce!" Scott loves that story — the fact that there were these two women in my living room waiting for me really summed up my life at that time.
So I was shocked that I made it to 40. And then once I hit 40, I became a leading lady on Broadway and I assumed my demise would come at the hands of some jealous chorus girl. I always think I'm never going to make it through whatever decade I'm in, but here I am at 60 and absolutely fucking no one believes I'm this old. I have been blessed with amazing genes because looking this young has absolutely nothing to do with taking care of myself, I assure you!
"This is who I am and I'm not going to tame my radical dyke image and personality just because I'm getting older. That's just not going to happen."
Since I've been moderately famous since I was 22 — essentially my entire adult life — I'm never quite sure how to respond when someone asks me, "How is getting older different when you're famous?" I guess they're usually referring to the ultra fame that I have achieved thanks to "Orange Is The New Black."
Because of that fame, I think everything in my life is more scrutinized and, in some ways, I'm always under the microscope, but part of me doesn't give a fuck — for certain there will never be any fucks given! That's why I get my crowds to chant, "Fuck Trump!" This is who I am and I'm not going to tame my radical dyke image and personality just because I'm getting older. That's just not going to happen. But the flip side of that is, now that I'm older, I also pick and choose my battles more carefully.
When I was younger, I was full of a lot of rage — and rightfully so. The world was a very different place 40 years ago — especially for someone who looked like me. I mean, they have clubs for gay people in high school now! You know what the club for lesbians at my high school was called? PE. Because I was filled with so much rage and the hubris of youth, I wasted a lot of time preaching feminism to straight boys that didn't give a fuck. I refuse to do that now. I've learned to be smarter with my time and energy. So you're not going to find me going to a KKK rally and talking about gay rights with those assholes, but if they come at me, I'm going to have a lot to say to them.
It's obviously much harder to get older as a woman — famous or not — because our society doesn't allow women to grow old gracefully. That's just part of living in a heterosexist society. Men are always allowed to become "an older gentleman." If I'm considered the lesbian Jack Nicholson — which we all know I am — and I go out with a younger woman, people tend to let that slide. But if I was a straight woman and I went out with a younger man, they'd make a note of that, wouldn't they? Men can go out with young women and nobody ever says a fucking thing about it. They write parts for older men. They don't write parts for older women.
Even in this supposed "Year of the Woman," during pilot season I saw a lot of things that have been written for women, but it's always the same kind of role. There were a few roles for older women too, but when people in the industry talk about championing diversity, there's still such a narrow definition of what is considered acceptable. The casting directors and producers and executives still only want thin, beautiful women. For all of the talk about how "Orange Is The New Black" changed television by offering diversity and showing the different kinds of women that exist in the world, it's still business as usual in Hollywood.
That being said, in my personal life, it could not be a better time for me to be an older butch dyke. Now the whole "daddy" thing is really big with dykes. It's always been a part of gay male culture but not so much in lesbian culture. But now, all the younger women are really into getting with an older butch — a daddy, basically. And honey, I am the personification of a daddy! [Laughs] I've always been into younger women — just look at the women I've dated. It's mostly because I'm deeply immature. I'm a 16-year-old boy in a suit — that's who I am. That's also one of the reasons that I think younger women are attracted to me. Women my own age have very little patience for me. [Laughs]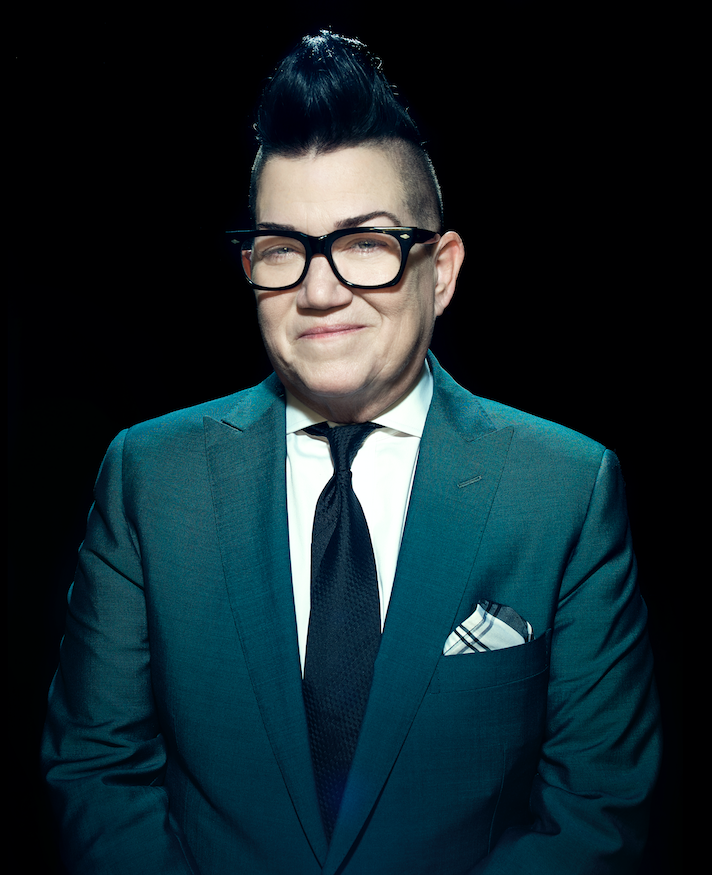 Sex hasn't changed for me at all. In fact, my ex-fiancée, Chelsea Fairless — we're keeping the age-old lesbian tradition of remaining incredibly close after breaking up — said, "I think you should fuck every woman in the world because every woman in the world should have that experience at least once." [Laughs] It was an amazing compliment. Chelsea is 26 years younger than me and not only was I keeping up with her — I was running her ragged!
I'm still incredibly active sexually and I've never really been monogamous — ever. In my 20s, my girlfriends always thought I was monogamous, but I wasn't! [Laughs] I've always been that person. When I came out, feminism was a big part of being a lesbian and we were all lesbian feminists and feminists believe that monogamy is a tool that the patriarchy uses to enslave women. So, in order to be a good feminist, you had to fuck as many women as you could — and I was a pretty great feminist! [Laughs] I'm still out there banging away.
My comedy hasn't changed either — because I staunchly refuse to change it. My work has always been observational and personal and political. As a result of approaching my comedy in this way, I can always talk about what's currently going on in my life — like going through menopause, for example. To me, that's so fucking political because nobody talks about menopause. Nobody! There are so many things about menopause — even as a feminist — that I had no fucking clue about! The way I approach that on stage is like "let me be the one to tell you this shit because apparently nobody else will." All anyone ever talks about is how you're going to be bitchy! So it's funny and it's observational and it's from that political feminist perspective that says we need to be in control of our own bodies.
If you see me on stage at any point — whether I'm giving a concert, whether I'm speaking at a university, or whether it's purely stand-up — you're going to be hearing me use "fuck" as a noun, a verb and a gerund in every sentence just like I always have and you're going to hear me screaming at the current presidential administration. That's been my take on stand-up comedy since I started doing it when I was just 22 years old. I could never waste my time talking about something stupid like losing my fucking socks in the dryer and I can't imagine that ever changing.
Still, getting older has meant that I've had to do some things differently. I love when people say "middle age" — this is not middle age. I'm in the twilight of my life, so I have to consider the things that people do at this age. And as great as my genes are, I have had some physical issues. I just had my left knee replaced four months ago. I contracted diabetes three years ago and everything related to my food intake and exercising has changed for me since then. I've lost almost 60 pounds because of it.
But I still stay out until 4 o'clock in the morning. I can still dance all night. That's why the title of my concert is "This Is What 60 Looks Like, Bitches!" I think in a lot of ways — and it's not just me, it's everywhere — the way our culture thinks about aging is significantly different now than how it used to be. People used to think of 60 as very old. I don't think people think that way about 60 anymore. Maybe very young people do? So I have to accept that I have to take certain medication and I need a certain amount of exercise a day — especially with my knee — but I'm still going out every night and I'm still enjoying my life. I still have that joie de vivre that I've always had and hopefully nothing will slow that down. I'm planning on being George Burns and living well into my 100s, all the while surrounded by gorgeous women.
"I'm definitely not worrying about dying. ... I came of age during the AIDS crisis. I've seen so much death because of it and I literally have no clue how many of my friends died from the disease. I stopped counting at 86."
Until then, I intend to commemorate every milestone I reach. I've always been crazy about my birthday and I celebrate it for an entire week like Hanukkah. Every day I do something different and then the week culminates with the big day and cake and everything else the best birthday party you can imagine would have. I will go out all night long, I will party with my friends, I will tell everyone I meet that it's my birthday all day long every second of the day.
I remember when I was in the Broadway revival of "The Rocky Horror Show" and the whole cast went out every night of my birthday week. At the time, Jesse Tyler Ferguson, who is my best friend and who is joining me on stage next month for my birthday show, came out with me every single night. I'm 20 years older than him — I was in my 40s and he was in his 20s ― and he was like, "How can you do this?!" He was dying. He was just dying. So on the seventh day, at 4 o'clock in the morning, I said, "I'm having so much fun, I think I'm going to have a birthday fortnight!" And Jesse stood up and said, "I'm out! I have to get some sleep! You're doing the second week without me!" [Laughs]
But I've never been worried about getting enough sleep and even though I'm approaching my last chapter, so to speak, I'm definitely not worrying about dying — at all. Every day I get closer to death and I accepted that a long time ago. I think part of that was because I came of age during the AIDS crisis. I've seen so much death because of it and I literally have no clue how many of my friends died from the disease. I stopped counting at 86. I was there fighting. I sang at Bobbi Campbell's memorial. This is what we dealt with. I've been looking death in the face my whole life — my whole life.
Living through that time taught me to live every moment. "Now is the time" is my motto. That means to be present. Be aware. Listen. Listening is a really important tool that most of us do not use. It's probably the most important tool that we need to survive. Listen. Be present. Believe in yourself. Love yourself. Give no fucks. Then go. That's what I think I know now. These are the things that I learned from living through that time. Oh, and take every chance you get to celebrate your life, whether it's your birthday — or birthday week — or just a regular Tuesday.
Lea DeLaria's birthday show, "This Is What 60 Looks Like, Bitches!" will take place on May 23, 2018, at Sony Hall in New York City. For ticket information, head here. For more from DeLaria, including other upcoming appearances, visit her official website and follow her on Twitter and Instagram.
Do you have a personal story you'd like to see published on HuffPost? Find out what we're looking for here and send us a pitch!
CORRECTION: A previous version of this story indicated "Orange is the New Black" was an HBO show. It is a Netflix show.