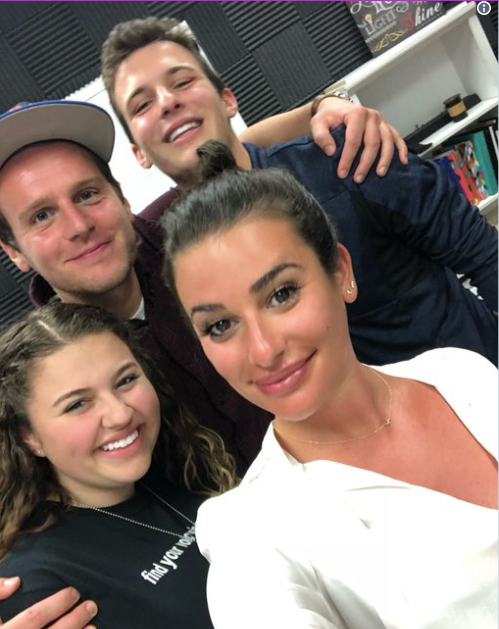 A group of students who survived February's Parkland, Florida, school shooting had some special visitors Tuesday at a rehearsal for their production of "Spring Awakening."
Former "Glee" star Lea Michele, Jonathan Groff and other cast members from the show's original Broadway run traveled to Florida to help the teens as they prepare to put on the Tony Award-winning rock musical.
Three survivors of the shooting at Marjory Stoneman Douglas High School ― Alfonso Calderon, Sawyer Garrity and Cameron Kasky ― have lead roles in the Boca Raton production. Calderon and Kasky helped found the student-led gun control advocacy group Never Again MSD in the wake of the tragedy.
Michele tweeted a photo of the combined casts, writing: "What an honor joining my original Broadway Spring Awakening cast in Florida yesterday to work with some of the Stoneman Douglas students and their cast mates on their production of Spring Awakening."
Also on hand was "Pitch Perfect" star Skylar Astin, as well as Remy Zaken, Gideon Glick, Lauren Pritchard, Brian Charles Johnson and Phoebe Strole from the original cast.
"Very honored to meet such incredible, talented and inspiring young adults who are fighting to make a change!" Michele tweeted with a selfie showing Groff, Kasky and Garrity.
The musical, adapted from a 1891 German play of the same name about a group of teenagers coming of age, was actually conceived in response to a school shooting.
Playwright Steven Sater and composer Duncan Sheik originally collaborated on the project to address "the unheard, anguished cries of young people" in the wake of the Columbine High School shooting in 1999, according to Topic.
The production of "Spring Awakening" is set to open May 2.