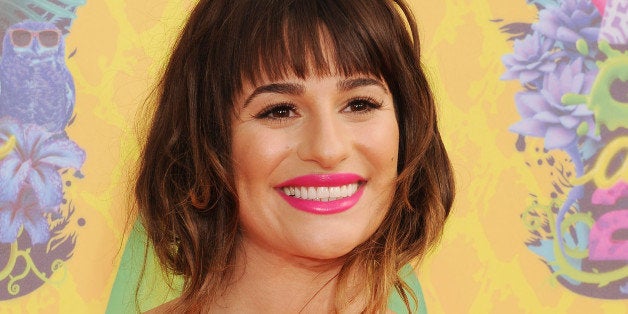 What does it take to get to the top -- without losing your center? Our "Making It Work" series profiles successful, dynamic women who are standouts in their fields, peeling back the "hows" of their work and their life, taking away lessons we can all apply to our own.
Lea Michele has quite the impressive resumé. The 27-year-old singer and actress, best known for playing the annoying, yet lovable Rachel Berry on "Glee," has worn many entertainment industry hats -- from TV actress to Broadway star to recording artist.
The Bronx-born Michele spent most of her formative years in Tenafly, NJ where she attended high school before moving to New York City to pursue acting. She made her Broadway debut at the age of eight in "Les Miserables" and went on to star in other Broadway shows including "Ragtime," "Fiddler On The Roof" and "Spring Awakening."
This past December, Michele debuted her first single "Cannonball" and quickly followed it up with the release of her solo album "Louder" in March. "It's more than just an album to me -- it's a piece of my life that I'm so glad is here for me to have for the rest of my life," Michele told Billboard in Jan. 2014. "Be loud, be bold, be yourself, whether or not people understand that message. That's what I think of when I think of the song and album."
These days Michele is preparing for the publication of her book Brunette Ambition (coming out in May 2014) and serving as an ambassador for the L'Oreal Paris' "Women Of Worth" campaign, a program that honors extraordinary women volunteers for outstanding charitable efforts in their communities.
Michele recently spoke with The Huffington Post about her definition of success, staying true to herself in the entertainment industry and why she loves being a woman.
How do you define success?
I really think that in this business it's so funny because you achieve different levels of success and you always think: "Well maybe I just need to get that next award or that next job." You always think that when you get to the next level you'll be the happiest, but for me success is really about being happy and proud of myself and the work that I do. That to me is the greatest success.
So by that definition do you consider yourself successful?
I definitely consider myself successful because I really love what I do. And I'm happy in what I do every single day.
Michele enjoying a beautiful day outside via Instagram.
What's the best piece of advice you've ever been given?
If I've learned anything over the past five or so years of moving to Los Angeles and getting [cast in "Glee"] is that being yourself is the most important thing. I always thought that I needed to fit into a mold and be a certain type of person in order to become successful or to make it in this world, but it was really just being me that introduced me to the people that have opened so many doors for my life and for my career. I don't want to have friends that I can't be myself around and I wouldn't want to be at a job that I couldn't be myself.
As a Women Of Worth ambassador what's one issue that you think women should focus on in 2014?
I think it's so important that women really focus on encouraging and empowering other women. That's definitely something that people struggle with in [the entertainment] business and in this industry, and that the media especially likes to bring attention to in a negative way. It's so important that we empower one another because it's hard enough being a woman! We could use all the support that we can get from each other.
Michele at the Women Of Worth celebration this past November via Instagram.
That issue definitely goes beyond just the entertainment industry. As anyone who's attended high school knows, girl-on-girl hate is toxic. Speaking of high school, what's one thing you desperately wish you could tell your high school self?
You know, I'm really proud of my high school life. I really feel like I had a pretty good head on my shoulders, but I think that in high school you think that it's never going to end and you're like, "Oh my god, am I ever going to get out of here?!" I'd probably tell myself not to worry and that those four years will be over before you know it and then your real life will begin.
I feel proud to be a woman because _________.
I feel proud to be a woman because I wouldn't want to be anything else! The level of strength that a woman has inside of her is just unbelievable.
Michele with Glee co-star, Darren Criss via Instagram: "Bway style w/ @darrencriss #Glee"
L'Oreal Paris is holding an all-day Twitter forum Wed. April 16 to kick off the ninth annual Women Of Worth program. The conversation will include Michele, Maria Shriver, Mika Brzezinski, Eva Longoria and Liya Kebede. Tweet at @LOrealParisUSA with #WomenofWorth.

Calling all HuffPost superfans!
Sign up for membership to become a founding member and help shape HuffPost's next chapter
BEFORE YOU GO
PHOTO GALLERY
How Amazing Women Are "Making It Work"