Lea Salonga is a household name, at least in my home. Growing up she was basically the only Asian leading lady I saw in Broadway shows. She was also the first ethnic Disney princess I was exposed to. To this day Jasmine is still my favorite princess. She also won Best Lead Actress in a musical in 1991 for Miss Saigon. She has since had an incredible career and is still killing it!
Ms. Salonga is currently performing in Once on this Island on Broadway as Erzulie. Go see it. This show is beautifully staged and the performers are fantastic storytellers.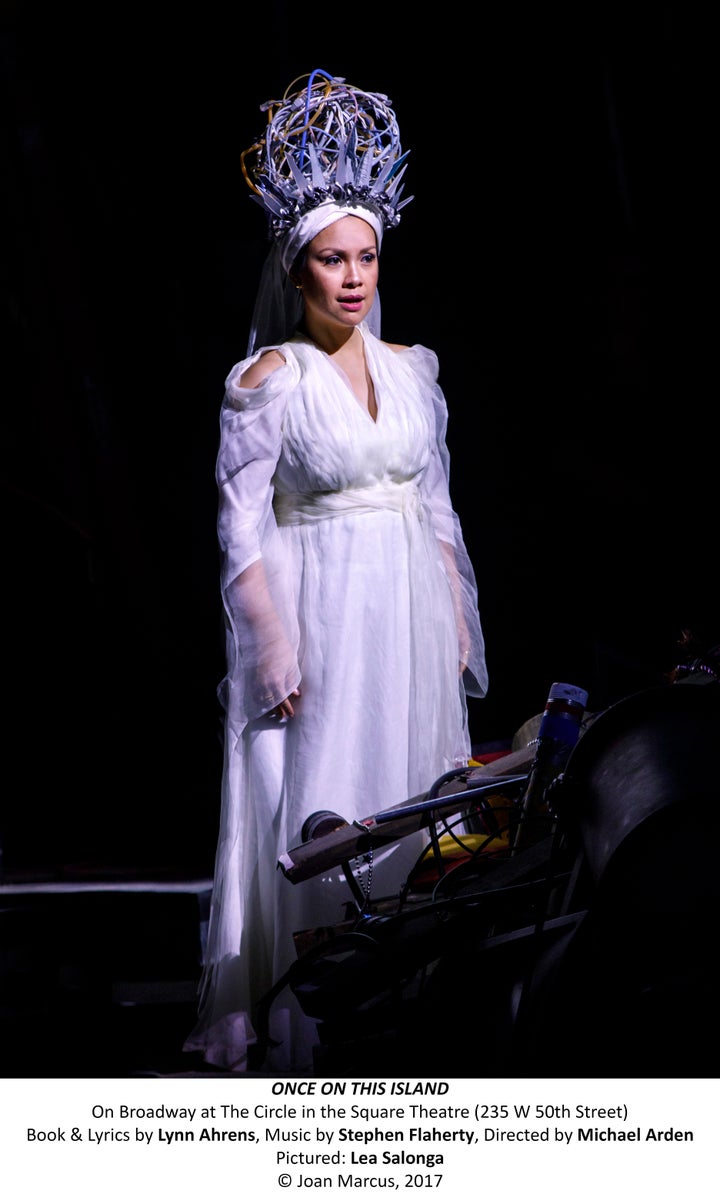 Aside from the Broadway Ms. Salonga just released a new album Bahaghari featuring traditional songs and a variety of languages from the Philippines.
As ridiculously busy as she is, Lea was able to find the time to answer some of my questions about her work on Broadway and how she likes to unwind.
First of all congrats on Once on this Island! It was my first time seeing this show and it was just beautiful! Two different worlds, love concurs death, it's a story that we need right now. What is it like performing in such an interactive ensemble piece?
It's absolutely a joy to get to be part of this incredibly talented ensemble in a piece that I adore and love. I thank my lucky stars that I get to do this show every night, and that the production is such that our audience feel as much a part of the action as we do. I also get to watch as much as perform, and it's fantastic!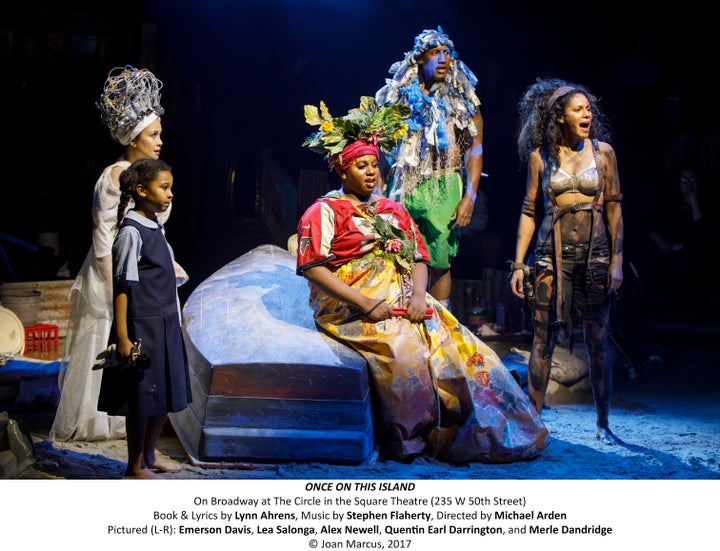 How has it been working with Hailey Kilgore (Ti Moune)? Have you had any advice to offer her as one who has also debuted on Broadway at the same age? Is there anything you wish you had known when you were 18 and in Miss Saigon?
Hailey is incredibly talented, and has been able to navigate this mammoth task with skill and grace. The only piece of advice I was able to offer was to not think of the greater task as hand, but to break things up into smaller bits that are easier to handle. It's something I wish I knew when I was 18. Oh, and to not take any of this too seriously.
Your CD Bahaghari was just released, and you feature an array of languages and songs from your home country the Philippines. What do you hope your audience will come away with after listening to your music?
I'm hoping that listeners will take away that I come from a country that is as much a mystery to me as it is to them. There are languages and cultures within the Philippines I'm not at all familiar with, and that's okay. Getting to record Bahaghari has been a journey of exploration as well as a labor of love, and I'm hoping that those that listen to the album feel they're discovering the Philippines along with me. The music is varied, humorous, emotional, and fun.
You just released a CD, you're starring in a Broadway show, how do you find time to relax and chill?
I've got an XBOX ONE at home, and my Music Choice channel set to jazz. That's more than enough stress relief for me. I also try to get my hands crocheting a project, whether it's a scarf or some amigurumi creature.
As a leading woman of color in the Asian theatre arts community, what are your thoughts on presentation versus representation? Do you think opportunities are getting better for people of color, specifically Asians?
Things can always get better for everyone, and perhaps when we all realize that this world and this industry is actually big enough for everyone, then there won't be so much fear and paranoia. That said, I'd love to see more pieces written and produced by people of color, supported by everyone. A piece like Hamilton, for example, as fantastic as it is, shouldn't be a one-off. We need more shows that provoke and stimulate in order to promote more understanding. The Scottsboro Boys, for example, broke my heart and I thought for sure that it would have a really long run. Same with Allegiance. There may be mistaken perceptions regarding both these shows, something that makes me feel very sad.
You will always be Princess Jasmine to me, but what is your favorite role you have played and why?
My favorite role is whatever I happen to be doing at the moment. Besides that it's the most diplomatic answers I can think of, I'd rather be living in the here and now instead of reliving past glories. All my focus and attention is on Erzulie, and I love it that way. She's fun!
Any words of advice for women of color wanting to have a career as an actor?
Prepare yourself for heartbreak, rejection, and misunderstanding. This industry and the work involved isn't always a bed of roses.
Since the holidays are just around the corner do you have a favorite family tradition or recipe you could share?
I wish I did. That my family will be spending Christmas Eve eating out should say a lot.
Thank you so much Lea, and Happy Holidays!
Follow Alex on Twitter and Instagram @AlexFChester
Related
Popular in the Community