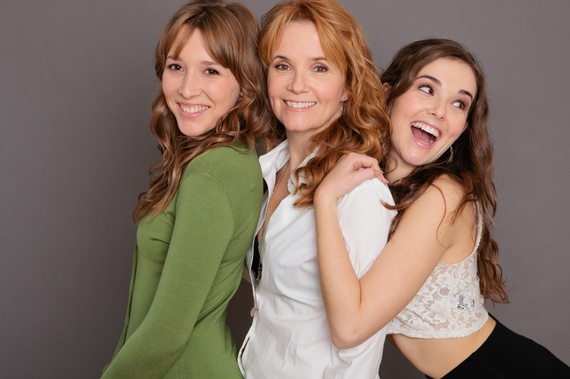 Lea Thompson is interested in more than one aspect of show business. From her start as a ballet dancer, to movies like Back to the Future, to TV shows like Caroline in the City, to directing, Thompson is now on this season's Dancing with the Stars, which she says, "Puts the S in show business!"
Along with the glitter and glitz, ABC's Dancing with the Stars is a meaningful experience for her. Thompson, now 53, left dancing at age 21 after Mikhail Baryshnikov told her that she was a beautiful dancer, but too stocky and not flexible enough.
"I was broken hearted when I quit dancing and I didn't really dance again -- not like this... Personally for me it's really profound, because it's like revisiting my first love. There's a lot of joy and emotion that's coming out of it for me," she says.
What does film/TV director Howard Deutch, her husband of 25 years, think of her being on DWTS? "He's very proud. He also thanks my partner for how nice my body is starting to look."
She goes on to acknowledge, "It is awkward. There are these gorgeous people that are teachers and you get really close to them. And dancers are so touchy feely. I asked my husband about that before I went and did the show and he was like, 'Go ahead. It's fine. I've been with you through a billion leading men. This is just another leading man.'"
DWTS is one part of Thompson's busy schedule, which includes acting in and directing ABC Family's Switched at Birth. She also plays the role of Nicolas Cage's wife in the movie Left Behind coming out October 3, as well as being in pre-production on The Year of Spectacular Men, a film written by her daughter Madelyn Deutch. She will be directing and starring in this film with both her daughters, Madelyn, 23, and Zoey, 19.
In my interview with Thompson, it was her role as mom of two daughters that I wanted to explore. Talking with Thompson you get the sense that she's smart, fun, down-to-earth and loves being a mom.
What is the best advice about parenting you have received?
My mother told me to raise my kids with calculated neglect. They get their self-worth from doing what they can do and not having everything done for them.
I let them take responsibility for their lives upon close supervision. I think that helps build self-esteem and street smarts. I always just wanted them to be able to survive on their own.
What did you tell your daughters about dating?
I explained to them very, very clearly that sex is really great, but sex with someone you love is fantastic and sex with someone that doesn't love you is really bad.
My kids found beautiful guys and they both have stable, loving relationships.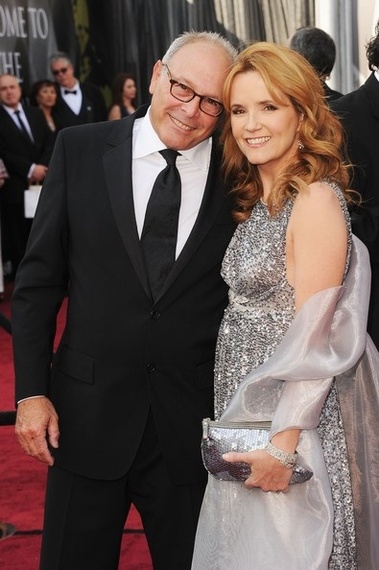 How has your relationship with your husband changed, as your daughters have gotten older?
It's changed a lot. He was very alarmed by babies -- the crying and all that. He wasn't comfortable with it.
I never stopped working and I'm very hands on, so I probably didn't give him enough time. I think that was hard. But as they've gotten older and more independent, it's definitely gotten easier on our marriage. It's like we're suddenly really enjoying just being together... I'm glad that we weathered those years.
As your kids get older, do you feel like you are discovering yourself again?
In my 20's before I had my kids... I felt like I knew who I was. Then I had my kids and it was all about working, working, working, but really spending all my energy on them honestly.
Now that they're gone and I'm in my 50's -- the hard part was at the end of my 40's -- I'm like, 'Who am I now? I'm not young and pretty and I'm not a mom [of young kids] -- What do I do with the rest of my life? What am I?'
It was a really, really hard time for me in my late 40's. I feel like I've emerged from that now.
How did you get through it?
I think it's a day-to-day thing. I have to read something positive every single day. I have to have faith that the day is unfolding in a way that is going to be useful to somebody else... For me, living every day in gratitude has been profound for me.
It's so much better now, but society wants to erase, in some weird way, women as they get older and you have to keep saying, 'No! I'm here and I've got stuff to do and I'm gonna do it!' It's an every day process of trying to remain useful.
What is your biggest frustration as a parent?
When my kids assume I'm saying something that I'm not saying at all. I hate when people don't hear the actual words out of your mouth or even the intent of it. They just hear something completely different.
What brings you the most joy from being a parent?
Watching my daughters be creative. Making something beautiful out of nothing... It inspires me.
How do you feel about your daughters choosing acting as a career?
It helps me forge a relationship with them as young adults because we're collaborators... It keeps us close.
Is there something as a parent that you're doing that you don't see other parent's doing--something that's unique to you?
I always try to tell them the truth. The kind of truth they can understand... I read this in Dr. Spock and it really stuck with me: Kids can feel what's going on and they get more afraid if you don't tell them.
How have you maintained the connection with your husband for 25 years?
He really does let me be me. He doesn't try to make me into something else and that is an immense gift of love, which I appreciate.
Calling all HuffPost superfans!
Sign up for membership to become a founding member and help shape HuffPost's next chapter