Life has improved in concrete ways for millions of children around the world, and the progress for girls is especially notable.
Globally, the number of out-of-school children of primary school age has fallen to an estimated 57 million in 2015, down from 100 million in 2000, and many more girls are now in school compared with 15 years ago. In 1990 in South Asia, only 74 girls were enrolled in primary school for every 100 boys. Today, there are approximately 103 girls in school for every 100 boys. Meanwhile, the percentage of young women married before age 15 declined from 12 percent in 1990 to 8 percent in 2010.
Despite these improvements, however, there is much to do, and the work is complex because the challenges girls face are unique. In too many cases, a school is not a safe haven of learning but a place of harassment and exploitation. Many girls still don't successfully transition from primary to secondary school, because their parents stop investing in their education or decide household duties take precedence. Child marriage, prevalent in many countries throughout the world, continues to dead-end young girls' learning and earning potential. And trafficking is a distinct threat.
At The Global Fund for Children, we believe in learning from experts--from girl experts and the grassroots organizations working to improve their lives. Girls face risks that boys do not, and this makes them uniquely positioned to provide insight that will create lasting change.
Grassroots groups and girls themselves tell us that, too often, large institutions and funders don't trust them to know solutions, implement programs, or manage funding. And the jargon so common in international development excludes them. Elevating their experience, amplifying their voices, and showcasing their success are critical to helping them gain credibility, access, and influence. And together with a group of grassroots funding champions, we seek to do just that.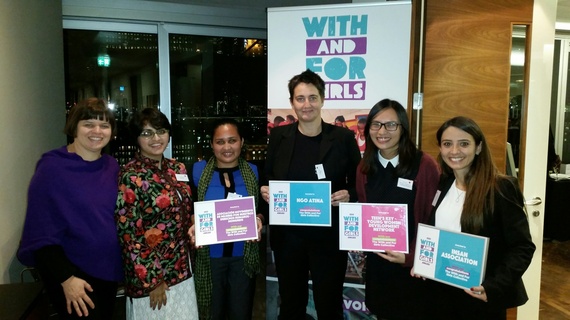 Victoria Dunning, left, pictured with leaders from five Global Fund for Children grassroots partners that received the inaugural With and For Girls Award, a global award designed to identify and support strong, community-based, girl-driven organizations. © The Global Fund for Children
In November 2015, 20 grassroots groups from around the world received the inaugural With and For Girl Award. An initiative of eight organizations (including The Global Fund for Children), the award recognizes the work of strong girl-led and girl-focused organizations around the world.
The nominees and winners represented the most effective and inspiring organizations promoting and protecting girl power at the local level. Each awardee is also unique in the way that girls not only participate but help to develop and lead the implementation of solutions that are making a difference.
Atina, a Global Fund for Children grassroots partner that was among the winners, provides long-term, direct assistance to women and children who are victims of trafficking and sexual or labor exploitation in Belgrade, Serbia. The organization's ultimate goal is to help women and girls overcome their trauma and gain the confidence to successfully reenter community life. Many of Atina's beneficiaries are Roma, who are particularly vulnerable to sexual or labor exploitation--and have been notoriously marginalized and underserved.
Atina provides girls and young women with safe accommodations, nonformal education, and basic support, including medical and psychological care and legal advice. An innovator in its field, Atina also runs a bagel shop, where trafficking survivors have the opportunity to gain valuable work experience and build their confidence before they reenter the labor market. The shop also provides critical funding for the organization's programs.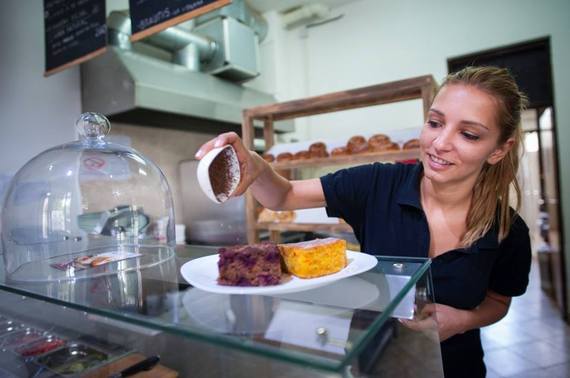 At Bagel Bejgl in Belgrade, young women gain skills that help them build a brighter future. © Bagel Beigl / Atina
Aware Girls, another awardee, was founded in Pakistan in 2002 by a group of teenage girls with the goal of building young women's capacity to become leaders and shape their nation's future. It is the first organization in the country led by girls, for girls. Aware Girls has set up 40 Girls' Power Clubs in rural areas of Pakistan, annually teaching more than 1,200 girls key leadership skills. Meanwhile, its AIDS Discussion Clubs reach more than 1,500 girls and young women every year.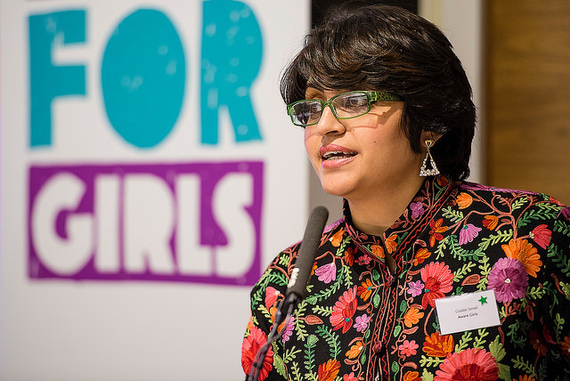 Gulalai Ismael, co-founder of Aware Girls in Pakistan. © Stars Foundation / With and For Girls Collective
Supporting local solutions -- and helping them become more sustainable -- is at the heart of what we do at The Global Fund for Children. We listen to our partners and work to meet their needs because we believe that innovators at the grassroots level are best positioned to reach and transform the lives of marginalized children. Local challenges are best solved with local solutions--and we must allow girls to lead the way.
Calling all HuffPost superfans!
Sign up for membership to become a founding member and help shape HuffPost's next chapter