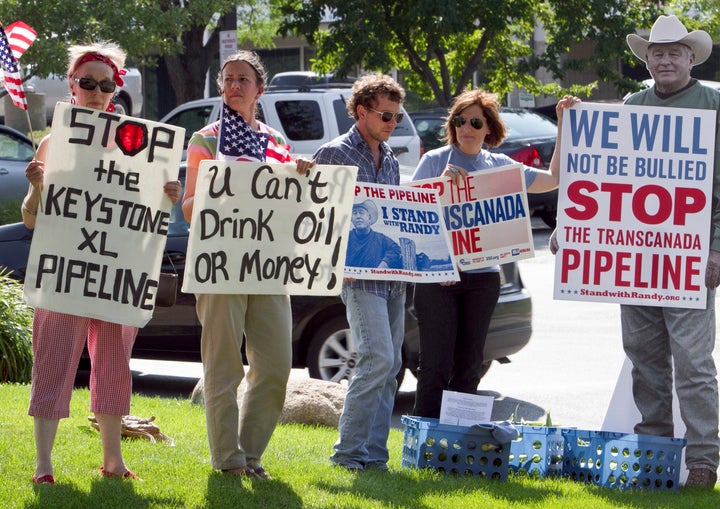 In their letter to Obama, the groups described the pipeline as "perhaps the biggest climate test you face between now and the election," and warned that a failure to deny the permit could come back to haunt him in 2012.
"If you block it, you will trigger a surge of enthusiasm from the green base that supported you so strongly in the last election," wrote the groups.
Signatories included leaders from Natural Resources Defense Council, the Sierra Club, the Environmental Defense Fund, the National Wildlife Federation, Greenpeace, Friends of the Earth and the Rainforest Action Network, among others.
"There is not an inch of daylight between our policy position on the Keystone XL pipeline, and those of the protesters being arrested daily outside the White House," wrote the groups in their letter.
As of Wednesday afternoon, 275 people had been arrested in connection with the protests. Organizers say more than 2,000 volunteers have signed up to participate in the sit-ins, which are slated to run through Sep. 3.
"For those of us out there protesting, the best thing about this ringing statement is that the administration won't be able to play one group off against another by making small concessions here and there," author and environmentalist Bill McKibben, who is helping to organize the protests for tarsandsaction.org, wrote in a statement accompanying the press release. "They've all shown that there is one way to demonstrate to the environmental base that the rhetoric of Obama's 2008 campaign is still meaningful -- and that's to veto this pipeline. Since he can do it without even consulting Congress, this is one case where we'll be able to see exactly how willing he is to match the rhetoric of his 2008 campaign."
Read the full letter below:
Dear President Obama:

Many of the organizations we head do not engage in civil disobedience; some do. Regardless, speaking as individuals, we want to let you know that there is not an inch of daylight between our policy position on the Keystone Pipeline and those of the very civil protesters being arrested daily outside the White House. This is a terrible project -- many of the country's leading climate scientists have explained why in their letter last month to you. It risks many of our national treasures to leaks and spills. And it reduces incentives to make the transition to job-creating clean fuels.

You have a clear shot to deny the permit, without any interference from Congress. It's perhaps the biggest climate test you face between now and the election. If you block it, you will trigger a surge of enthusiasm from the green base that supported you so strongly in the last election. We expect nothing less.

Sincerely,

Fred Krupp, Environmental Defense Fund

Michael Brune, Sierra Club

Frances Beinecke, Natural Resources Defense Council

Phil Radford, Greenpeace

Larry Schweiger, National Wildlife Federation

Erich Pica, Friends of the Earth

Rebecca Tarbotton, Rainforest Action Network

May Boeve, 350.org

Gene Karpinski, League of Conservation Voters
Popular in the Community