"Leader." "Idea." What do these words have in common?
This year my wife Holiday Reinhorn and I have started a new nonprofit venture. It's called LIDE, and it's an educational initiative in Haiti using the arts to empower adolescent girls and create community.
Let me tell you a little bit about it.
A few months before the big earthquake, Holiday and I had the good pleasure of visiting Haiti and seeing some of the remarkable schools there that were being supported by the Mona Foundation. The foundation, whose board I am a member of, funds grassroots projects all over the world and was sponsoring four separate schools in Haiti at the time.
Our lives were transformed on that trip in 2009. We had never been so affected by a place before. It's a magical country filled with heartbreaking poverty; vital, thrilling culture; and a proud, brilliant populace. And the Mona schools? They were remarkable. Excellently administrated, with beautiful facilities and curious, bright students who were ready to take on leadership roles in their communities and throughout all of Haiti.
Then the quake hit. In 40 seconds over 200,000 people died and millions were injured, homeless and tragically affected.
Soon thereafter, Holiday volunteered to go teach the arts, specifically creative writing, to adolescent girls in a tent camp run by Sean Penn's amazing charity, JP/HRO. I was skeptical at first but asked to tag along. I thought, "Why are we teaching the arts to girls who really need jobs and shoes and homes and skills?" Boy, was I proven wrong.
The program was incredibly successful. Watching these adolescent girls, many of whom were illiterate and had their own children themselves, and most of whom had suffered greatly in their short lives, blossom over the course of 10 days was absolutely thrilling.
Why? Well, the arts give you a voice. They allow a person to express their heart and soul and identity. Most education in Haiti is simple, hollow, repetition-based reading, writing and arithmetic. To truly flourish, one needs to find one's inner strength. The arts help provide that link. My heart ached when, one day, we asked the girls what their favorite color was and we soon realized that most of them had never been asked that question before. No one cared about their opinions about anything. By the end of the week, the timid, fearful, shut-down girls whom we had first tip-toed into the program were showing off their photos, poems, theater exercises and art projects with passion and confidence. They were empowered by the arts and expression. Ready to begin to learn.
In Haiti and in most of the developing world, women do everything. They cook, clean, raise the babies, manage the shopping and work all day selling in the markets. And they're treated terribly, as you can imagine. Sexual abuse and violence is horrifically common. One UN study found that at least 50 percent of all women living in poor neighborhoods in Haiti had been raped.
This population, adolescent girls in the developing world, is the most at-risk group on the planet. And they benefit the most from education, attention and empowerment. It has been proven that after being educated, this group then gladly shares any knowledge they have gained with their friends, relatives, children and community at large, spreading the things they've learned. Passing it on.
We kept in touch with several of the graduates from that first training endeavor and have helped them obtain scholarships for trade schools and further education. The girls continue to flourish.
We've since been back several more times, working both at JP/HRO and at Center for the Arts, Port-au-Prince, in the Siloe neighborhood, run by the great teacher/photographer Nadia Todres.
A conversation began amongst three of us: my wife; our collaborator, writer/educator/counselor Dr. Kathryn Adams, who currently runs Lide on the ground; and I. We wanted to spread this program, these ideas, the focus on arts and empowerment, to more and more girls in Haiti. We longed to expand the initiative and add other elements, such as community building and service, virtues education and training on women's rights and gender-based violence. We then wanted to provide the graduates with scholarship opportunities for further education and vocational training.
We asked the girls from the tent camp what we should call our nascent program, and they responded, "Girls United for the Future of Haiti!"
"Well, we can't really call it that," we responded. "What's another idea?"
"LIDE," the girls told us. It means "leader." With a little more Kreyòl research we discovered it also means (with an accent at the end) "idea." Leader. Idea.
Operating out St. John's school in the northern city of Gonaive, we work with 60 girls currently. They range in age from 11 to 17, and most have not completed more than a third-grade education. Many are completely illiterate. The daily afternoon program consists of drama, photography, creative writing and visual arts run by five Haitian teachers and a Haitian psychologist.
Many of the girls in the program, the most malnourished and least educated, are known as "restaveks," or household servants. They are basically country girls who stay with a city family and do domestic work. Essentially, they are the same as slaves. (For more on this heartbreaking issue, visit our partner, the great Restavek Freedom Foundation.)
We're at the beginning of our endeavor in Gonaives, Haiti, and have our work cut out for us. Please visit our Facebook page, come down and volunteer and, most importantly, send your prayers and best wishes as we attempt to inspire future leaders and their ideas.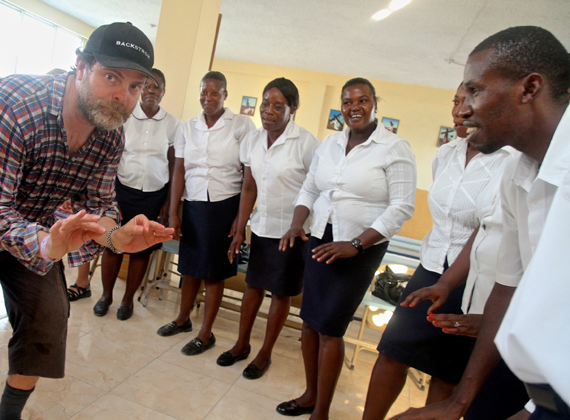 Me doing some teacher training for LIDE in Gonaives.
Related
Popular in the Community