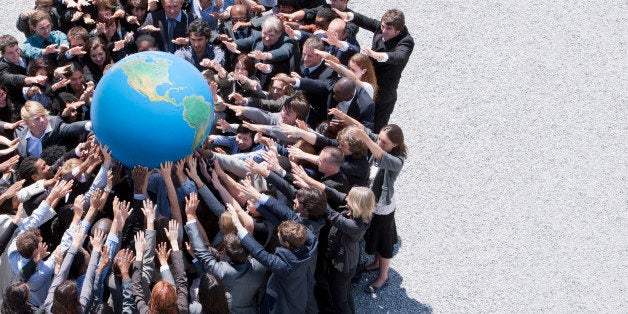 Leaders are lead problem solvers. We see a problem. We create a solution. My recent lecture at the SIAS International University Entrepreneurship Forum (China) focused on how leaders can use principles of entrepreneurship to discover innovative approaches for addressing social justice issues like those outlined in the United Nations Millennium Development Goals (UNMDG). For instance, did you know 58 million children are not enrolled in school? Did you know every hour 50 young women are infected with HIV/AIDS?
Ensuring all children have access to a quality education and ending the spread of HIV/AIDS are leadership challenges. A leadership challenge is an opportunity for leaders to leverage their skills (innovation, creative problem solving, strategic thinking) to make a positive impact in the world. Leaders have the power and influence to address some of the most pressing social justice issues of our time. The exercise of this power begins with entrepreneurship since it serves as an indispensable tool for advancing social change.
Oftentimes, we limit entrepreneurship to the physical market place and business sector by focusing on marketing product or service. Imagine if the same ingenuity used to create products, like the invention of the traffic light (by Garrett Morgan) or the development of 300+ uses of peanuts (by George Washington Carver), could be used to address the challenges facing the world. Could a leader work to end poverty to make sure no child goes to bed hungry? Can a leader work to end infant mortality and support maternal health?
As leaders, we see a problem, we create a solution.
During my lecture, I shared a practical example of social entrepreneurship in action. Many young men struggle to find work when they have a criminal record, have been involved in gangs, or are at-risk of entering the justice system. Community Justice Project Director and Professor Nekima Levy-Pounds and her law students saw this problem and took action. They decided to use their skills as leaders-entrepreneurs to create a solution. They developed a nonprofit organization, Brotherhood, Inc., which provides these young men with jobs and hope. This has given them a second chance to change their lives, make a difference in the community, and serve as leaders.
Mission Statement- Creating Change, Transforming Lives: To enable African-American youths and young men to envision and achieve successful futures.
The Program- A comprehensive reintegration and prevention program.
Purpose- Prevent entry into the criminal justice system (prisons). Support education and skills development of young men. Develop small businesses that hire Brotherhood Participants as employees, where they can gain work experience and support their families.
This is just one example of leadership and social entrepreneurship merging together. Everyday people use their skills to create a practical solution to address the impact of mass incarceration. If we each collectively decide to serve as a leader-entrepreneurs, can you imagine the impact we could have on the world?
Finally, remember we each have a key role to play in leading change and furthering social justice. In essence, there is an old civil rights song that says: "We are the change, we are the change that we have been waiting for." As we seek to become this change, we must work together as a community to make a difference, empower others to lead, create solutions to problems, and build collaborative partnerships. This is entrepreneurship. This is also the exercise of leadership.
Popular in the Community