For thirty years -- since I was a 21 year-old legislative aide on Capitol Hill and was first introduced to the idea -- I have been deeply inspired by the concept of voluntary national service, and the vision that one day, be it military or civilian service, the most commonly asked question of a young adult should be, "Where will you do your service year?"
Exciting progress has been made towards this vision by the success of Peace Corps, VISTA and AmeriCorps and the passage of the Edward M. Kennedy Serve America Act.
Today, as TIME magazine's cover story asks -- and answers -- "Can Service Save Us?," the Franklin Project of the Aspen Institute is announcing a bold Plan of Action to scale civilian national service towards a powerful vision and a transformational goal.
Establish a 21st century system of voluntary national service that makes a year of service a common expectation and a common opportunity for America's young people.
Engage one million young adults annually in a year of full-time civilian service, putting voluntary national service on par with the one million heroic Americans currently serving in the nation's armed services.
It's a plan that has been shaped and strongly endorsed by a Leadership Council composed of national leaders from a remarkable cross section of backgrounds and experiences.
From the philanthropic, governmental, nonprofit and private sectors, members of the Leadership Council include the former Co-Chair and Chief Executive Officer of the Bill and Melinda Gates Foundation, Patty Stonesifer, former U.S. Senators Mel Martinez and Harris Wofford, the former Director of the Domestic Policy Council of the White House, Melody Barnes, the President of the Target Foundation, Laysha Ward, and the Founder and Chair of the Board of Teach for America, Wendy Kopp.
The Plan of Action has also been strongly endorsed by an array of leaders who have dedicated their lives to promoting the nation's defense and security, including former Secretaries of State, Madeleine Albright and Condoleezza Rice, former Secretary of Defense, Robert Gates, former National Security Advisor General Jim Jones, and Generals Ann Dunwoody and Stanley McChrystal, the Chair of the Leadership Council, whose stirring call at last year's Aspen Ideas Festival for more service and sacrifice here at home -- especially during wartime -- inspired the birth of the Franklin Project initiative.
The Franklin Project's Declaration of Service and the full list of the Leadership Council below.
The Franklin Project's bold Plan of Action calls for uniting young adults from all backgrounds, rich and poor, Black and White, Latino and Asian, for a demanding year of national service that will help them grow and mature, gain new skills and develop a lifelong civic commitment, all while they help others. There is also a special component to help young adults who are out of school and unemployed -- America's "Opportunity Youth" -- gain pathways to employment, further education, and the American Dream through service.
Engaging government, the private sector and higher education alike to grow the number of service opportunities, the Franklin Project's Plan of Action scales AmeriCorps and Peace Corps, calls on the President and his cabinet to utilize budget-reducing citizen service initiatives to meet federal agency missions, offers veterans the opportunity to utilize their GI Bill benefits to keep serving here at home, and encourages nonprofits to join a national service network of service opportunities.
What would this surge of citizen energy be focused on? Conquering big national challenges: ending the dropout crisis, restoring public parks and lands, responding to national disasters, ensuring that no child in America goes hungry, promoting energy efficiency, and enhancing the health and nutrition of all Americans.
Today's announcement of The Franklin Project's Plan of Action includes new polling data that shows that Americans strongly support large scale voluntary national service. According to the Corporation for National and Community Service, the nation's young adults -- the Millennial Generation -- are ready to serve: there were 582,000 applications for just 80,000 AmeriCorps positions last year alone.
The Franklin Project's Plan of Action is stirring. With its implementation, "Where will you do your service year?" will rapidly become the most commonly asked question of America's young people. But most importantly, young people will be inspired to answer the question: "The Marines!", "Teach for America!", "Air Force!", "Habitat for Humanity!", "The Army!", "City Year!", "The National Guard!", "YouthBuild!", "Navy!", "AmeriCorps!", "Coast Guard!" and "Peace Corps!"
By calling on young Americans to express their love for our country through service, voluntary national service will become a new civic rite of passage, and a truly beloved American institution, uniting us as Americans in service to America.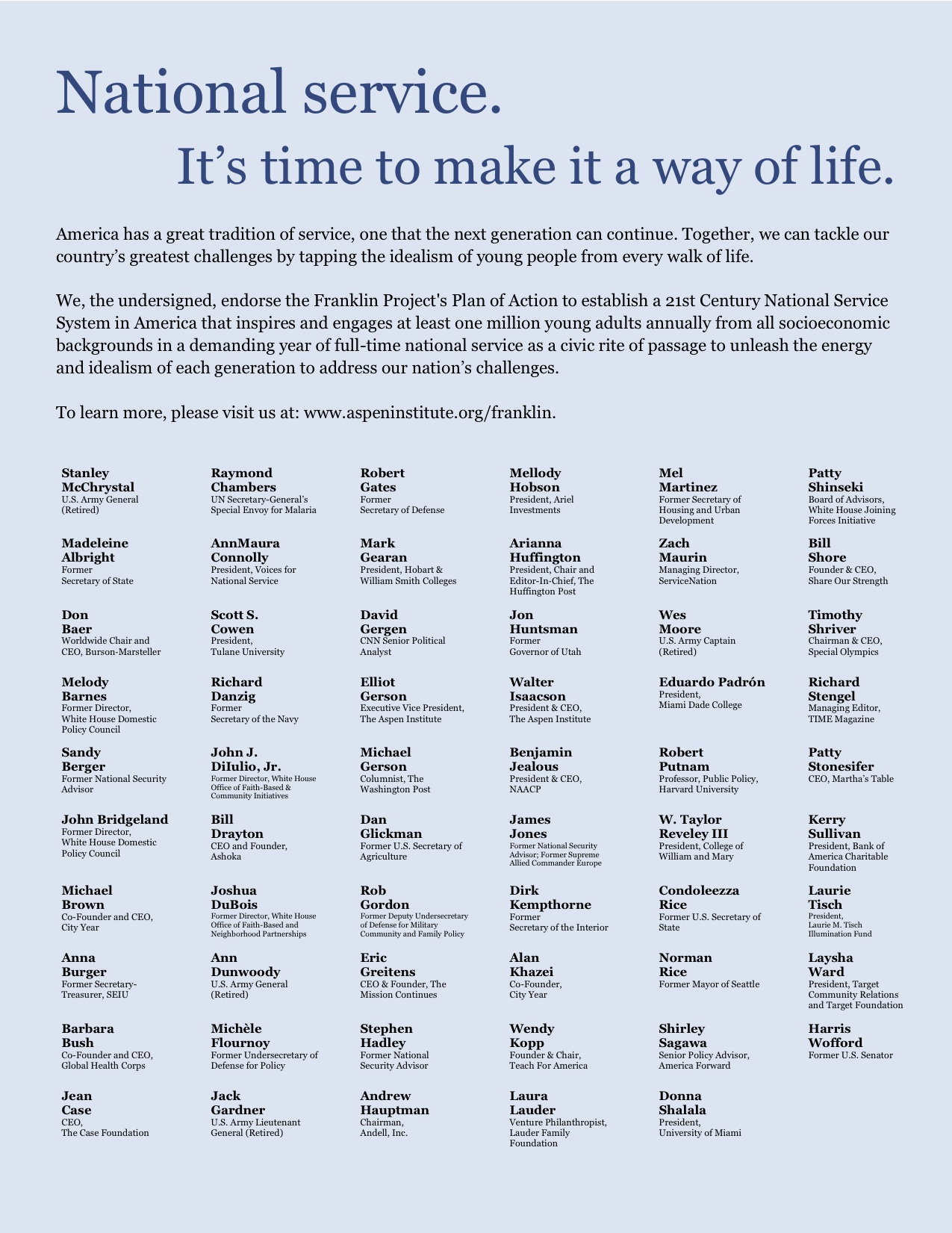 Popular in the Community