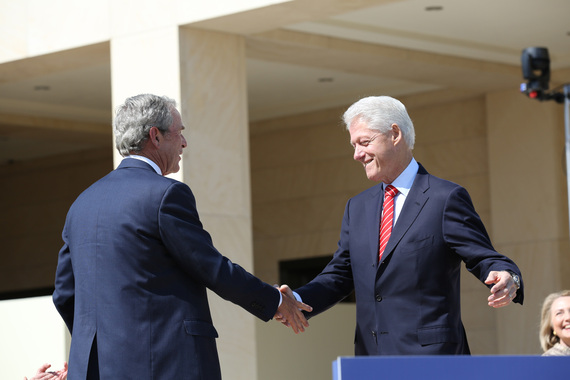 In America today, it's easy to find something to disagree about. A country as richly diverse as ours will never suffer for a shortage of opinions. But to harness the power of those disagreements, we need something that's much more difficult to find: the determination and leadership required to bridge the differences that separate our citizens. Today, our two most recent former presidents will announce an unprecedented program designed to further develop established leaders ready to make stronger contributions in the communities where they live, work, and volunteer. George W. Bush and Bill Clinton are very different men who embody two very different governing philosophies. But they share a belief that the future will be owned by leaders who, despite their differences, are willing to engage in the difficult job of finding real solutions.
The Presidential Leadership Scholars program will both study and teach the process of leadership to civically engaged, mid-career professionals by drawing on pre-eminent scholarship and best practices. Specifically, the presidential centers associated with the two former Presidents are partnering with the presidential centers of Lyndon Baines Johnson and George H.W. Bush to provide a unique learning experience designed to strengthen leadership in every sector of our society.
The need for this program is clear. Recent polling suggests that two-thirds of Americans believe today's children will be worse off economically than their parents' generation. Widening inequality is limiting the potential of our citizens and our communities. And our failure time and again to agree on a path forward is undercutting our quality of life and undermining our opportunities for a more hopeful future.
This will not be a program designed to get everyone to agree on everything. It won't require participants to embrace any particular governing philosophy. It will simply focus on providing up-and-coming leaders with the tools they need to bridge the divisions that plague communities big and small. The challenge of bringing together people with disparate interests may be more intense in the Oval Office--the stakes may be higher--but the dynamics reflect the demand for leadership in every facet of American life. We need more citizens to be better versed in the spirit of collaboration and the willingness to embrace new perspectives.
When unveiling the program today, Presidents Clinton and Bush will focus on the leadership qualities that will be the program's focus: vision and communication, decision making, coalition building, and influence and persuasion. But beyond focusing on the decisions they made in office in the pursuit of positive change, they will discuss the processes they each used to bring people together around common solutions.
In helping emerging leaders understand the practice of effective leadership, the program will encourage them to apply their newly-honed skills in their professional, personal, and civic responsibilities. The best hope for America is that we learn to work through the challenges and opportunities of the coming years, together.
Popular in the Community