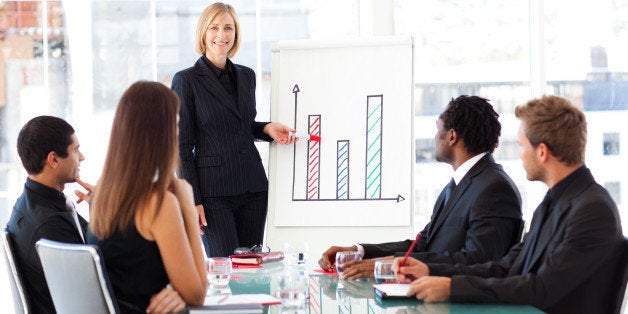 Crises can make or break a leader. Whether it's changes in the C-suite, a social media blunder or a product recall, leading a company through a crisis is challenging, to say the least. When stress levels are high and the vision of instant success doesn't quite pan out, the moment of truth arrives.
Good leaders help their companies emerge from a crisis stronger, whether they turn company culture upside down or take it back to its roots. They control the situation, engage their teams and develop solutions to help change the course. It's do or die -- a crisis could be the perfect moment to surpass expectations and make a name for yourself.
On the other hand, poor leadership can be the final nail in the coffin for an ailing company, and an ailing career.
Throughout the years, we've seen leaders on both sides of the spectrum, allowing us to learn some lessons as new brands face crisis.
Shaking Up Company Culture
Marissa Mayer faced many problems when she joined Yahoo as president and CEO in 2012. The website seemed to be on its last legs when she left Google to come to the rescue.
Her arrival offered an alternative vision for Yahoo headquarters. She began by making Yahoo a more desirable place to work. It started with small changes, like transitioning company phones from BlackBerry to iPhones or Samsung smartphones. Other changes included free food at the cafeteria.
Bigger changes meant that Yahoo would shift their focus to smartphones, and to making the mobile web-browsing experience more user-friendly. She also implemented a highly controversial policy change where all remote-working employees were asked to work in Yahoo offices or quit.
In addition, she's working to redefine what Yahoo stands for. With strategic hires that include Katie Couric as Yahoo's global news anchor and Bobbi Brown as editor in chief of Yahoo Beauty, the site aims to attract more users with quality content. Yahoo has also heavily invested in its entertainment offerings, obtaining exclusive rights to Saturday Night Live's archives and taking in Community after NBC canceled the show. What started as a search engine has become a hub for news and entertainment, and Mayer is focused on its continuous evolution.
Her relatively short time at the company has shown how leadership is often about making tough decisions. She's proven to be a courageous leader, making a great impact in Yahoo, and sparking a conversation across America with her leadership style.
Before assuming her current role, Mayer had never led a company, but that didn't stop her from taking on a risky and impressive challenge. And it has paid off in many ways. Shortly after her arrival, Yahoo made news by surpassing Google in traffic for the first time in two years. In addition, Yahoo's stock price has tripled since she became the head of the company.
Sometimes, there are just no results. Companies fail to focus on the right things and leaders don't guide their team in the right direction.
Let's take Blockbuster, for instance. The video rental store has become the face of extinct corporations everywhere. Many blame Netflix and Redbox for Blockbuster's demise, but plain and simple, the company's leadership failed to seize some pretty amazing opportunities.
In 2000, Netflix CEO and co-founder Reed Hastings presented a proposal to Blockbuster leadership: his company was struggling, and he wanted to sell a 49% stake in the company and take the Blockbuster name -- a $50 million deal.
But Blockbuster passed on it.
Today, Netflix has embedded itself into American culture, and is valued at $28 billion, almost as much as CBS is worth. This could very well be the worst mistake a business has made in recent history, even taking into account Blockbuster's 20-year-exclusive video-on-demand deal with Enron Broadband Services, which shortly went up in flames, or their bid to buy the now-extinct Circuit City for $1 billion.
Their fatal flaw was a lack of vision. Instead of looking forward and considering the growing power of digital media, Blockbuster leadership failed to evolve, making the company today a punch line for some, and a melancholy memory for others.
As American taste buds opt for seemingly healthier, fast-casual restaurants like Chipotle and Panera Bread, McDonald's is losing ground. However, Steve Easterbrook, the new CEO for this fast food giant, seems confident in the transformation he's about to lead the company through.
This Englishman has come in ready to revolutionize one of America's most iconic businesses. Easterbrook's first major act as CEO was to announce that -- within two years -- all chicken served at its restaurants will be free of antibiotics. When McDonald's is one of the biggest buyers of chicken in the country, you have to admit this is a courageous move.
Easterbrook has a proven track record as the head of the brand, which is a huge asset as he gears up for all that's to come. He became the head of McDonald's UK in 2006, and brought in great results for the region after implementing a major restaurant redesign. He later moved on to lead the UK's Pizza Express chain and, afterwards, noodle chain Wagamama. Both companies grew under his leadership, before he joined McDonald's once again in 2013.
Now, he is tasked with leading the company through very tough times, and hopes are that he can bring some of his magic and get consumers lovin' it all once again. His experience makes the future look bright, and in the end, he is the key to get McDonald's back on top.
In the road ahead, Easterbrook can learn a lot by looking at others' past successes and failures. Today, he has been presented the best opportunity to change the game in his favor, an opportunity to be better and stronger. It's not an easy path, but an intense trial in many ways. Let's see if he has the vision it takes to take McDonald's to the next level.
Calling all HuffPost superfans!
Sign up for membership to become a founding member and help shape HuffPost's next chapter