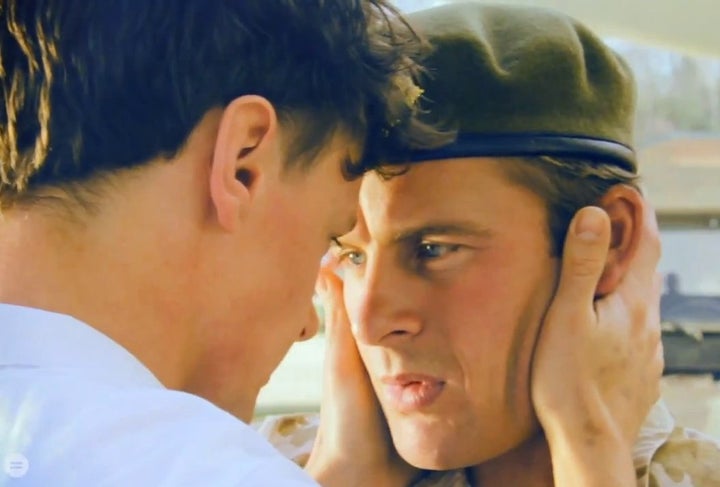 U.S. troops are known to be brave in battle, but apparently the Pentagon is willing to let spouses clubs walk where even the Department of Defense fears to tread -- on the uncertain terrain of integrating same-sex spouses into military life.
Since "don't ask don't tell" was repealed more than a year ago, gay and lesbian troops serve openly in the armed forces. However, their same-sex spouses do not have full military family status. DOD does not recognize same-sex marriage, though it is legal in several states. The Defense of Marriage Act, a federal law, defines marriage as only between one man and one woman, leaving same-sex spouses currently ineligible for military ID cards and most military benefits.
Federal regulations are at odds over whether same-sex spouses can be given military family status. The Defense of Marriage Act says one thing, anti-discrimination laws imply another. A U.S. Supreme Court ruling on the constitutionality of the marriage statute is expected in June.
Advocacy groups are asking the DOD to extend benefits to same-sex spouses ahead of that ruling, but for now the Pentagon is silent. The White House is waiting it out too, including the First Lady's military family outreach, Joining Forces.
Stephen L. Peters II, president of the American Military Partner Association, which represents same-sex military couples, said his group has expressed its concerns to Joining Forces. "They have not taken a proactive approach in advocating for same-sex spouses in terms of the extension of benefits," he said.
With the halls of power battened down and mum on the issue, spouse groups still must grapple with inclusion of spouses who are not yet recognized by the DOD. It appears that some base-level commanders are willing to let them do so on their own.
In November, Ashley Broadway, a same-sex Army spouse asked to join the Association of Bragg Officers Spouses at Fort Bragg, N.C. The organization's board was unprepared to be at the forefront of military social change and negative media attention.
At one point the club's website -- including a board roster -- was password protected. "Board members and their children were being stalked and threatened," said an executive board member, who did not want to be identified.
In mid-January, citing Broadway's lack of a military ID, the spouses group offered Broadway a "guest membership," which she declined. Although it may have once been presumed that all military spouses have ID cards, that requirement was not in the club's bylaws.
Throughout the dispute between Broadway and the spouses club, the commander at Fort Bragg kept his distance. The spouses club is a private organization, he said, implying that he has no responsibility either to direct or protect the members. Those of us who have volunteered in any on-base organization know better.
Though military spouses clubs are private, they operate with the consent of the installation commander and must abide by military and federal regulations. Because the federal regulations are currently unclear, the Fort Bragg commander's unwillingness to lead left a momentous decision and its consequences on the shoulders of handful of volunteers -- while the world watched.
As the Fort Bragg publicity fiasco unfolded, the Marine Corps commandant's Staff Judge Advocate issued a statement Jan. 10, directing private organizations to admit same-sex spouses to their membership or face expulsion from Marine installations on the basis of discrimination.
Ironically, the same-sex spouses whom these on-base organizations are now required to admit are not granted ID cards -- or base access -- by the Marine Corps. Still, for Marine-affiliated organizations, the way forward is somewhat clearer. Until the differences between federal directives are settled, all military communities would benefit from clear guidance as well.
With or without ID cards, same-sex spouses are part of the military community. With or without guidance, military life marches on. The path will be more difficult if those who should lead don't. Will military leaders at all levels meet the challenge or will they continue to leave that responsibility with a handful of volunteers?
REAL LIFE. REAL NEWS. REAL VOICES.
Help us tell more of the stories that matter from voices that too often remain unheard.