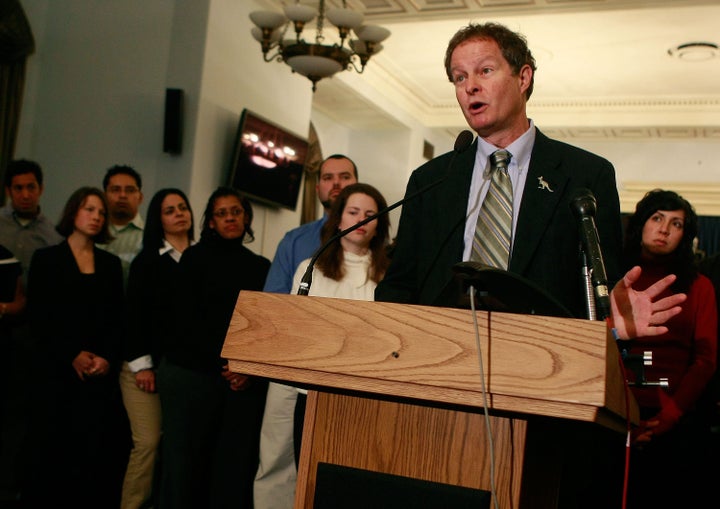 As chairman and CEO of Citigroup, Sandy Weill ran the world's third largest financial institution with 250,000 employees in 102 countries without a computer and barely knew how to use a cell phone.
Amazon.com soared from a $9 billion to a $70 billion company with Mark Onetto in charge of the supply chain and customer service for the world's largest Internet retailer.
And Whole Foods Market co-CEO and co-founder John Mackey has grown a single store in Austin, Texas, founded in 1978, into an $11 billion Fortune 300 company, and a top U.S. supermarket with more than 340 stores and 70,000 team members worldwide.
I recently interviewed each of these three gifted business leaders at a series of public events in February sponsored by the UC Davis Graduate School of Management.
These business leaders came from very different industries: a legendary financial industry leader, the innovative operations guru from the book seller turned-global retail and media powerhouse, and a risk-taker who put natural foods on the map.
What leadership lessons can we glean from three leaders in different industries? They spoke with a common voice that reinforces the virtues of sustainable business and what we should be teaching the next generation of business executives and entrepreneurs.
The message was loud and clear: leadership matters. Emotional intelligence and putting people first are keys to a well-run, values-centered company. And, the most important lesson is that, whether operating in retail, banking, grocery or other industries, the health of today's companies relies more than ever before on creating a reciprocating network of shared value for all stakeholders.
On the importance of customers, for example, Amazon's Onetto put it succinctly: "Success is a combination of strategy and execution and listening to your customers." He shared Amazon's simple secret sauce: "Be good for your customers. The genius is making it happen. It's our business plan." Onetto's team served more than 10,000 customers a day, and he scaled and managed a global network of warehouses with tens of thousands of employees in the United States, Europe, Asia, Africa and Latin America. See the video of Onetto:
Whole Food Market's John Mackey took it up step further, drawing on his experiences and perspective in his new book, Conscious Capitalism. A strong believer in free market principles, he offered a new narrative for capitalism where investors, labor, management and suppliers need to cooperate to create value for customers. Mackey shared his imperative "to wake business people up and change the story of business." His bottom line: "Every business has the potential to have a higher purpose besides just making money." Again, we hear a broad focus on the firm's stakeholders such as customers and employees. See the video of Mackey:
Wall Street financiers like Sandy Weill have been vilified by Occupy protesters and Main Street for focusing too much on profits while ignoring risks that eventually led to the global financial crisis. Weill built Citigroup into a global "too-big-too-fail" giant by lobbying successfully for the repeal of regulations to allow commercial and investment banking under one roof.

Yet Weill's Citigroup provided the necessary capital and financial services to help hundreds of thousands of individuals, small business and corporations around the world thrive. At the same time, he says his industry and government share the blame for the intertwined global risks that led to the financial meltdown that reverberated worldwide. He caused a sensation in a recent CNBC interview by saying commercial and investment banking should be go back to being separated to ensure that the U.S. can offer capital around the world.
"That can happened much better if trading and investment banking get out from under the deposit taking and the backing of the federal government," he told our community.

Government oversight and reactionary regulation, he contends, has created an environment where the financial industry is not allowed to make mistakes, stifling innovation. He says "we have strangled the financial business," with for example the 900+ page Dodd Frank Act. He has alternative regulatory reform boiled down to one page.
With his wife of 58 years, Joan, next to him on stage, Weill said that despite Citigroup's massive size, it was their philosophy that the company should be like a family, with spouses involved, to offer support in the industry's high-stress environment. See the video of Weill:
So, there's the recurrent leadership theme again, capitalism is not just about shareholders, it is about integrating the roles of many stakeholders involved in the firm.
Inviting these three corporate leaders to UC Davis to share their insights, experiences and perspectives offered our business students role models as they launch their careers. It also reminded me of the importance of the role of business education as part of the solution to the challenges of globalization and the promise of an inclusive, sustainable global economy. And, our society must ensure that business leaders pursue a form of capitalism not focused solely on shareholders but also on the broader web of stakeholders connected to firms such as customers, employees, suppliers and community members.
REAL LIFE. REAL NEWS. REAL VOICES.
Help us tell more of the stories that matter from voices that too often remain unheard.