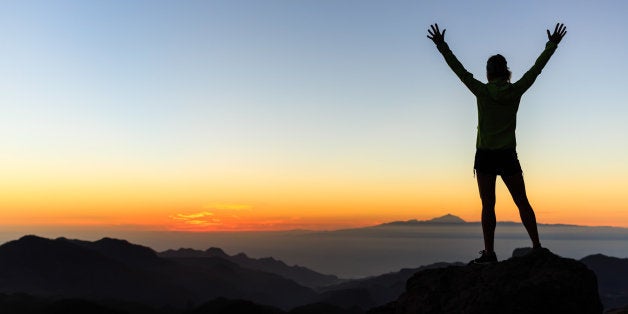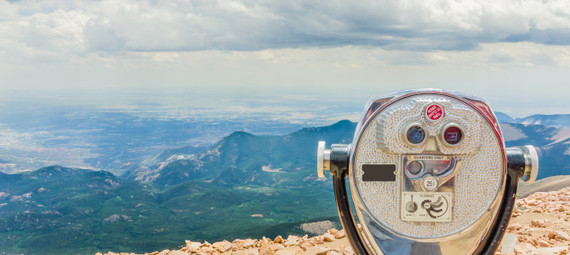 aka Fan Letter for Larry Fink
We all know about the glass that has a midline, depicting the optimist/pessimist divide. The glass half-full, glass half-empty construct is a lesson on perspective, and it's a choice that we often have in our everyday lives.

Lately I've noticed leaders working with another useful perspective: looking ahead with a longer view, instead of looking back.
AT&T CEO Randall Stephenson told his 280,000 employees: "There is a need to retool yourself, and you should not expect to stop." People who do not spend five to 10 hours a week online learning, he added, "will obsolete themselves with the technology."
Ford Motor Company, most associated with cars and trucks, has engaged a team examining Transportation firsthand and conducting simple, granular research. They're clocking commuting times themselves, noting aromas and vibes on existing subway routes. (Police dog on the platform? Check.) Far from the traditional assembly line, this is Transportation with a capital "T": "a complicated, gnarly problem with a complex ecosystem of stakeholders." This team appetite for disruptive solutions reminds me of founder Henry Ford, who moved the nation from the horse-and-buggy.
If you're not in finance, you may not be familiar with BlackRock, but it's actually the world's largest money-manager, with $4.3 trillion in assets. The word "influential" doesn't begin to cover it. So when the CEO, Larry Fink, sent a letter to global CEOs earlier this month, it was surely read. Fink's theme to world business leaders? A demand, polite but unequivocal, to look ahead and think long-term.
Corporate messages are "too often backwards-looking and don't do enough to articulate management's vision and plans for the future," he wrote. "This perspective on the future, however, is what investors and all stakeholders truly need, including, for example, how the company is navigating the competitive landscape, how it is innovating, how it is adapting to technological disruption or geopolitical events, where it is investing, and how it is developing its talent." Larry Fink, 2/2/16 letter to CEOs
As the new book Originals points out, people like Fink, Stephenson, and Henry Ford have something special in common: they move the world forward. Author (and WeSpire advisor) Adam Grant explains that they possess a sense of vuja de.
It's the inverse of déjà vu, where a situation seems strangely familiar--already lived, but elusively so, as in a dream. Vuja de reveals a clear line of sight that points elegantly ahead from the present scenario to an entirely new space. Warby Parker, Uber, Spotify, Spanx all have Originals behind them: innovators who looked at an entrenched system and saw a way to improve it. Professor gurus like Grant and Seth Godin cultivate this potential in all of us.
When you think about it, the long view approach makes a ton of sense, because it naturally promotes ownership and responsibility. Viewing ourselves as owners, and being responsible for things, we start to take care of those things--things like our families, our property, our communities, our teams, our health, our finances, our companies--thoughtfully, as if they were our very own.

Which, in fact, they are.
Larry Fink's recommendation to CEOs busts the safe and tidy short-term ledger, provides a vuja de prescription to produce meaningful, sustainable positive impact. This is the way forward, it's leadership for our times--and it's the same emphasis we draw on and support every day at WeSpire.
"Generating sustainable returns over time requires a sharper focus not only on governance, but also on environmental and social factors facing companies today. These issues offer both risks and opportunities, but for too long, companies have not considered them core to their business - even when the world's political leaders are increasingly focused on them, as demonstrated by the Paris Climate Accord. Over the long-term, environmental, social and governance (ESG) issues--ranging from climate change to diversity to board effectiveness--have real and quantifiable financial impacts."
Thanks for the world-class vuja de, Larry Fink!
Popular in the Community