In some ways, the end of a graduation ceremony marks a fork in the road for the people on stage. The students head off to careers, further education, and life beyond college, putting their hard-earned diplomas to good use. The college presidents, deans, and other academic leaders return to the work of planning, teaching, challenging, supporting—and getting more of their students to walk across that same stage the following year.
Given the evolving profile of today's college students, effective higher ed leaders know the importance of listening to students—and to the data. Listening unlocks insights that allow leaders to reimagine how to serve the needs of all students, not just the so-called "traditional" students who enroll immediately after high school, live on campus and take classes full-time. While our nation continues to struggle with persistent, national achievement gaps in higher ed—including by income and by race — there are several pioneering institutions and leaders who are transforming how they operate with the goal of widening the bridge to opportunity for their students.
Lehman College's social mobility rate – that is, the rate at which students move up the economic ladder – was recently ranked 4th nationally by the Equality of Opportunity Project. But it wasn't until I heard President Cruz's own story about how an educator listening and supporting him changed his life trajectory that I understood the motivation that drives him.
As a young child, Cruz moved from Puerto Rico to Florida with his family so his father could work at a telephone company. Cruz's English was poor, and he struggled in the classroom. To avoid humiliation, he hid and kept quiet. It got to the point where Cruz, as a first-grade student, decided he wouldn't return to school.
Thankfully, his mother convinced him to give it another shot. After he returned to his first-grade classroom, Cruz's peers laughed at him when he couldn't quite find the right word. During a particularly embarrassing incident, Cruz remembered wanting to walk away again until his teacher hugged him and, in broken Spanish, made him a promise: "I'll help you."
Throughout his professional career, Cruz dedicated himself to carrying that promise forward—to listen to students and help them on their path. That mindset is an integral part of Lehman's culture, approach, and recent successes. Many Lehman students—like college students nationwide—have competing responsibilities such as full- or part-time jobs, lengthy commutes to campus, and partners or children. These students are hungry to succeed, but busy schedules mean getting to campus is challenging and they may need some additional academic help.
Guided by these insights, Lehman expanded their hours of operation and identified gateway courses where students struggled. GenChem, where the passing rate was only 35 percent, was one such course that often delayed or derailed student progress. In 2015, Lehman took an innovative approach that allowed faculty to flip the course from a three-hour-a-week lecture to two hours of online courses and an hour-long workshop.
The new model allowed students to complete most of their work from anywhere—including engaging in instructor-made videos and podcasts; viewing and downloading materials online; and completing homework assignments. Then, during class time, instructors use digital tools to quiz students on content in real-time.
Throughout the course, Lehman kept listening—to students, to faculty, and to the data. "Flipping" the course to provide more flexible digital options proved not only popular—with 90 percent of students approving of the new model, it worked. Instructors saw that students were often watching the at-home videos multiple times and rewinding back to key parts. Most importantly, the passing rate soared from 35 percent to more than 85 percent.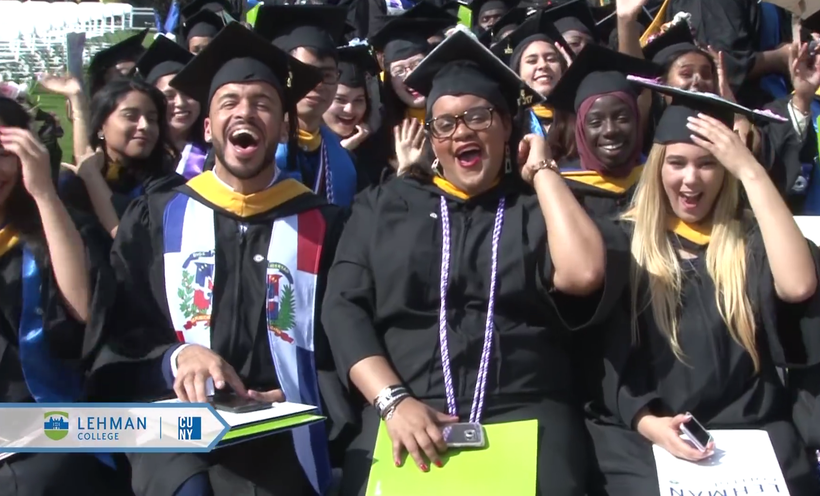 Cruz is rightly encouraged when these types of innovations help more students be successful, but he knows there's still much work to be done. Just recently, Lehman College announced an ambitious goal to double the number of students receiving high-quality degrees and credentials to 90,000 by 2030.
Cruz's commitment to expanding opportunity isn't limited to Lehman's students either. As a member of a consortium that exchanges data and best practices, Lehman College shares knowledge and best practices with other institutions that similarly take a student-centric approach so they can learn successful strategies from each other.
While institutions vary, the importance of listening, innovating, collaborating and measuring is universal. Strong leaders apply these principals to every facet of an institution's work. They create a student-centered culture that uses new approaches, tools, and information to keep a simple commitment to each hardworking student – "I'll help you."
I applaud the work of Lehman College and encourage other institutions to follow their lead in thinking big and helping all students succeed.
REAL LIFE. REAL NEWS. REAL VOICES.
Help us tell more of the stories that matter from voices that too often remain unheard.
This post was published on the now-closed HuffPost Contributor platform. Contributors control their own work and posted freely to our site. If you need to flag this entry as abusive,
send us an email
.