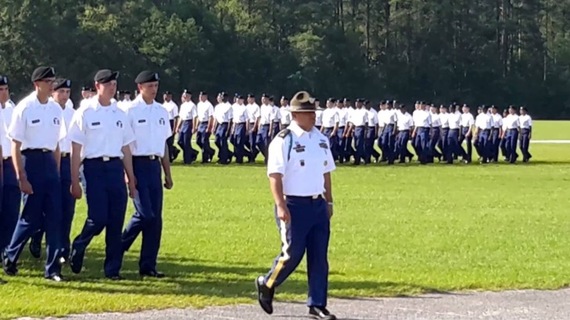 As I watched as Private Donnie Dixon, the son of the non-commissioned officer with whom I served and for whom Easter Seals Dixon Center is named, I thought about the leadership being developed in the nearly 850 Soldiers on the parade field.
After years of serving in uniform, I have come to define leadership as a process of influencing people through motivation, direction and purpose to improve the organization and accomplish the mission. I am fascinated that news media and popular columnists trumpet the top leadership books to read in any given year. Amazon.com gives leadership its own section. CEO.com even wrote a piece in 2013 titled, "24 Leadership Books to Read Before You Die."
Robert J. McCann, Chairman UBS Americas, argues that leadership tomes are overrated:
"I get sent a lot of books by financial advisers about leadership and about business -- and I don't read any of it. I believe leadership is learned, and I learn it by watching other people."
There's something to be said for McCann's belief. It mirrors my own experience in the U.S. Army and as part of the Office of the Joint Chiefs of Staff. McCann would have done well in the U.S. military. He'd succeed because our armed services operate under the across-the-board principle of continuous improvement, a desire to drive towards excellence by acting on those behaviors in everyday life. This is how the military builds great people who then go on to develop excellent programs and services.
As I watched the new Soldiers who will someday be responsible for leading our country's next generation of Soldiers, it solidified in my mind what I consider to be the three key elements of great leaders.
1. Engaged leaders care more about people than about numbers and control. The military succeeds in developing greatness in part because of the rigor and strength of its training programs. Young enlistees and officers are surrounded by leaders from the first time they set foot into a basic training program. These leaders know that all eyes are on them - from above as well as below.
Many people are familiar with the reputations of drill sergeants. These individuals may bellow orders and commands, but in reality, they are quietly demonstrating commitment and standards of excellence.
Let's examine the great example of the Marine Corps Recruit Depot. From the minute recruits step off the bus onto the famous yellow feet at Parris Island, they begin a 13-week process of learning the fundamentals of being a lifelong Marine. But the training actually began months and years prior when every drill instructors went through a similarly rigorous process at Drill Instructor School.
2. Presence is how other people experience and react to a leader. Basic training in the Armed Services works because of a sound foundation of basic leadership traits and principles that ensure instructors set the proper example for their recruits. We understand, as Rear Admiral Grace Murray Hopper said,
"You manage things; you lead people."
As the Rear Admiral implies, it's about showing, not telling. About results, not rhetoric.
As an Army brigade commander in Diyala Province, Iraq, I collaborated with senior leadership on a strategy to bring services and security to Diyala while simultaneously relying on my brigade to execute as the strategy intended. I could do this because I knew that my teams had been trained so they developed into agile leaders.
I also knew that as the senior-most officer, all eyes were on me. And so I went out into the field with my troops. I spent time with them on the ground and swopped candy for flavored drink mixes from the MREs. What they did, I did. There was no hiding behind rank.
3. Development of leaders is both an investment and a commitment; it is the strength and the future of any organization or team. A leader's greatest legacy is the quality of leaders who come after them. To get there, one must develop team members who reflect the ability that they hold within themselves. It's about encouraging them to believe that they can attain levels of success that they had previously not imagined.
While books have their place in learning, I'm with McCann. Walk the talk and practice what you preach. Become the person you want others to follow, and great things will happen.
Calling all HuffPost superfans!
Sign up for membership to become a founding member and help shape HuffPost's next chapter