My personal reflections on my first World Economic Forum participation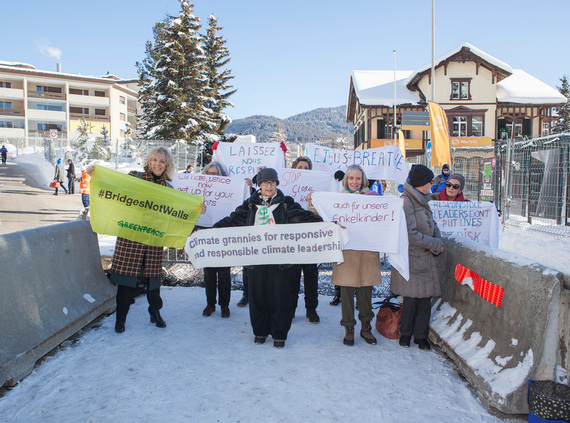 Last week, I arrived in Davos for my first World Economic Forum (WEF) Davos meeting unsure of what I was going to find. I was preoccupied with the inauguration of Donald Trump as U.S. President and the news that for the third year in a row, global temperatures had broken all records. Walking to the conference center every morning I stopped to look at and absorb the beauty of the snow-covered mountains. Watching this fragile beauty increased my determination to directly and forcefully speak truth to the powerful who came to Davos.
And I knew I was not alone. I was there representing all of you -- the tens of millions of Greenpeace supporters who believe that by working together we can rise to the most pressing environmental and security threats facing the world today, from climate change to nuclear weapons proliferation.

The theme of the entire event was 'Responsive and Responsible Leadership'. For sure, we need responsible leadership at all levels of society - from Presidents and Prime Ministers, to CEOs, city Mayors, civil society leaders and of course from citizens. But are the people who came together in Davos ready to rise to the challenge?
My impression is mixed. Indeed, it was a roller coaster week, full of moments of inspiration, finding people who understood the challenges the world faces deeply and are ready to act, and moments of darkness, listening to conversations laced with greed and where climate change was not even mentioned as a key threat to our humanity.
One clear bright spot was when I left the center to meet up with the Klimaseniorinnen, a group of committed Swiss grandmothers, who have taken their government to court for failing to act on climate as needed. They had traveled together to Davos, despite not being allowed into the center, to give out "earth cookies" baked the night before, and to call for climate justice. They gave me one tin of cookies, with blue and green little earth icing on top, to bring into the conference center. Giving out those cookies for climate justice gave me the chance to connect with many people in a human way. The combination of such an act of kindness of the grannies with a strong moral call to action, touched the people I spoke with whether they were top journalists, corporate executives or staff at a coffee stand. It linked up people based on our values and our hopes and our dreams for a world of peace and justice and reminded us of how many people in the world today are ready to stand up and be counted.

Another key moment for me was the speech of President Xi Jingping. I felt the earth shift a bit to the east when listening to his speech. I was relieved he indicated Chinese climate leadership as he made it very clear that China is committed to the Paris Agreement, and the clean energy future it calls for - no matter what other countries do. Indeed, that China is committed to climate action was something I heard echoed again and again by the large Chinese delegation in the conference center. It seemed like China was stepping into the void now left by the United States and trying to establish itself as a global climate leader.

It is no exaggeration to say that the leadership choices we make today will shape our common future at every level. This is the last leadership generation that can avert climate chaos. And no one can deny that the leaders gathered in Davos have a huge role and responsibility in shaping the future. They can choose to be responsible for greater inequity, ecological destruction and insecurity or to seize the day and the solutions we have at hand, like renewable energy, to combat climate change and make the world cleaner, safer and fairer. I was in Davos to try to make sure the elite gathered there understood that, and to push them to put people and planet before profit and power.

Greenpeace stands together with the millions that want more responsible leadership to make that world possible, to hold those against that world, accountable and to work with those ready to build bridges, not walls.
REAL LIFE. REAL NEWS. REAL VOICES.
Help us tell more of the stories that matter from voices that too often remain unheard.