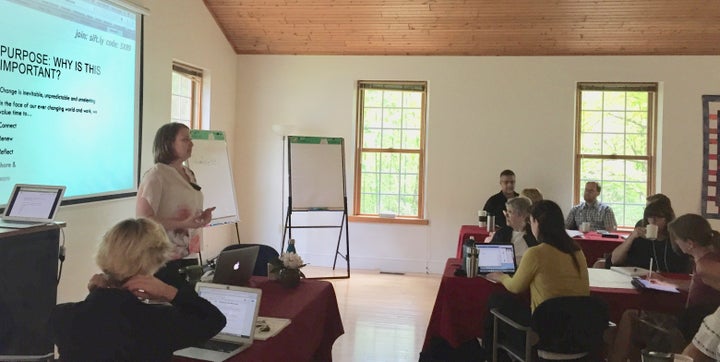 With Aurora Winslade, Professor of Change Management, Bard MBA
Change is hard. At a time when the majority of businesspeople say that the pace of change is accelerating, 50 to 70% of organizational change initiatives fail. Businesses unable to adapt to changes in environmental, social, and political conditions risk losing competitive advantage. Aurora Winsdale helps business leaders understand the change process—what works, what doesn't. She helps leaders design and implement successful programs to shift culture. Her students at Bard MBA learn how to foster healthy, high-performing, profitable organizations that contribute to creating society by solving today's complex challenges.
McKinsey has surveyed global executives and collated responses to identify seven of the factors most responsible for successful and sustained change outcomes. These include clear ownership and commitment across the organization, focusing on a prioritized set of change, providing sufficient resources to execute, clear accountability, continuous improvements, planning for the long-term, and effective program management.
Aurora has spent the past fifteen years developing change programs to engage institutions. She has driven sustainability and clean energy into the core business functions at the University of California, the University of Hawaii, Hawaii Energy, and Swarthmore College. She also trains sustainability professionals and senior leaders to understand change management. A facilitator and systems designer, she puts programs, policies, and structures in place to enable diverse members of the organization to "own" the change, essential if transformation of organizational cultures is to endure. For example, Sa'ed Atshan, professor of Peace and Conflict Studies at Swarthmore College, lectures in her classes. A Quaker and a Palestinian, he shares his stories of working with the NAACP and describes how to build trust across such cultural differences as between Palestine and Israel.
The course she teaches at Bard MBA, Leading Change in Organizations starts with analysis of why change often fails. It then introduces a variety of models of successful change, teaching, for example, Harvard Business School professor emeritus John Kotter's concept of the dual operating system. This helps managers design complementary systems that tap into the creativity of networked "adaptive operating systems," while also navigating and utilizing the benefits inherent in the existing management hierarchies of the "command control operating system." Aurora builds on this by introducing Leith Sharp, Director of Executive Education for Sustainability Leadership at the Harvard Center for Health and the Global Environment, who maps the flow of ideas through organizations in ways that foster agility and innovation, and helps employees align around a powerful sense of shared purpose. Students learn how to apply this flow mapping tool, then hear directly from Sharp on her current research interviewing CEO's of Fortune 500 companies who have lead successful change for social impact.
Throughout her exploration of how to lead successful change, Aurora describes how to manage mental models, systems thinking, non-violent communication, and group process design. She integrates these foundational tools with frameworks for designing, tracking, and implementing successful change programs. Students learn the tools and apply them in real-time in their own organizations.
A key theme of Aurora's course is to use the Social Transformation Project's model of purposeful action: Purpose, Outcomes, and Process. It is, she says, "a simple yet powerful tool for focusing actions on creating results." it helps leaders in activities as diverse as a one-hour meeting or as large as a 10-year strategic planning process address the why (purpose), the specific changes that are intended to result through the work (outcomes), and the steps that need to be taken to achieve the outcomes (process). Because change necessarily involves engaging employees throughout the organization, students design and deliver a group process that starts with this framework, then uses such creative techniques to foster group intelligence as Appreciative Inquiry, the World Café Conversation model, and Open Space Technology.
Students also study Peter Senge's concept of "personal mastery" as a fundamental change agent skill. The ability to foster trust and psychological safety are critical for change leaders, as is developing emotional intelligence. A core competency for any professional that distinguishes good leaders from great ones is their ability to engage in successful courageous conversations. Students read the core text, Crucial Conversations: Tools for Talking When the Stakes are High, and then engage in hands-on training for how to prepare and practice for the inevitable conversations in which emotions are hot, stakes are high, and opinions vary.
For their final project, students undertake a significant organizational challenge or opportunity, often within their own company. They conduct an in-depth organizational diagnosis, using frameworks learned throughout the course to assess the systems factors, interpersonal dynamics, market conditions, and other indicators that point to the need for change. They engage in crucial conversations, facilitate innovative group processes, and design and implement strategies to improve business outcomes and gain a new understanding of their role as a change leader.
Solving today's challenges will require leaders who are equipped to design and foster innovative, lasting, and transformational change within their organizations. Through the Bard MBA, students gain the hands-on experience needed to lead this change, and you can too. Join Aurora and me as we talk through what it takes to drive real change in organizations this Thursday at Business Stepping UP: Intrapreneuring for Progress.
Related
Popular in the Community