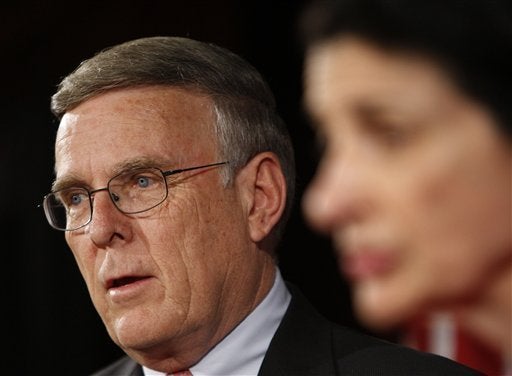 A Senate Democratic leader is hoping to blow up the deal reached between the White House, drug makers and Senate Finance Committee Chairman Max Baucus (D-Mont.), by introducing an amendment on the floor to allow prescription drugs to be re-imported from Canada.
It's one of the simplest ways to reduce health care costs but was ruled out by the agreement, which limits Big Pharma's contribution to health care reform to $80 billion over ten years.
North Dakota Sen. Byron Dorgan, a member of Democratic leadership, isn't a party to that bargain. "Senator Dorgan intends to offer an amendment to the health reform bill and his expectation is that it will be one of the first amendments considered," his spokesman Justin Kitsch told HuffPost in an e-mail. "Prescription drug importation is an immediate way to put downward pressure on health care costs. It has bipartisan support, and has been endorsed by groups such as the National Federation of Independent Businesses and AARP."
U.S. patients pay far more than the rest of the world for prescription drugs. The Canadian government keeps prices down by using its purchasing power to negotiate for lower rates. Dorgan wants American consumers in on the deal.
A bill to allow re-importation -- S. 1232 - has 30 cosponsors, several Republicans among them, including Olympia Snowe and Susan Collins of Maine, John Thune (S.D.) and David Vitter (La.).
The Congressional Budget Office estimates that the bill would result in $50 billion in direct savings over the next decade, with $10.6 billion of that being savings to the federal government.
Jim Manley, senior communications adviser to Senate Majority Leader Harry Reid (D-Nev.), said that he sees no reason the amendment won't get a floor vote. "To the extent possible, we intend to have a full and open amendment process," he said. Reid has himself voted to allow re-importation in the past.
The amendment threatens to blow up the deal Baucus and the White House cut with the drug makers. According to the deal, re-importation would not be part of comprehensive health care reform. And if the measure does save $50 billion, that will come from Big Pharma revenue and take it above the $80 billion in cuts it agreed to over ten years. It puts Congress on a collision course with its trade association, the Pharmaceutical Research and Manufacturers of America (PhRMA).
Ken Johnson, PhRMA's senior vice president, told HuffPost in August that the trade group was prepared to go back to battle with Democrats over individual bills such as re-importation once health care reform was passed. "The only thing I can say is we'll do what we always do. We'll roll up our sleeves and fight them one fight at a time," said Johnson.
Those individual fights, however, might be bound for the Senate floor sooner than PhRMA thought. Senators, meanwhile, will face the question of whether to buck a deal they didn't agree to in the first place.
"This is not the way that I would like to be treated," Sen. Tom Carper (D-Del.) said during a Finance Committee debate over an amendment that would have broken the PhRMA deal. "Whether you like PhRMA or not, we have a deal."
Nonsense, said Sen. Chuck Schumer (D-N.Y), insisting that he and his colleagues were not bound by the agreement. "That's a value judgment," Schumer said. "This is going to be a constant debate when we come to this bill, and I don't disagree that this is a difficult balance, but how often do we side with one of the interest groups, and how often do we side with the average citizens?"
Johnson made the case that the savings expected form re-importation might not materialize and wouldn't be worth the safety risk.
"If health care reform is done in a smart way, importation loses its political relevance because any potential benefits are far outweighed by known safety risks," Johnson said. "CBO has compared importation to parallel trade in Europe, where pharmaceuticals meant for marketing in one country are repackaged for another country. The European experience clearly demonstrates that this practice benefits middlemen, not consumers. So why take the chance? Why play Russian roulette with the safety of patients?"
Support HuffPost
The Stakes Have Never Been Higher
Popular in the Community