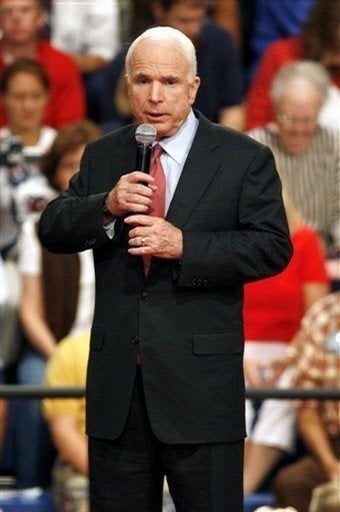 Looking for a quick reaction, and likely endorsement, of John McCain's surprise pick of Sarah Palin as his running mate this morning, CNN turned to Sen. Kay Bailey Hutchison, the experienced Texan who was also on McCain's short list for the post.
But, asked about Palin, all Hutchison could muster, just before the official announcement, was a few generalities about "spirit" and "enthusiasm," before admitting, "I don't know much about her."
CNN's John King then asked, well, what does it mean that such a longtime GOP leader such as yourself doesn't know much about her when McCain in his ads is hitting Obama on his lack of experience? Palin has served as governor of her state for only two years. Hutchison repeated her earlier statements about "youth" and said flatly, "I don't know Sarah Palin," adding maybe that it was a "good thing" that she is fresh and not that well known.
Pressed again about why she would think that Palin was ready to be commander in chief, a charge leveled at Obama, Hutchison could only muster that, well, she was sure John McCain had sat down with her and was convinced of this.
CNN's John Roberts then said that what we do know is that she can eat a mooseburger, drive a snowmobile and fire a rifle. A few minutes later, CNN was reporting on an ethics probe of Palin in Alaska surrounding the state firing her brother-in-law, a state trooper involved in a "messy" divorce with her sister.
Meanwhile, Carl Cameron over at Fox was reporting that Palin is known as a big hockey fan and everyone know that hockey fans are really "blue-collar." So this will allegedly help the ticket win Minnesota, Wisconsin, and so forth. Fox's Steve Doocy said that Palin was not so weak on foreign policy expertise. After all, he pointed out, her state is physically quite close to Russia.
Popular in the Community