I have recently had the honor of chatting with Phil Molyneux, the passionate Chief Operating Officer (COO) and President of Sony. He is a 23-year Sony veteran who started at the company as a sales engineer in 1987. Over time, Phil climbed the employment ladder after working sales and marketing positions in which he led the company in expanding through Europe. He has mastered the arts of impeccable quality and technology that the Sony brand is sought after for. Now, Phil leads this world-renowned electronics company after being appointed to his current position in September 2010. Phil's interests outside of Sony are equally impressive, as he served as a member of the Consumer Electronics Association's 2012 Executive Board. Even with his stellar history with Sony, Phil stays humble and is one of the most approachable and personable executives you'll meet. I sat down to talk with Phil about Sony's history, products, and his life outside of the company.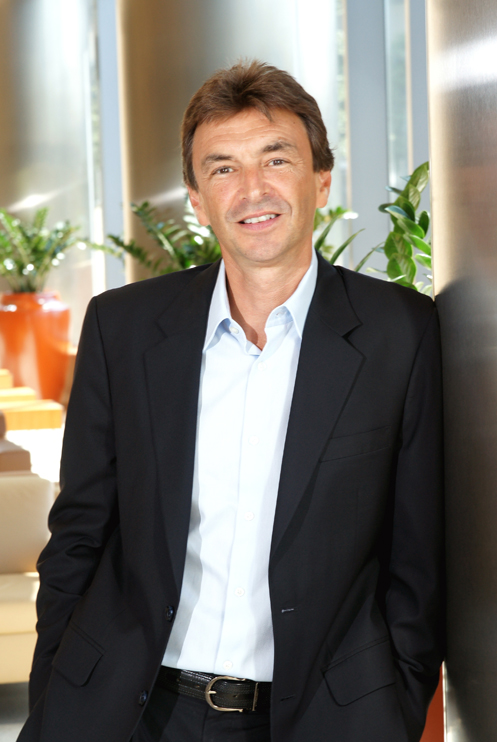 Sony has been around for nearly 70 years. The company was founded in Japan in May 1946 as Tokyo Tsushin Kogyo. The company changed to Sony in 1955. Sony products encompass a wide variety including consumer electronics, semiconductors, video games, media/entertainment, computer hardware, and telecom equipment.
What is the culture at Sony like? What makes it unique from other companies?
Sony's culture is very unique. It's like being with your extended family; Sony takes care of its community and employees. Also, everyone has a shared connection for what they're doing. There's great drive to innovate and bring great experiences to people around the world. That's what we do: deliver new, thrilling experiences to people. Sony has a good history -- around 70 years -- of contributing to consumer electronics and it's what we love.
So, there's innovation in the culture?
Yes. You're not limited, you're not in a box--you can make a difference. That's the magic of Sony that has kept me here. I've been challenged to do many different things--I've got no regrets, I'm still happy here [after 27 years].
Sony has become known for its quality. Tell me anything that you would like to share with the world about why Sony will continue to excel as an industry leader.
We've got a brilliant heritage of engineering and culture. We have the core technology that makes many of our products come alive for our customers. There is always innovation and the search for how to bring new experiences that Sony brings to people around the world. Also, we have valuable partnerships -- Sony Pictures and Sony Music -- and we can leverage these partnerships to bring different and unique quality to consumers.
Sony also employs a technique of 'over-engineering' to ensure that our consumers get the best. We have great engineers working on our products to make sure that we have top quality. For example, sometimes we get customers who will write to us and tell us that they have our products from early days and they still work. They could still have a comeback since they're still in good condition! That's part of our brand, though. If you pay for Sony, then you're buying into a quality brand that stands for quality products in the long-term. We want our products to last. That's what we're about: innovation, quality and bringing new experiences to people.
What are Sony's new hot items for the Fall and holidays?
Something that we've been working on is the 4K Ultra HD TV X850A series -- there's a 55" ($3,999) and 65" ($5,499). We worked closely with our sister company, Sony Pictures, on these new TVs and they have a great picture. These TVs have the highest resolution picture Sony has ever produced on a TV and it's four times the resolution of Full HD. Also, there's the re-mastered 4K, Ultra HD native 84" TV that can be used for a home theater. This is the first time people can have feature films at home and watch them in Ultra HD. Also, in July we released a 4K, Ultra HD Media Player where you can download and play back 4K content.
This fall, Sony will go live with our 4K, Ultra HD download service, launching September 4th with native 4K native content. We'll release 70 more feature films and TV episodes for consumers to download for rental and purchase. This is a really exciting project that my team has been working on. Services like this will help in casting wider access for more people. Also, Sony is a leader in 4K content, so this release will continue in the footsteps of our professional cameras, TVs and more. We have been spearheading the advancement of 4K Ultra HD technology from the start, and have now reached another milestone as promised with the Video Unlimited 4K service going live. Sony 4K Ultra HD TVs featuring our exclusive TRILUMINOS Display have been receiving amazing feedback and now we are bringing the most immersive entertainment experiences to new audiences right in their living rooms.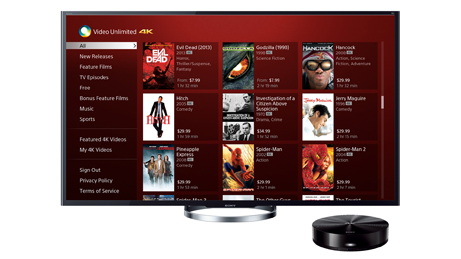 Sony XBR-X850A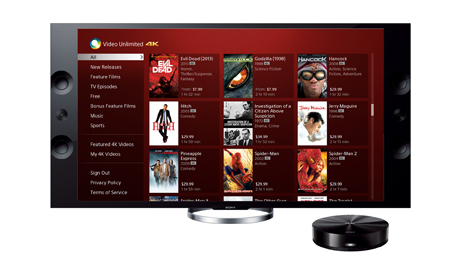 Sony XBR-X900A
Another exciting item release this fall will be the world's first consumer 4K Handycam camcorder (FDR-AX1) priced under $4,500. This new camera will be integrated for playback on our 4K TVs. The price point for this is higher than some of our other products that we've made more affordable since the technology embedded in the FDR-AX1 is very high quality.
What is the target market for the FDR-AX1?
The market for this new camcorder is really a mix of several audiences. The 'prosumer' is mostly who we're targeting at this price point, but that encompasses a lot of different types of people. It could be a professional who's shooting weddings and events, or someone in the reporting industry. It could even be the mom and dad at home taking videos of their family. They'll want to keep every detail of all of their precious memories forever, and the FDR-AX1 can do that.
What upcoming products are you looking forward to for the holiday season?
Let's see, first there are 2 new products coming out. The QX-10 that will be at $249 and the QX-100 at $499. This is a really exciting product, but a little hard to describe. You know how a camera has detachable lenses? This is a camera lens device that can be used on a smartphone. This device clips onto a smartphone and connects, via NFC or wireless connection. It's like a lens that attaches to the phone and can be controlled by your smartphone to take high-quality pictures. Users can see "through" the lens on your smartphone interface. I think this device is really disruptive, and I'm excited for how people will be able to use it. People will be able to shoot pictures and share them like never before. If you're familiar with the RX-100--this will have the quality of RX-100 but taken with a smartphone. Really excited for this, and we have set a September release date for it.
Another product is the Sony VAIO Tap 11 Tablet PC. We're releasing a whole lineup of VAIO PCs this Fall, and this is one of them. This is the world's thinnest Windows 8 Tablet PC with Intel® Core™ Processor and is only 0.39" thick. It's ultra-slim and lightweight, with an aluminum magnetically connectable/detachable keyboard. You can use this tablet as you would any conventional notebook PC. It also features our Triluminous color display, so you'll have the brilliant picture that Sony is known for. We're looking at a late October release date for this.
Also, here's another good Christmas gift. I think these would be great for the holidays. Sony's releasing Bluetooth speakers for the holidays. They're portable with a fun design. And they come in great colors -- we'll have them in pink, red, gray, black, and turquoise. The speakers are rechargeable and splash-proof -- so they're great for rain or shine!
Tell me more about what you do for fun -- your life outside of Sony.
My wife and I have two sons -- Josh is 13, Louis is 10 -- as well as a 22-year-old son in the UK. The boys play soccer -- well, we know it as futbol. The boys are good players so my wife and I are always driving up and down California for soccer matches. It's really nice and I'm thrilled that they enjoy soccer -- it's a sport that they'll have forever. Besides that, I also like fast cars and motorbikes. I have a Triumph Speed Triple that I enjoy driving around. I drive through the mountains in California to relax.
If you were stranded on an island, what 1 thing would you want to have?
Can it be a person? I'd take my wife, if that were the case. If it was an electronic then, I'd take the Sony Xperia phone and I would call my wife. And the Xperia would be helpful because if you drop it in water, you can still use it since it's waterproof.
It was great being able to talk with Phil and get to know Sony and its products better. As always, the company is gearing up for some anticipated releases that will 'wow' consumers. Phil's sentiment that "you can make a difference" at Sony is what drives the company to continue as the leader in its industry. Phil will continue his work inspired by Sony's 70-year-old legacy: innovation, quality, and helping people have great experiences through technology.
REAL LIFE. REAL NEWS. REAL VOICES.
Help us tell more of the stories that matter from voices that too often remain unheard.