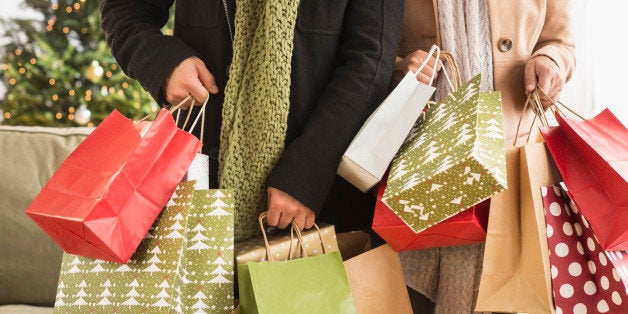 At this time of year, many of us will be taking time off to enjoy the holidays with loved ones. But for minimum wages workers, the holiday season often means longer days at their jobs. Even with the extra hours, employees still struggle to afford a happy holiday for their family.
It doesn't have to be this way.
When we started The Fairness Project- an organization focused on using ballot initiatives to raise the minimum wage in communities across the country- our goal was to take action where for too long there had been inertia. We hope next year we will see action at the ballot box through voters passing a minimum wage raise. We refuse to sit idly by, waiting for lawmakers.
It turns out, several companies took the same approach and didn't wait for Congress to force their hand. They realized good wages pay off - literally- and took matters into their own hands.
Let's look at some nationally recognized companies as prime examples. The average pay for hourly Costco employees is approximately $20.89 per hour, healthcare benefits are provided to 88 percent of its employees and the company pays more than 90 percent of their premiums. QuikTrip- a convenience store and gas station chain- offers entry level employees annual salaries of approximately $40,000 plus benefits. Ben & Jerry's offers entry-level employees $15.97 an hour. Starting wages at renowned burger joint In-N-Out are nearly 50 percent above the federal minimum wage and food service managers make an average of $48,000 per year - these are benefits unheard of in the fast food industry.
Profitable, nationally-recognized and growing businesses like these illustrate how paying livable wages and providing good jobs, is a smart business idea. Zeynep Ton, a leading scholar from MIT's Sloan School of Management has exhaustively studied many of these models and has written, "Companies can compete successfully on the basis of low prices and simultaneously keep their customers and employees happy."
These business models refute a misguided myth that raising wages hurts profits. In fact, higher wages can mean lower turnover and more qualified employees that can boost bottom lines. As Ton noted, these businesses, "... design and manage their operations in a way that makes their employees more productive, reduces the costs of doing business, and puts employees at the center of the company's success."
Unfortunately, legislative inaction has caused economic policy to lag so far behind that bad businesses are empowered to pay workers wages that are barely livable. The federal minimum wage has declined so sharply over time that today's employers actually pay less (in terms of real dollar value) than they did in the late 1960's.
Not taking action is simply bad economics - by refusing to write new policy, members of Congress are giving employers tacit permission to pay poverty wages. Low-wage employers have seized the opportunity and designed business models that devalue their employees and deliver poor customer service. These negative social costs, coupled with the real cost taxpayers pay to subsidize the government assistance workers are forced to depend on, have created a real cost on our economy.
We know how to make progress. The simplest step would be to set a higher federal minimum wage. But since Congress has failed to act, we must use all the tools at our disposal to help move wage policy forward at the local level.
In 2014 we saw a handful of states raise their minimum wage through the ballot process. Now even more states are working together to raise their local wages to improve the local economy. Ballot initiatives have a crucial role to play in correcting the missteps of elected officials by providing clear choices to voters and offering an opportunity to restore balance to our economy. The more states that take action to raise the minimum wage, the more money workers and consumers will have to put back into their local economy.
And you can take action right now. This holiday season, businesses across the country will be hiring extra staff for the rush but only a handful will be paying a fair wage. You, the consumer, will have the option to shop at businesses that are breaking the mold, taking action and paying higher wages. And in 2016, voters will have the chance to take action at the ballot box by voting to raise the minimum wage. It's clear we can't count on policymakers to lead the way but we don't have to.