One home at a time--that's how the nation is going to end to homelessness among Veterans. Yet the persistent shortage of low-cost housing across the country is a challenge too many communities face. Success depends in large part on housing providers being willing to generate more permanent housing for Veterans.
Our organization, the Housing Partnership Network (HPN), is contributing to this cause. We are a member-driven collaborative of 100 housing and community development nonprofits across the country. We were founded 20 years ago as a new breed of entrepreneurial nonprofit that combines a social mission with private enterprise to develop solutions to the most challenging problems facing our country. This mission includes boosting the supply of affordable housing for Veterans and others in need.
From coast to coast, HPN members are breaking ground on new buildings with apartments set aside for Veterans holding Housing and Urban Development-Department of Veterans Affairs Supportive Housing (HUD-VASH) vouchers. We are freeing up units in existing apartments for Veterans exiting homelessness. And we are situating new low-income housing for Veterans and others near employment hubs to ease access to well-paying jobs.
Committed to the White House and VA's mission of ending homelessness among Veterans by the end of this year, since early 2015 we have redoubled our efforts to collaborate with staff from the U.S. Department of Veterans Affairs (VA) and with community-based entities to devise creative solutions to some of the most pressing problems in housing. All of our members are committed to an HPN mission grounded in social responsibility. Ending Veteran homelessness neatly aligns with everything our members work toward every day to connect more Americans with safe places to call home.
REACH in Portland, Oregon
Inspired by First Lady Michelle Obama's challenge to mayors last June to end Veteran homelessness by the end of this year, REACH is part of a collaborative effort led by city and county government to find more low-cost housing for Veterans exiting homelessness in the city and surrounding communities.
REACH CEO Dan Valliere said the group is in discussions with the local housing authority to prioritize new openings to Veterans with a HUD-VASH voucher. The goal is to make more units available in the expensive Portland rental market. "We're trying to see how we can be part of the solution," he said.
Already REACH owns and operates Gray's Landing, a streetcar-accessible building in downtown Portland where about 20 percent of the units--42 apartments--are set aside for formerly homeless Veterans referred by VA. A VA case manager is on site for 20 hours per week at the building to assist Veterans overcome leasing or life challenges and to stay connected to the community. Other REACH properties house formerly homeless Veterans that are referred by VA and other locally based social services agencies.
"VA case management has been a great resource to help Veterans get engaged in activities and connect them to other resources in town," Valliere said. He also mentioned that a number of these once-homeless Veterans provide students at a nearby school with cooking lessons. The students in turn teach the Veterans computer skills.
"The VA support has really built stability for people," Valliere said. "As we try to serve more Veterans, we're looking at how we can build in similar case management and service support to help people thrive."
In Gray's Landing, a streetcar-accessible building in downtown Portland, 20 percent of the units are set aside for formerly homeless Veterans referred by VA.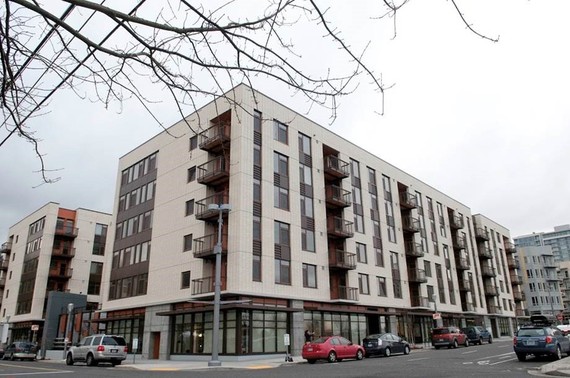 ACTION-Housing in Pittsburgh
Also expanding housing to low-income Veterans is ACTION-Housing, which owns or operates about 1,800 affordable housing units in the Pittsburgh metropolitan area and surrounding counties.
They recently began constructing a new building set to open in January 2016 that will prioritize housing for Veterans. The mixed-use Penn Mathilda apartments will preserve half of its 39 units for low-income Veterans. Located in a commercial corridor near two major hospitals, the building provides residents with easy access to employment opportunities, said Lena Andrews, planning and development officer for ACTION-Housing.
This will add to ACTION-Housing's existing stock of housing for Veterans, including a recently refurbished building with 258 single room occupancy (SRO) housing units, 20 percent of which are occupied by Veterans. Another 84-unit SRO building is 25 percent occupied by Veterans.
ACTION-Housing's Executive Director Larry Swanson said the push to serve more Veterans grew out of a combination of factors, including acute need stemming from the wind down of two wars and staff passion for the cause. They work with local partners like the Veterans Leadership Program (VLP) of Western Pennsylvania, an organization funded by VA (among others) to house and employ Veterans in the area.
VLP's Operations Director Jesse Rodriguez praised ACTION-Housing's dedication to serving Veterans, noting that the group is an active participant on the Allegheny County Rapid Results Veterans' Boot Camp group, a task force striving to improve housing services for area Veterans.
Rodriguez said VLP's ongoing collaboration with ACTION-Housing is key to making sure a steady supply of units are available to Pittsburgh-area Veterans. "They understand the population, and they understand the need," Rodriguez said of ACTION-Housing.
Heartland Housing in the Midwest
Creating more permanent supportive housing for Veterans in the Midwest is a current focus of Heartland Housing, our Chicago-based HPN member providing affordable housing to Veterans and other vulnerable populations in that city and throughout the upper Midwest.
Executive Director Michael Goldberg said Heartland Housing will soon break ground on a new 60-unit permanent supportive housing building in Madison, Wisconsin, where 20 of the units will be reserved for homeless Veterans.
Affordability will be ensured through the use of project-based HUD-VASH vouchers being provided by Madison's Community Development Authority. Heartland Health Outreach, the health care arm of Heartland Alliance, will work collaboratively with VA case managers to provide intensive supportive services to help building residents achieve housing, health and other personal goals.
There is a critical need for more supportive housing to serve the homeless in Madison, Goldberg said. "When leaders come together--as they have in this city--with a plan, political support and a commitment of resources to provide quality affordable housing with services that respond to local needs, that's the kind of support we need to end issues like Veteran homelessness."
Yet he and others note that serving Veterans in need is not much different than serving other individuals who have fallen on hard times.
"Homeless Veterans may have unique challenges, but in many ways they're not unlike the other vulnerable populations that we serve," Goldberg said. "To us, safe, decent, affordable housing is the foundation that's needed for them to overcome their instability and move their lives forward."
Heartland Housing's development will provide permanent supportive housing to 20 Veterans in Madison, Wisconsin.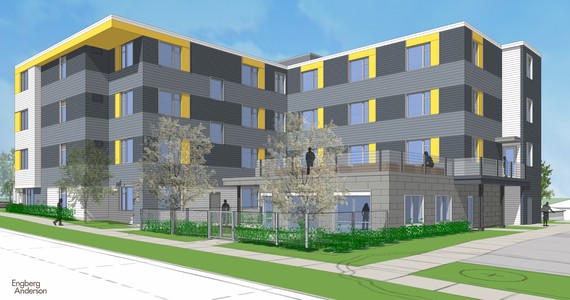 Join The Cause To Help End Veterans' Homelessness
Quality, affordable housing for Americans in need, including Veterans, is essential in a just society. We encourage other housing providers to help expand the supply of affordable housing for homeless Veterans and other vulnerable populations. Visit VA's homeless program's website to learn more about VA's initiative to end homelessness among Veterans and get involved.
If you know a Veteran who is homeless or at imminent risk of becoming homeless, refer him or her to a local VA Medical Center, where homeless coordinators are ready to help. Veterans and their families can also call 1-877-4AID-VET to get connected to VA services.
Related