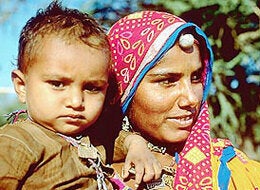 Progress is being made to save the lives of mothers and newborns around the world. Still, every minute, a woman dies of complications in pregnancy and childbirth, leaving her baby more likely to die within two years. Most of these deaths could be prevented. Join The Huffington Post and the Mothers Day Every Day campaign in the global movement to call upon world leaders to invest in health workers and strengthen health systems so that every day, everywhere in the world, all women and newborns have access to lifesaving care.
On this Mother's Day, we celebrate the women around the world who gave us life. We appreciate the untold sacrifices they made so we could be healthy and happy. We recognize all that they have done outside our families to build better, safer and more prosperous communities, nations and world. Nowhere is this more evident than in the resource-poor developing countries where women play a critical role in breaking the cycle of poverty.
Unfortunately, many women and their families in these parts of the world don't have much to celebrate this Mother's Day. The loss of life from complications related to pregnancy and childbirth continues at alarming rates.
Every minute a woman from these regions dies in pregnancy or childbirth. Last year, that totaled more than 536,000 women, leaving behind families devastated by a loss that in most cases could have been prevented. But the tragedy doesn't stop there. Last year, more than 3.7 million newborns died, 75 percent within seven days of birth. They, too, would almost always survive, if there was access to basic health care services that we often take for granted here in the United States.
That is why, we, as the co-chairs of Mothers Day Every Day: The Campaign for Healthy Moms and Newborns, are calling upon the U.S. to play a stronger leadership role on the global stage to accelerate progress to help save the lives of mothers and newborns needlessly lost in pregnancy and childbirth. We are joining with campaign co-founders Theresa Shaver, President and Executive Director of the White Ribbon Alliance, and Dr. Helene Gayle, President and CEO of CARE, and a growing list of influential men and women from all walks of life. Our message is simple: when mothers survive childbirth, they give birth to healthier families, communities and nations.
Maternal mortality - often considered the greatest health divide in the world - is highest in developing countries where 99 percent of maternal deaths occur. In fact, women in the least developed countries are 300 times more likely to die from complications related to pregnancy and childbirth than women in developed countries. Infants of mothers who do not survive are up to 10 times more likely to die within two years.
Yet, when women have access to family planning, antenatal care, skilled nursing and doctors at birth, and emergency obstetric and postpartum care almost all mothers and newborns live through the complications that would otherwise kill them.
This is evidenced in some countries where progress is being made. According to the most recent data available, more than 60 percent of births in the developing world were attended by skilled health workers, up from around half in 1990. In Sri Lanka, maternal mortality was halved in just a decade by extending health services and advancing family planning and obstetric care to rural areas. In Malaysia, after introducing midwives at the community level, maternal deaths have dropped dramatically.
Still, much more must be done. Almost as many women die in childbirth today as they did nearly twenty years ago. To reach the United Nations Millennium Development Goals and significantly reduce maternal and infant mortality rates by 2015, we must take years of repeated pledges and harvest them into results-driven action through renewed leadership.
The United States has an opportunity to be that leader and forge a global coalition to save the lives of mothers and newborns. Just as we are working to bring world leaders together in taking unprecedented steps to stabilize financial markets, so too must we mobilize and do more to assist poor countries and prioritize investments to increase skilled health workers and strengthen health systems in the communities where women cannot access the lifesaving care they need.
Every day, mothers around the world take care of their families and contribute to the health, self-sufficiency, economic stability and peaceful sustainability of their communities and nations. Let us do what must be done to ensure every woman everywhere a healthy pregnancy and safe childbirth. Only then will we celebrate Mother's Day every day.
The White Ribbon Alliance for Safe Motherhood and CARE, two organizations at the forefront of global women's health issues, have joined Secretary Donna Shalala and UNICEF Executive Director Ann Veneman and a distinguished group of advocates to promote Mothers Day Every Day, a campaign that raises awareness and advocates for greater U.S. leadership to improve maternal and newborn health globally. To learn more, visit www.mothersdayeveryday.org
Check out the rest of our Countdown to Mother's Day series by clicking here