I've been to quite a few conferences in my day. But there was something pretty unique about the Sustainable Brands conference in San Diego this last week--a conference rallying business leaders to reimagine the intersection between purpose and profit in business. As CEO of WaterAid, the leading international nonprofit dedicated to clean water, toiIets and hygiene, I was proud to represent the purpose side of the equation, and the innovative approaches we're taking with corporate partners to achieve a healthier, wealthier and more just world.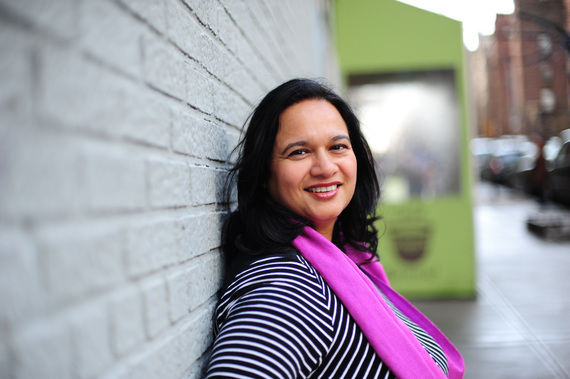 Over the course of four action-packed and inspirational days, I met so many people who proudly told me that this was their sixth, seventh, eighth or even tenth year at the conference. CEOs of some of the world's largest and most beloved brands tossed around phrases like "awesome sauce" with an ease usually reserved for conversations about a new app they've discovered--not partnerships aimed toward social impact. There was a lot of hugging and a lot of heart and, as one attendee commented, it felt "less like a conference and more like a reunion". I'd have to agree.
You might be wondering what I was doing there. Clearly, WaterAid is not a brand in the corporate sense; we're one of the world's largest nonprofits dedicated to achieving a world where everyone, everywhere has access to clean water, toilets and hygiene. WaterAid supports the UN's Global Goals on sustainable development, which include a specific goal (Goal 6) to ensure availability and sustainable management of water and sanitation for all. For the first time, the global community has committed to reach everyone, everywhere with access to clean water and basic toilets by 2030, and leave no one behind. That's a hugely ambitious yet achievable goal with a deadline that's just fourteen short years away. It's also a goal that we will not achieve without the support and invested involvement of the private sector.
That's why I was so impressed by the sheer range and diversity of the businesses represented, all of whom rallied around the message that doing good cannot be separated from core business. Across the board, there was wide recognition that we still have a very long way to go until our collective actions match our well-intentioned words; shifts in business models, structures and incentives continue to remain elusive, even as leaders acknowledged that changes are taking place.
WaterAid is fortunate to work with corporate partners around the world who share our understanding that sanitation and hygiene are not simply 'nice to haves'--there's a business case for them, too. When people have access to these life basics, employee wellbeing skyrockets, worker and student absenteeism falls and environmental sustainability becomes possible. Investing in water, sanitation and hygiene have a multiplier effect: from economic growth (for every dollar invested in sanitation, the return ranges from $3 to a staggering $16) to increased income for workers who are healthier. Water and sanitation are not only life-saving necessities; they are also basic human rights. Our experience shows that business partnerships in support of water, sanitation and hygiene can be a powerful lever for employee engagement, here at home.
For me, the Sustainable Brands conference was an incredibly useful and refreshing opportunity to take a few steps back and listen to a diverse business community: what they are talking about, what they are challenged by and what they are inspired by (biomimicry anyone?). So rarely have I experienced conferences that walk the talk. The conference was zero-waste, attendees were not overindulged with goodies and treats, reusable water bottles were provided and thoughtful sourcing went into every meal and cup of coffee. The pointed attention to sustainability was lived with the same care and intention as the choice of location for next year's conference--Detroit--was announced and explained.
At WaterAid, I've always said that we have the opportunity to achieve a victory of epic proportions--a world where children no longer die from diarrhea caused by dirty water and poor hygiene; where girls no longer drop out of school when they start menstruating because there are no private toilets; and a world where women can use their precious time to earn an income or care for their families instead of walking miles to collect water. It's an epic challenge, but one that I know can be achieved with strong, authentic partnerships with leading private sector brands.
As I head back to WaterAid's office in New York, I do so full of energy and new ideas. Sustainable Brands has given me a lot to process, think about and share with others. Most unusual of all, on the last afternoon of a four-day conference, I found myself excited and already looking forward to the next one. See you in Detroit.