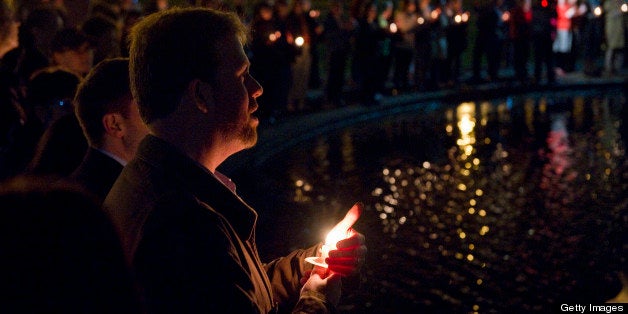 In the wake of the Boston marathon tragedy and the week of anxiety and suspense that followed, leaders throughout the Greater Boston area -- and indeed around the country -- were saddled with the unique burden of guiding their organizations through tragedy. There were the practical concerns, to be certain. Presidents and CEOs needed to decide how and when to reopen doors, and how to communicate with their communities regarding safety concerns and procedures. Yet we quickly discover that leadership in these situations requires much more than the admittedly difficult tasks of ensuring employee safety and clear communication. These are the days when what I would describe as the priestly or pastoral dimension of organizational leadership comes into full view. In these moments, we must recognize our role as "chief comforter," as well as Chief Administrator -- and it's not something they teach you in grad school.
Even before the tragedy at the Boston Marathon, it had been a tough semester for all of us at Gordon College. In a span of eight weeks, our campus was confronted with the deaths of four individuals connected to our community -- a current student, a professor, the parent of a current student, and the daughter of a faculty member.
During this compressed time period, I came to see the essential pastoral role that institutional leaders must play when sorrow strikes their community. Yet, as I realized, this is one of the easiest ways to mess up as a leader. Tensions and emotions run high, and there are often deep-seated expectations for how an institution's leadership should respond. I want to share just a few of the small lessons I've gleaned through this difficult season within my organization in hopes that they will offer insights for my colleagues now dealing with the misfortunes that grip their own communities.
Tragedy requires your immediate attention. If I could highlight each of the words in this sentence in a different color and stress the unique importance of each one, I would. Death is as serious as it gets. It shakes us to our core, and it supersedes all other normal concerns in the life of our community. It is important to attend the visiting hours and funerals, to reach out and to share in the process of mourning as the key representative of the affected community. Our responsibility as pastoral leaders in tragedy cannot be optional, cannot be postponed, cannot be outsourced, and cannot be diluted. We must lead through these tragedies with an attitude of total and empathetic engagement.
Your presence means as much to the surrounding community as it does to the grieving. It is easy to think that our care in such situations is primarily seen and felt by the individuals directly affected by tragedy; and certainly, this is where our attention must first turn. However, it's important to understand that a leader's steady presence and availability through sorrowful times also stands as a model for the wider community--a community that cares deeply for its own and looks to its leader for solidarity in their desire to comfort the grieving with compassion and sensitivity.
Nobody expects you to say anything. Often, a leader's first instinct is to speak to the community. We want to offer words of comfort, or worse, words of explanation, to those in grief. But more often than not, you should probably remain silent, at least initially. The most important work of a leader during a time of communal tragedy is in his or her quiet presence.
An institutional leader must embody the emotional weight of the institution. This, of course, is the sum total of our role in times like these. A heavyhearted community is best cared for by a heavyhearted leader. This takes energy, attention, and compassion. Sometimes we feel that we cannot bear the great weight this task places upon us. But I encourage my colleagues to remember -- as I have been regularly reminded during these difficult weeks -- that even as we embody this heavy emotional weight, we too are sustained by the community we strive to support. Only then can the healing begin.
Calling all HuffPost superfans!
Sign up for membership to become a founding member and help shape HuffPost's next chapter