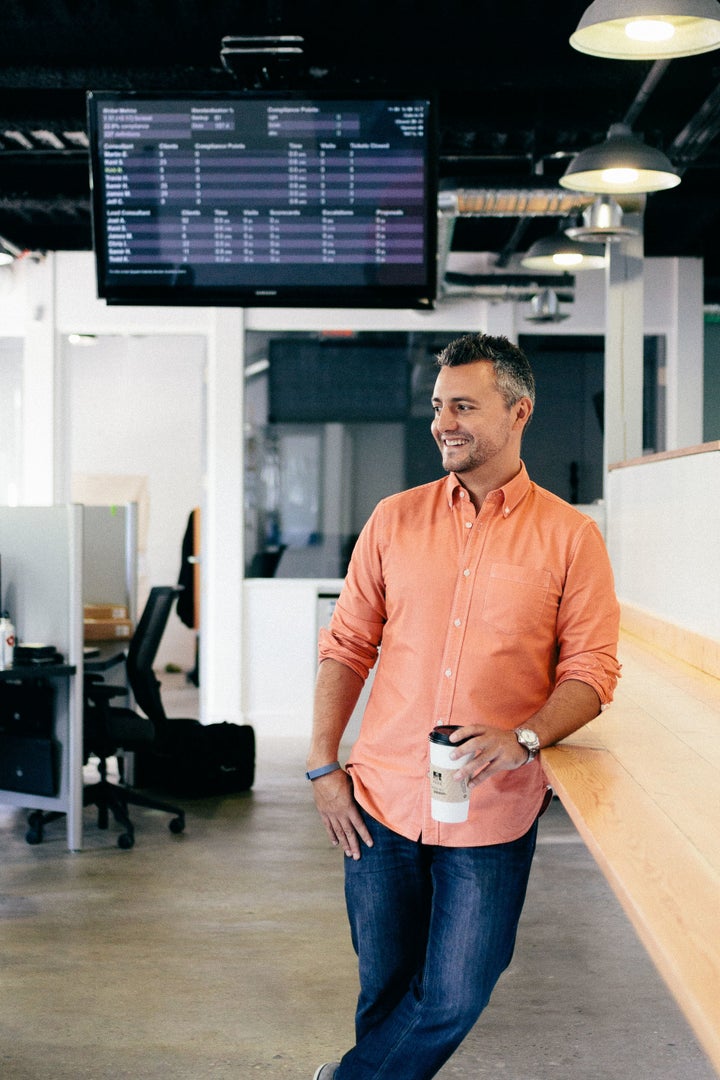 Chris Day is the CEO of IT Glue, a company that provides a 'best-practices' driven IT documentation platform, which has won over 15 industry awards for product innovation.
Prior to starting IT Glue, Chris founded Fully Managed, which started as a one-man operation from his home office in 2002. Since that time, Fully Managed has won numerous awards for its company culture, including Small Business B.C. Best Employer (2014) as well as Alberta's Best Workplace Under 100 Employees (2013).
Chris lives in Vancouver. While he completed his third year at UBC, he never returned after joining a tech startup during that summer.
I recently spoke with Chris to hear about his lessons in leadership and how companies must find their 'why' to achieve their potential.
CRAIG: What were some of your earliest influences?
CHRIS: My parents were both doctors and were very logical and pragmatic in their thinking, which has influenced my approach for sure.
Also, during my first 'real job,' I attended a tradeshow in Germany with the person who hired me. I was just enjoying the experience, chatting with people, and not really focusing. Very early on, I went to grab a coffee and came back an hour or so later.
He took me outside and told me my behaviour unacceptable and that he expected more from. It was a very stern reprimand and I deserved it. That was an eye opener for me. I needed to step up my game. I never want people to look like that at me again.
CRAIG: What's the toughest piece of feedback you've received about your leadership style?
CHRIS: That I exhibit a fairly low level of empathy and that I am not someone who naturally delivers a lot of positive reinforcement. I can also be fairly direct, so my feedback can be harsh at times.
CRAIG: So how did empathy become a core value of IT Glue?
CHRIS: It really came from wanting to connect with our external and internal stakeholders. On the customer side, we needed to put ourselves in the mindset of a CEO who needs our services. What concerns do they have? What questions do we need to answer for them? That was crucial for us to be successful.
By being more empathetic, you become more strategic and anticipate your customers' challenges or questions rather than being reactive when something unexpected happens.
Internally, we wanted to do the same thing to build a great company. We needed leaders who know what our people are going through so we can be equally as strategic and responsive to their needs. What works for the customer also works for the business.
CRAIG: That's interesting to have it as a core value for IT Glue even though it is not one of your strengths.
CHRIS: Yes I guess it is. I recognized it was important for our organization as a whole. The rest of the management team really excels in this area and they help hold me in check.
CRAIG: It was also interesting you had fun as a core value.
CHRIS: We wanted to have that vibe because we have a product that is very serious. We wanted people to hear a smile when they are on the phone with someone. Our belief was if we're not having fun, then what are we doing?
CRAIG: Can you talk to me a little bit about leading with purpose?
CHRIS: Pretty much every presentation we do starts off with why does our company exist? We say it is to free minds, but we realized what does that even mean? So we thought about that a lot.
Externally, for our customers, they are purchasing software that can help them consolidate tribal knowledge or deal with other information management concerns. This is a real stress inducer for them. So if we can free their minds of that burden and they sleep better at night, that's a great mission that people can relate to and want to be a part of.
Likewise, on the internal side we want our people to feel the same way. So do we ask people to work 24 hours a day? Do we ask our sales team to put in 12 hour shifts? No. We don't believe that is going to free their minds. It is going to make them feel like a hostage.
CRAIG: Did that come from Simon Sinek and "Start with Why"?
CHRIS: Definitely. Sometimes your why is hard to find. It's probably why a lot of companies don't ever find their purpose. However, in my opinion, it's really important to figure this out to be successful.
We came up with these core values to reflect our why. They're very intuitive and it doesn't take much to remember them. Because of their simplicity, people were instantly attracted to them.
We write people off very early if they don't like or reflect our values. The same holds true on the customer side. For example, one of our core values is trust. If we feel we are unable to build a trusting relationship with one of our prospective or current customers, it is probably not going to work for either party so we might as well save ourselves the mental anguish and part ways before it becomes an issue.
CRAIG: So theses core values are not only a cornerstone for the business but also how you bring in talent?
CHRIS: Yes it is probably the biggest thing we use for us to get people who are aligned with us. We have found that having very intuitive and clear core values makes it very easy for applicants to self-select during the interview process.
CRAIG: You started a couple of companies. Is that something you always thought you would do?
CHRIS: I never really put much thought into it. I have heard that I am a "serial entrepreneur," but that term never really felt real to me. Now that I have done it a few times, I'm learning where my strengths lie.
My next step will be to transition from a CEO to investor. Having gone through the process of starting several companies, the most exciting thing I can think of is to find a young entrepreneur and give them some guidance and funding to help them grow their business. I am really looking forward to start that chapter of my life.
CRAIG: What makes that such an exciting venture for you?
CHRIS: I believe I can add a lot of value. I did things so much better the second and third time around and I would like to share those lessons. Things like putting the right systems in place, getting the right people on board, building a sales and marketing engine.
It is also how to know whether you have a viable product and then how to effectively promote it if you do. These things are really fun challenges for me.
CRAIG: What is one thing that most young CEOs overlook?
CHRIS: I remember telling one of my mentors I did not want to be in sales anymore and instead, wanted to focus on my business. He told me, "I hate to tell you this, but as the CEO, you ARE the number one sales guy and you should just embrace that as an important part of your title." That was a real eye opener for me.
CRAIG: Why do you think CEOs miss that?
IT: I think entrepreneurs start their business to fix a problem they see in the world or to fill a gap that they see in an industry. In other words, they are product focused. While this is of course critical, I think they often miss the absolute criticality of sales and marketing. They see their product fills a need but they don't focus enough attention on generating a market for it or converting that market into paying customers with urgency.
I think a reason a lot of people fail as entrepreneurs is because they did not realize how hard it would be to grow their customer base.
CRAIG: What are some of the most challenging parts about being CEO?
CHRIS: The people side of the business. Even though we have created great cultures, keeping it intact as you grow quickly is very challenging.
This also comes with having tough conversations, particularly in a startup environment, where people want to be promoted virtually overnight but lack the experience to succeed in the role they desire.
CRAIG: What advice do you have for fellow CEOs or executives around how to approach those conversations?
CHRIS: I'm still working on this and I feel I'll always be working on this in some way. However, I have to say it has never served me well to delay the inevitable. Even though you know something is bothering you and you probably should deal with it, but you wait until after the trip or after the holidays or whatever excuse. That's never worked out too well for me.
So, I think you have to consistently and rapidly handle issues and not let them fester. We are certainly not perfect and we have made some bad hires. However, even though it's hard to tell a new employee they are not going to make it past the probation period, you have to do it, especially if you have big goals for your business. You can't let your ego get in the way of doing the right thing.
Related
Popular in the Community