Artists are always trying to branch out into new forms, and now some Chinese artists are branching out into the trees.
As the name suggests, leaf carving consists of literally carving an image on to a tree leaf, specifically the leaf of the Chinar tree, a tree native to India, Pakistan and China that bears a close resemblance to the leaf on the maple tree.
This is a relatively new art form according to Dean Prator, a man in Los Angeles who sells customized carved leaves online. And that's amazing, considering art has been around since the dawn of humanity and trees have been around even longer.
"As far as I can tell, it goes back to 1994, when an artist name Huang Tai Shang created this and got in the Guinness Book of World Records," Prator told HuffPost Weird News.
However, its roots actually have their basis in ancient history according to Rob Sidner, the director of the Mingei International Museum in San Diego, which specializes in folk art.
Despite its apparent youth as a genre, Sidner says leaf carving fits in with other ancient Chinese art traditions.
"It is similar to Chinese paper cutting art, where people cut designs out of paper or other vegetable matter, and since these designs are similar, I imagine they're using the same traditions," Sidner said. "There is a tradition of people using things at hand out of a desire to create."
According to leaf carver Victor Liu, the owner of Longal Crafts, which makes and exports carved leaves and other products, it takes special tools to carefully remove the leaf surface without cutting or removing the veins.
"The veins add detail into the subject matter of the carving," he said on his website.
The process begins by picking the leaves. Liu says it's important to use mature, unbroken leaves that are picked in autumn and have no insect bites.
These leaves are dried in a shady spot for at least 10 months before being boiled for more than five hours to kill bacteria and small worms. The boiling also reduces fragility during the carving process.
Then, Prator adds, the carving begins, and the artist "shaves and almost peels the leaf in half."
Liu says after the carving work is finished, the leaves need to be dried carefully. This is a crucial step, but one difficult to control.
"Sixty percent of the leaves will be broken in this process," he said.
Prator, who outsources his orders to two different companies in China, sells customized leaf carvings for between $99 and $224 depending on complexity.
He doesn't know how many hours it takes an artist to do a leaf, but says he can fill an order in around 10 days.
So far, his most popular request is the Mona Lisa, followed by Jesus Christ.
Prator admits he could also sell a lot of Marilyn Monroe leaves as well, if there weren't those pesky licensing rights with her estate. Luckily, that isn't a problem with Christ.
But for everyone who wants Jesus on a leaf, there is someone who prefers something more personal, according to Prator.
"Sometimes, somebody wants a photo of their grandmother, but one guy did a painting of a boat sitting on a lake surrounded by trees and he wanted that picture duplicated on a leaf," he laughed.
Considering that most leaf carving seems to be done to order for customers and not for personal expression, it may be a while before the genre inspires major exhibitions or critical analysis.
Still, Sidner doesn't think that the lack of critical attention should deter people from enjoying them.
"Some of them might seem kitschy and sentimental, but it's also marvelous," he said.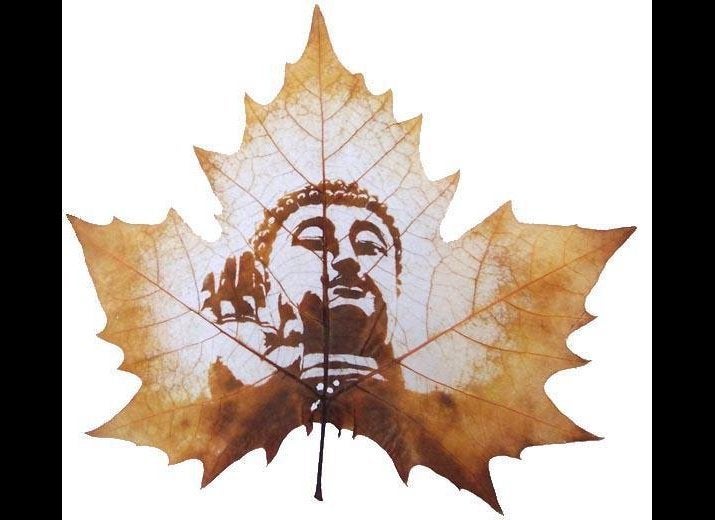 Delicate Leaf Carvings
Popular in the Community