Leah Crocetto met with me after the final dress rehearsal of Aïda now at San Francisco Opera through December 6. This marks her debut in the title role – an occasion that the opera world anticipated – maybe not this soon. Directed by Francesca Zambello and produced in conjunction with Minnesota Opera, Seattle Opera, and Washington National Opera – this is not your three or four times great ancestors' Aïda. It is a welcome sign of the times. Mammoth period spectacle is replaced by a simpler, refined aesthetic and punctuated with engaging imagery by graffiti artist, Retna.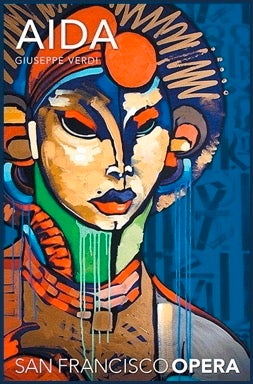 "I've seen Aïda tons of times," said Leah. "There is no elephant here, no crowd of thousands. The grandeur is there in subtle ways. You get a little bit of gold, but not what you'd expect. It's not placed in the future or the distant past. It is an intimate story. The artwork of Retna fits beautifully. If I had to give it a date, part of me wants to go with early '60s. I have all the hair, my costume is in jewel tones of purple and green. Francesca describes the production as very atmospheric. Dance plays a heavy role. There is an incredible corps of dancers – eight men and one woman. The triumphal scene is essentially like being in a parking lot, where you can see all the storylines going on. The interaction between the principals, the glancing between Amneris and Ramfis – Ramfis and Radamès – me and Radamès and Amonasro is very personal, more like a play within a play. It's fascinating. Francesca was able to pull out so many layers from us. It's really important to me as a singer to be in a show I believe."
Since the premiere of the composer's great work in Cairo on Christmas Eve 1871, the role of Aïda has been a touchstone, a defining point of arrival for sopranos whose individual gifts and career opportunities lead them to the Verdi repertoire. The double octave C-to-C range of her two arias – 'Ritorna vincitor' and 'O Patria mia' – contains every vocal dynamic and nuance that will occur throughout the entire stretch of the opera. Leontyne Price was thirty when she made her Company debut for two performances of the role in October 1957. Her final performance of it happened when she was nearing fifty-nine – a televised broadcast in 1985 from the Met. The role is a god-send, a life's work for a true Verdi soprano.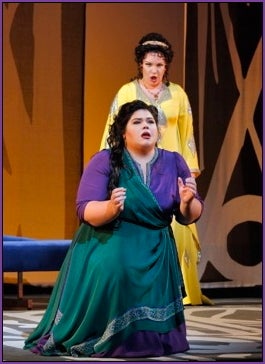 "My very first gig was about covering Barbara Frittoli in the Verdi Requiem with the Chicago Symphony and Riccardo Muti conducting. It was my second or third day as an Adler Fellow. They knew I had done the Requiem in Los Angeles. They called Sheri Greenawald [SFOpera Center Director] to ask if I could come to cover Barbara because she was ailing. I got on the first flight to Chicago. The guy who picked me up in Chicago said that I would have a one-on-one coaching with Riccardo Muti in thirty minutes. Maestro Muti could not have been more gracious and wonderful. We sang through the entire thing and then he said to me, 'You have the voice for Aïda. You will sing it in your thirties. But you must sing it like you would sing Mozart.' That has stuck with me ever since. I think it's funny that the role I was doing right before this was Donna Anna [Don Giovanni]. It's almost prophetic. As a vocalist who sings big repertoire, you've got to keep the light stuff in. I will always sing Rossini and Mozart. Nothing puts my voice in the right place like Donna Anna's, 'Non mi dir'. I warm-up with it before every performance. It's important to keep the repertoire mixed. Maestro Luisotti gave Brian Jagde [Radames] and me such a gift by working with us individually. I've never done an opera where the conductor decides he would like to coach you."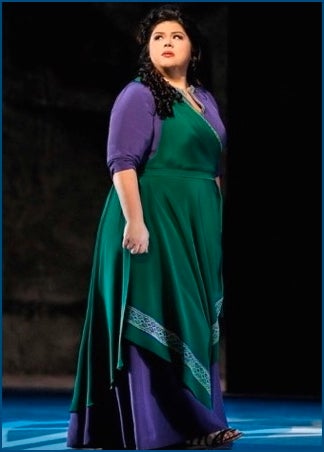 The temple scenes in this production are magnificent. With the haunting chant of the priestess (Toni Marie Palmertree) in the background, the ritual dances and ceremonial gestures create a spine-tingling atmosphere and a profound understanding of what used to be described as being "in fear" of the god. I asked Leah about this mystical aspect of the story and if there is that sense of the divine in either of Aïda's two arias.
"I would say yes, but 'O Patria mia' is literally Aïda's remembrance of her homeland – of the good days, of waking up and seeing the fresh valleys, feeling the breezes, where she would have had her morning coffee. She says, 'where I spent my mornings.' The aria is her good-bye to her homeland, that this is her ending. I think she knows from that moment that she won't be around much longer – whether it's death or something else. She hopes that the plan will work – that Radamès will leave Amneris, get through the barricades, and they will live happily ever after. I believe she's pretty sure that's not going to happen."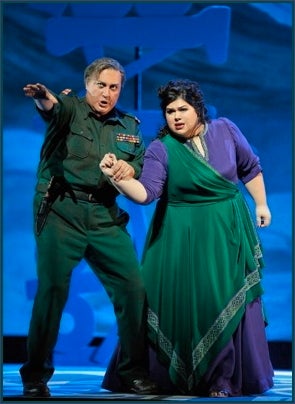 "Aïda's story is so real, her country is the most important thing to her. She realizes that by giving her life at the end she is somehow saving her country by dying in the embrace of someone she loves. That can be translated into a mystic thing. There is definitely someone else or something else she serves. Aïda is different from any other character I've played. She is a hero."
What are the essential differences between the two arias?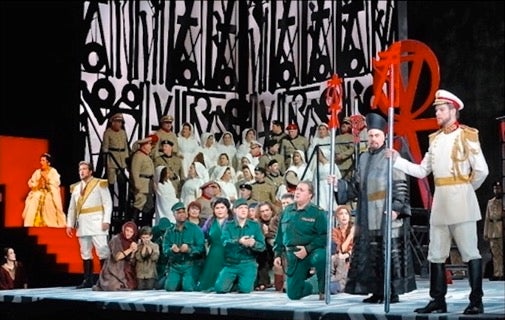 "Finesse. Through the entire role, you must be able to finesse your voice and caress the notes. 'Ritorna vincitor' is passion, heat, and desperation. You see the yin and yang of what she's going through. Vocally speaking, it just goes and goes until the very end – to the 'Numi, pietà' section. 'O Patria mia' is a recollection. It's very personal and definitely more controlled – not vocally, but emotionally. This is a hero singing about the land she is leaving. She is not saying these words in a romantic way, but in a heroic way – in a very feminine way. I find 'O Patria mia' to be one of the most feminine arias. I'm also proud of the High C at the end. I wouldn't say I sing it piano. I sing it very dolce, because it's actually not marked as piano in the score.
"High C is my favorite note. It's cleansing to me. Any kind of stress I may have goes into my High Cs. I also like to think of them as a gift to the people who are there to watch and listen. There's a very grand gesture that the singers of the Golden Age used to do. We call it 'the spray of sound' – where they would gift their entire voice to the entire audience by singing the High C and turning so that everybody could feel it the same way. That is our gift to the audience. And to ourselves as well. When you hear the audience take that next breath with you – you've done your job. For me, that's when the bliss comes."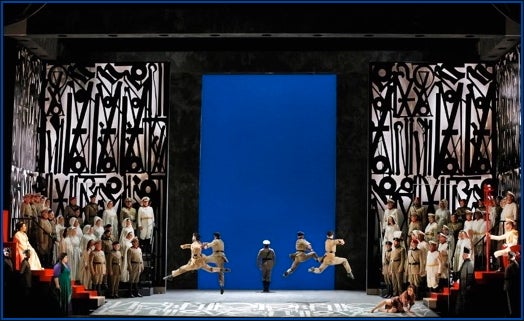 Calling all HuffPost superfans!
Sign up for membership to become a founding member and help shape HuffPost's next chapter
This post was published on the now-closed HuffPost Contributor platform. Contributors control their own work and posted freely to our site. If you need to flag this entry as abusive,
send us an email
.