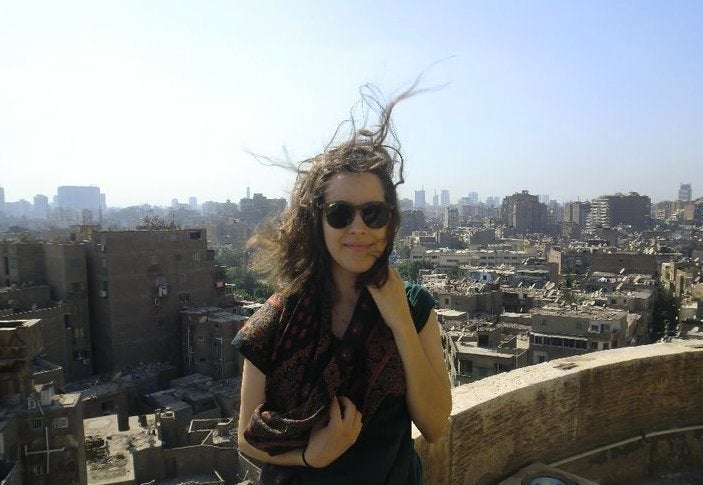 Before I went to Egypt last May, I had never been to the Middle East. I spoke not a word of Arabic. Like most everyone else, I'd been gripped by the revolution that swelled in Cairo's Tahrir Square for 18 days that winter. I packed my bag with sunscreen, 32 Clif Bars and a heap of what my friend called "don't-touch-my-butt" clothes. I wondered what I would be in for.
The Cairo I arrived in didn't resemble anything I had seen on CNN. It's a surprisingly lush city, full of gorgeous (though often decaying) structures, from 9th-century mosques to the beaux-arts buildings that line its chaotic downtown streets. In my first days there, I would get in a cab and give the driver a far-off destination just so I could see the city -- the ornate minarets dotting the skyline, the giant eucalyptus and rubber trees shading the streets, the waterskiers careening down the Nile. During the scant hours I spent as a tourist, I never once experienced the hostility or harassment I had been so vociferously warned about.
I was in Cairo on a generous scholarship from the Overseas Press Club Foundation, which sent me to work for the Associated Press bureau there. The AP office, situated in a modern office building overlooking the Nile, serves as the nerve center of the organization's Middle East and North Africa coverage, responsible for everything between Morocco and Iran. Pre-Arab Spring, it was a busy bureau. Today, it's a war room.
Like Cairo itself -- where it's not uncommon to see a family out, babies in tow, eating popcorn on a bridge at 2 a.m. -- the Cairo AP bureau rarely shuts down. The foreign correspondents there are a seasoned group, working in cycles. They'll spend a few weeks in Cairo, then go to Libya, to the West Bank, and so on. Bob Reid, the bureau chief, came to Cairo from a stint in Kabul; he was one of the first reporters to go there after the Soviet Invasion in 1979 (he's also been based in Manila, Vienna, and Iraq). Most if not all of the reporters and editors there had covered some kind of war.
I stuck to local events, spending the bulk of my time in Tahrir Square. It had been four months since a civilian revolution forced the resignation of 83-year-old Egyptian President Hosni Mubarak, who now stands trial for crimes against his people, and the square still held an expectant air each time I visited it. Protesters continued to gather there every day; some never left, working in the shadow of the charred National Democratic Party headquarters.
"Tahrir" means liberation in Arabic. Before the revolution, the square was an unremarkable piece of the city, renowned mostly for its nasty snarls of traffic and the Mogamma, a hulking bureaucratic building that borders its southern edge. But during the revolution, it was transfigured into the Speakers' Corner of the Middle East, a spot where the country's voices of dissent were finally heard worldwide. "Before, it was just a place," a protester named Ashraf Abdelati told me while I was there. "But now, it is a symbol of freedom."
That distinction has not come without moments of palpable darkness. Scores of protesters were subject to brutality in the square, some more visibly than others. Hours after Mubarak fell on Feb. 11, CBS journalist Lara Logan was the target of a sustained, vicious sexual attack. According to Egyptian Health Minister Ahmed Sameh Farid, at least 365 civilians died during the protests in January and February. Thousands more were injured.
I both experienced and witnessed such brutality while I was covering events in Tahrir this spring. Sexual assault — especially when it occurs in the midst of a chanting crowd in bright daylight — can be the kind of thing that happens so quickly you don't realize it's happening. You stop what you're doing and think: "Was that intentional? Did that stranger mean to grab that body part? That's never happened to me before. Yes, that was definitely intentional." Men you don't know try to hug you, hold your hand. They ask you if you have a boyfriend. When you lie and say yes, they ask, why can't you have another? And then you move on, because you're a foreigner and a journalist with a job to do in a place where women are often thought of in ways you have seen before but aren't used to personally.
Nothing I experienced was as cruel as what I witnessed, though. On Jun. 3, I went to Tahrir for the weekly Friday demonstration. While I was interviewing two young radicals, a mob of men began to metastasize next to us; above them they held a screaming woman whose clothes had been partially ripped from her body. The radicals told me to get out, so I did; when I returned 10 minutes later the mob had moved to a different corner of the square. It was eventually dispersed by police gunfire.
The woman was attacked, I was told, because the people she was interviewing found her questions about Egypt untoward. I left Tahrir shaken. I never learned her identity or heard a word about the assault again.
Violence in Egypt, and in Tahrir, continues as the so-called revolution rumbles on. There is violence between religious sects. There is violence between civilians and the military. And there is violence between men and women, which we don't hear as much about.
During my time in Cairo, I had a conversation with U.C. Berkeley professor Nezar AlSayyad, an Egyptian urban planning expert. He told me that the 18 days between Jan. 25, when the revolution began, and Feb. 11, when Mubarak stepped down, spurred a self-sustaining society in the Tahrir -- replete with food, bathrooms and medical services -- the likes of which he had never seen in Egypt before. This symbiotic community, he said, was key to the success of the revolution's early days, and any future political successes depend on it.
"If Egypt can capitalize on this spirit of organization that emerged spontaneously in Tahrir Square, it will be able to have a functioning democracy," he told me. "If it didn't fully appreciate that level of organization and the fact that it was borne out of the desire to make something work, it won't."
In many ways Cairo makes no sense. You turn on the tap and are amazed water comes out, because in a place with so much chaos, so much corruption, so much volatility -- how can anything possibly work? But it does, in some way.
Weeks after I landed in Cairo, I was bemused by a New York Times article about the city's crime wave. It said that since Mubarak's ouster -- after which Cairo was relieved of the police state it had been living under since 1981 -- the city had become as dangerous as New York. I rarely feared for my safety in Cairo, save for some tense moments in Tahrir. But I'm still scared for those who are susceptible, those whom we never hear about on CNN, those who are trying to make the impossible work.
Related
Popular in the Community