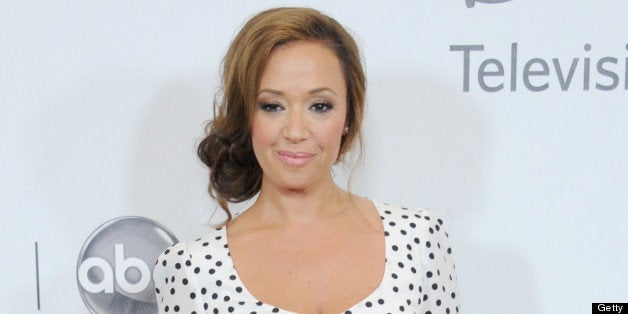 Leah Remini confirmed Thursday that she has left the Church of Scientology after facing years of interrogation and "thought modification" following a report from the New York Post about her exit.
"I wish to share my sincere and heartfelt appreciation for the overwhelming positive response I have received from the media, my colleagues, and from fans around the world," Remini said in a statement to Us Weekly Thursday after news of her "dramatic break" first surfaced. "I am truly grateful and thankful for all your support."
The New York Post reported Remini decided to leave Scientology after being probed for questioning Miscavige's management, the abuse of the church's members and the practice of excommunication.
"When you ask a question, like, 'Where is Shelly?,' you are immediately hauled in, interrogated and asked, 'Why are you asking, who are you connected to, are you going on the Internet?'" a source told the Post.
Remini began asking questions about Shelly when she failed to appear at Cruise and Holmes' wedding in 2006, according to former Village Voice writer and Scientology blogger Tony Ortega, who was the first to report on the actress's break last week. The former "Talk" host and "troublemaker" allegedly wrote up a "Knowledge Report" criticizing Miscavige and other senior members, which irked many.
"We're told that Miscavige and his minions made multiple attempts to convince Remini that she was out of line, but their heavy-handed efforts only convinced her that her questions were valid, and that the church had no right to tell her who she could talk to and what questions she could ask," he wrote.
The 43-year-old was a member of the Church of Scientology for some three decades and has defended the institution in the past. Her mother became a practicing Scientologist in the 1970s.
"Leah remains convinced of the value of L. Ron Hubbard's work, but will no longer tolerate the squirreling and human rights abuses perpetrated in the church," former Scientologist Mike Rinder wrote. "Nor will she allow anyone to tell her who she can and cannot talk to or associate with. As a result, the church has lost one of its most effective supporters – both in the public relations arena and their bank balances."
Ortega believes Shelly is being kept out of sight at a secret Scientology facility in the mountains near Lake Arrowhead.
Calling all HuffPost superfans!
Sign up for membership to become a founding member and help shape HuffPost's next chapter
BEFORE YOU GO
PHOTO GALLERY
Celebrity Scientologists