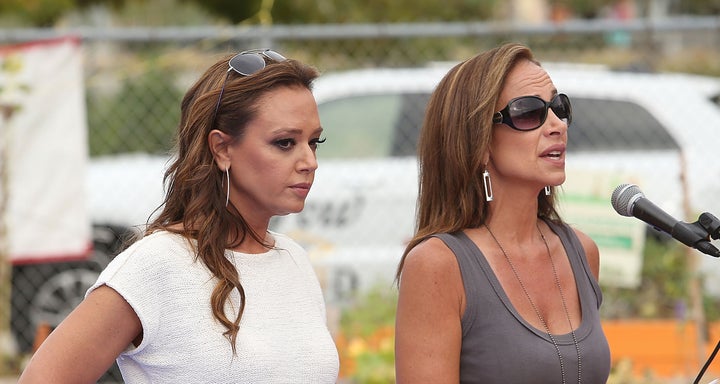 Leah Remini's older sister says that the Church of Scientology harassed her and her teenaged daughter after the former "King of Queens" actress left the church in 2013. 
In an interview with Radar Online, Nicole Remini-Wiskow claimed that, in the period after her sister's departure, Scientologists started calling her around the clock. 
"The church was calling me like crazy. When [Leah] was first declared a suppressive person they called me everyday," she said. "I would hang up and then they would call me right back."
At one point, she said, members of the church even called her daughter, who was 15 at the time. While the harassment initially stopped when she threatened to sue, Remini-Wiskow believes that attacks resumed in November, when Remini released her memoir, Troublemaker: Surviving Hollywood and Scientology. Remini-Wiscow said that all her social media accounts were hacked in quick succession; at one point, her Facebook profile picture was reportedly changed to a photo of male genitalia. Though Remini-Wiskow never positively identified the perpetrators, she believes it was the work of Scientologists. 
"That was the weirdest thing that ever happened to me," Remini-Wiskow said of the online attack. 
Like her sister,  Remini-Wiskow was raised as a Scientologist. Their parents joined the church when Remini-Wiskow was 8 and Remini was 6. As adolescents, they even signed on to the Sea Org, a mysterious wing of the religious group. But Remini-Wiskow left the church in 2000, more than a decade before her famous sister.
In Troublemaker, Remini credits her older sister with being a strong source of support for her in the difficult days after she decided to leave the church. But her support clearly cost her. 
The Huffington Post's request for comment from the Church of Scientology and Leah Remini were not immediately returned. 
PHOTO GALLERY
Celebrity Scientologists
Calling all HuffPost superfans!
Sign up for membership to become a founding member and help shape HuffPost's next chapter