Leah Remini is known just as much for her upbringing in Scientology as she is for co-starring alongside Kevin James in the aughts series "King of Queens." As the actress recently revealed, those two aspects of her life nearly collided.
Remini tells People that the Scientology organization encouraged her to bring James into the fold. 
"They always tried to get me to, [asking] 'Why is he not in? Why have you not promoted it to him?' I was like, 'Because he's Catholic. What don't you understand about that?'" the actress, who's joined James on screen once again on "Kevin Can Wait," said.
"'Yeah, but if you get him in, you gotta find out what's ruining his life' — I go, 'There's nothing ruining his life, he's very happy. I know that's very hard for everyone to understand here, but he doesn't want anything to do with you,'" the actress explains in the video above. 
"They let it go after a while, but usually you'd be expected to recruit, especially with somebody you work with for nine years," she adds.
The Church of Scientology has denied Remini's claims, saying in a statement, "We had nothing to do with Kevin James and never attempted to 'recruit' him to the Church."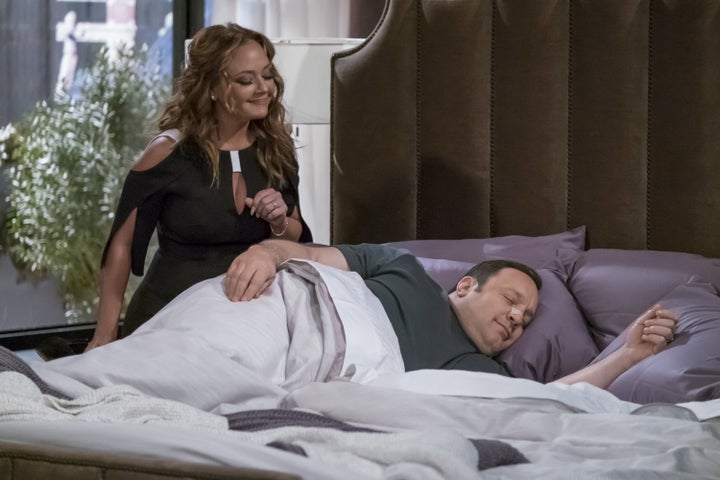 "You're asked to kind of live a different life outside in the real world, present yourself as a perfect person, befriend people like you who are in the arts ..." she said.
"There was an incentive to recruit," Meyers said in response. Remini explained that "you would make 10 percent of whatever you brought in."
The programs required to ascend the ranks of Scientology aren't cheap — Remini once said being in the organization cost her around $5 million — which means that a recruiter could stand to earn a lot.
Since she left the Church of Scientology in 2013, Remini has been an outspoken advocate against the group and what she deems its "abusive" practices, notably through her A+E docuseries "Scientology and the Aftermath," which is currently in its second season. On the show, Remini follows the stories of former Scientologists like herself who have experienced the fallout of being cut off from the organization.
This article has been updated to include a statement from the Church of Scientology.
REAL LIFE. REAL NEWS. REAL VOICES.
Help us tell more of the stories that matter from voices that too often remain unheard.
BEFORE YOU GO