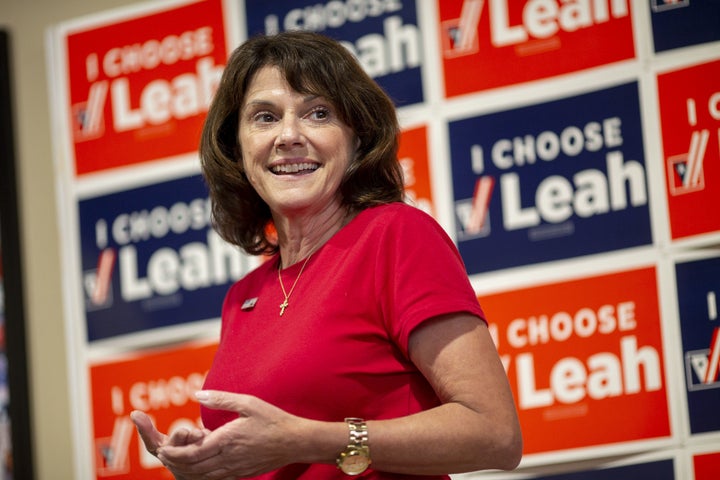 Hundreds of Republican state legislators are already members of the American Legislative Exchange Council, a Koch network-backed conservative nonprofit that has played a major role in pushing laws restricting voting rights, rolling back regulations, pushing 'Stand Your Ground' laws, privatizing prisons and sabotaging Obamacare over the past decade.
But one of the group's top leaders might soon reach a higher level: The U.S. Senate.
Wisconsin state Sen. Leah Vukmir, who is the GOP nominee to challenge Democratic Sen. Tammy Baldwin in November, isn't running from her ties to ALEC ― as the group is known for short ― on the campaign trail. Her ties to the group run too deep: She's been a member since 2004 and a board member since 2013. She also served as the group's national chairwoman in 2016 and won an award for "legislator of the year" in 2009.
A HuffPost review of Vukmir's legislative record since 2011 found she had introduced, co-sponsored or authored 24 different pieces of legislation that seem to draw directly from ALEC model policies. The bills allowed nursing homes to conceal records of neglect and abuse, barred labor requirements for public works projects, waded into wars over free speech on college campuses and required legislative approval to expand Medicaid under the Affordable Care Act.
And in return, Vukmir has collected about $40,000 worth of donations to her federal and state campaigns from ALEC or its corporate partners, including a $1,000 check from ALEC's CEO in 2017.
"I've been involved in a national organization called ALEC ― American Legislative Exchange Council. I embrace it even though the left likes to call it a big Koch brothers conspiracy organization," Vukmir said last year during a meeting with a group of College Republicans. At a meeting of the Kenosha County GOP a few months earlier, Vukmir described ALEC as "an organization that stands for everything I've ever campaigned on from day one when I campaigned to be a member of the State Assembly."
Baldwin, the most progressive of the 10 Democrats representing states won by President Donald Trump in 2016, has a steady lead in the contest, according to political prognosticators and public polling. The Democratic Senatorial Campaign Committee and the National Republican Senatorial Committee have not spent any money in the contest, although groups backed by the Koch network have continued to target Baldwin.
ALEC, which is funded by a slew of major corporations like Pfizer, FedEx and T-Mobile, is best-known for bringing together major companies and Republican state legislators to write "model policies" for state legislatures to adopt. (The group claims to be bipartisan, but its known leadership is almost entirely members of the GOP.) But Vukmir's ascendancy and her potential election would mark the latest display of how ties to ALEC can help GOP legislators advance their careers.
Baldwin's allies are planning to make Vukmir's ties to the nonprofit a central part of their fall campaign, and her campaign has already released two television ads on Vukmir's ties to the group.
"Wisconsin's U.S. Senate race is about who will put Wisconsin first, and Leah Vukmir has spent her past 16 years in Madison working for her corporate special interest backers and legislating ALEC's agenda at the expense of Wisconsin families," said Brad Bainum, a spokesman for the Wisconsin Democratic Party. "It's clear that Leah Vukmir is not on Wisconsin's side."
Vukmir's campaign responded by noting Baldwin has also taken donations from executives and companies with ties to ALEC.
"Sen. Baldwin has taken over $20,000 this election cycle from companies or employees with ties to ALEC," said Jess Ward, Vukmir's campaign manager. "This is what Wisconsinites hate about swampy Washington politicians like Sen. Baldwin."
While ALEC has existed since the 1970s, liberal skepticism of the group peaked during the Obama era, as Republicans locked out of power on the federal level turned to the states. Democrats and progressives have blamed ALEC for things like the spread of laws cracking down on illegal immigration and strict voter identification requirements. Republicans including former EPA Administrator Scott Pruit, Arizona Reps. Debbie Lesko and Andy Biggs and Georgia Rep. Doug Collins were members of the group while serving in state legislatures.
Popular in the Community