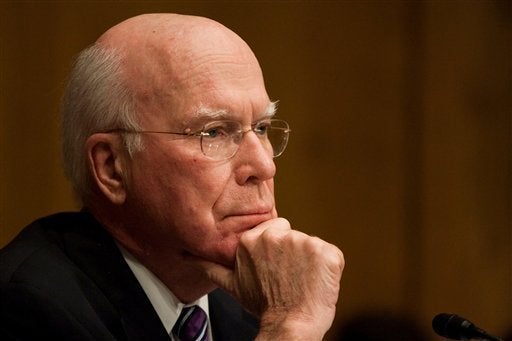 On Monday, Sen. Orrin Hatch (R-Utah), rejected calls for the impeachment of federal judge and torture memo author Jay Bybee, saying that he was "one of the most honorable people you'll ever meet."
If that's the case, Sen. Patrick Leahy (D-Vt.), told reporters Tuesday, then Bybee should resign.
"The fact is, the Bush administration and Mr. Bybee did not tell the truth. If the Bush administration and Mr. Bybee had told the truth, he never would have been confirmed," said Leahy, chairman of the Senate Judiciary Committee.
"The decent and honorable thing for him to do would be to resign. And if he is a decent and honorable person, he will resign," he said deliberately.
A reporter followed up, asking what Congress should do if Bybee refused to step down. Leahy smiled and walked toward the Senate chamber, declining to comment further.
Bybee is among a team of Bush administration lawyers that drafted legal documents justifying waterboarding, stuffing detainees in small boxes with insects and other forms of torture.
Popular in the Community