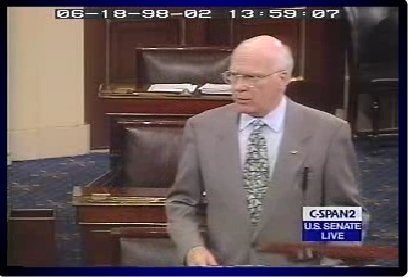 The conservative effort to keep Sonia Sotomayor off the U.S. Supreme Court is more than a decade old.
Sen. Patrick Leahy, the top Democrat on the Judiciary Committee, ripped Senate Republicans for blocking Sonia Sotomayor's nomination back in 1998, when President Bill Clinton promoted her to the U.S. Court of Appeals for the Second Circuit.
"Judge Sonia Sotomayor is just such a qualified nominee, and she is one being held up by the Republican majority, apparently because some on the other side of the aisle believe she might one day be considered by President Clinton for nomination to the United States Supreme Court, should a vacancy arise," said Leahy.
Vermont's Leahy called for an up or down vote on Sotomayor, who had been originally nominated to the federal bench by President George H.W. Bush. Leahy, in his floor speech, also references a Wall Street Journal editorial discussing the strategy to keep Sotomayor off the Supreme Court.
"Last week, a lead editorial in the Wall Street Journal discussed this secret basis for the Republican hold against this fine judge. The Journal reveals that these delays are intended to ensure that Sonia Sotomayor not be nominated to the Supreme Court, although it is hard to figure out just how that is logical or sensible," he said. "In fact, how disturbing, how petty, and how shameful: Trying to disqualify an outstanding Hispanic woman judge by an anonymous hold."
Leahy had even stronger words for the New York Times about his GOP colleagues. ''What they are saying is that they have a brilliant judge who also happens to be a woman and Hispanic, and they haven't the guts to stand up and argue publicly against her on the floor,'' Leahy said. ''They just want to hide in their cloakrooms and do her in quietly.''
The clip was unearthed by the C-SPAN Video Library. WATCH: