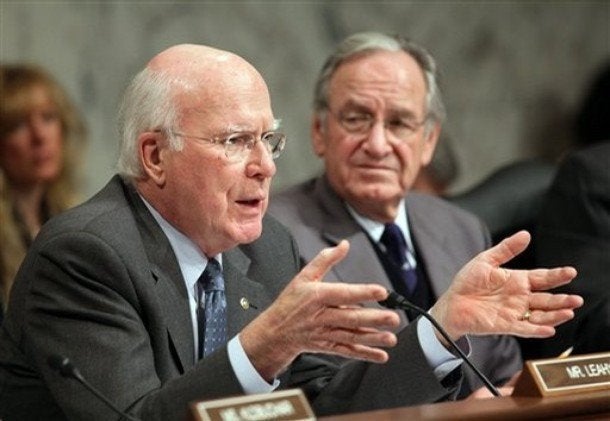 Senate Judiciary Chairman Patrick Leahy took to the Senate floor on Wednesday to discuss the possible outlines of a truth and reconciliation commission to investigate the misdeeds of the Bush administration.
Stating that he is in discussion with members of Congress, outside groups, and even the White House, Leahy boiled down his argument to one very rudimentary question: "How can we restore our moral leadership and ensure transparent government if we ignore what has happened?"
"I share that desire to move forward, and to reestablish ourselves as a Nation dedicated to the rule of law, respected and trusted throughout the world," he said, according to prepared remarks. "We also know that the past can be prologue unless we set things right."
Later, he announced that he would hold a hearing to explore how to best establish a commission, one that would not be "comprised of partisans, intent on advancing partisan conclusions."
"We need an independent inquiry that is beyond reproach and outside of partisan politics to pursue and find the truth," he said. "Such a commission would focus primarily on the subjects of national security and executive power in the government's counterterrorism effort."
The Senator's remarks on the floor represent the next step in a politically tricky process to put a truth and reconciliation committee in place. Leahy first announced the idea of such a committee several weeks ago during a speech at Georgetown. Up to this point, the Obama administration has refused to take a stance on his proposal, though the president's chief counsel, Greg Craig, has been in discussion with the Vermont senator.
Leahy does have other allies in the endeavor, most notably his fellow Judiciary Committee member, Sen. Sheldon Whitehouse. The Rhode Island Democrat recently told Salon.com that he is "convinced" that a commission to investigate the Bush administration's authorization of torture is "going to happen."
Outside government, support appears easier to come by. Last week, a group or prominent law enforcement, political and legal officials penned a letter to the president urging him to set up an investigative commission to uncover the successes, malfeasance, and potential illegalities of Bush's counterterrorism policies. The list of signatories included Thomas Pickering, former Under Secretary of State for Political Affairs; Judge William Sessions, former Director of the Federal Bureau of Investigation; and Major General Antonio M. Taguba, USA (Ret.), who led the investigation into the abuses of prisoners at Abu Ghraib.
Another person on that list, Fritz Schwarz, author of "Unchecked and Unbalanced: Presidential Power in a Time of Terror" and an official at the Brennan Center for Justice, told the Huffington Post that President Obama is subjecting the country to national security risks if he does not ensure that such an investigation is undertaken.
"First and most importantly by learning the facts we are less likely to make the same mistakes, assuming we made mistakes," said Schwarz. "The policies that we followed [during the Bush years] have made us lest safe. And if that is true it is absolutely vital to convince the American public that protecting our values includes understanding what went wrong."
"I think there is a national security imperative [to this]," he added. "It is dangerous not to look back, because if we don't look back, we are certain the next time there is a terrorist event in America, which there will be, God willing not as bad as 9/11, we are likely to repeat the same mistakes."
UPDATE: Leahy's office sends over the following advisory, giving the date and time at which hearings to set up a commission will be held.
Senate Judiciary Committee Chairman Patrick Leahy (D-Vt.) announced Wednesday that the Committee will hold a hearing to explore ideas on how best to establish a commission to examine past national security policies. Leahy first discussed a non-partisan commission of inquiry in a speech at Georgetown University on Feb. 9.

In a statement delivered on the Senate Floor Wednesday, Leahy announced a hearing entitled "Getting to the Truth Through a Nonpartisan Commission of Inquiry." The hearing will be held Wednesday, March 4, at 10:00 a.m., and will be webcast live online.
Popular in the Community