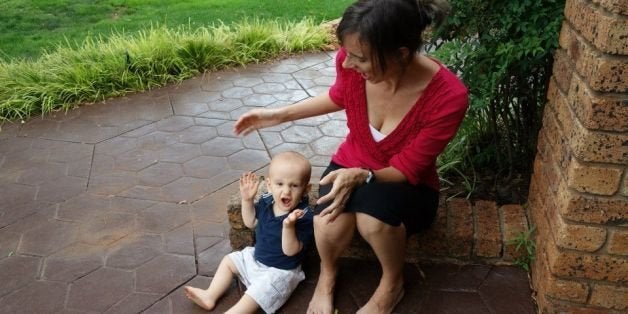 I'm apprehensive about writing this. I'm loathe to add to the growing pile of neo-neo-paleo-feminist commentary of mothers leaning in to their careers or opting out of their careers or doing headstands for their careers. We're running out of prepositions. And I'm getting dizzy.
But I can't help weighing in a bit since I'm on the cusp of possibly going back to work after a year and a half home with my newest baby, and all of this is heavily on my mind. A few things strike me about the whole debate.
First, all of this opting and leaning implies a lot of choice. Choice many modern mothers don't have. Pregnant with my first, I sat in the radiologist's office and stared wistfully at the wiggly bean on the screen. And then at my husband -- just starting his graduate program. I had a lot of questions, nerves, anxiety, but there was no question that I wouldn't work. We had to get him through grad school.
Other mothers don't have partners. They work. They probably don't wax philosophical about it, they're probably consumed with the spinning plates of daycare, groceries, rent, pleasing bosses and squeezing in quality time with their kids. Some mothers could work, but in jobs that would barely cover child care costs, so they stay home. Maybe they wish it were different, maybe they don't. But there might be little they can do to change things.
But for those of us who do currently have choice, this dilemma -- the one that spurred all the buzzword-led media frenzy -- is real.
The problem is, many of us are taught we can have it all. Work full-time, part-time, stay at home, work at home, freelance, become a momtrepreneur. The choice and the world is yours. It's the quintessentially American middle-class meritocratic ethos accelerated by the gains of feminism. We have choice, we have freedom, we are women hear us... um... perseverate about every big parenting decision we henceforth make.
This is the paradox of choice. Too many options can sometimes just be simply disorienting. You're left wracked with insecurity, guilt, paranoia and fear of judgment. Maybe some moms are able to make a choice and not look back, but I'm guessing most of us either look at our children after a long day at work and wonder what we missed and if it was worth it, or look at our children as they tether us to their play and daydream about the women we could be with some more independence.
With all this choice has NOT come any real guidance. No playbook or manifesto or even philosophy, only hollow catch phrases telling us to just "lean in" and a rewarding career awaits or "opt out" with the implication that choosing to stay at home is a bold feminist reclamation of motherhood, but nothing of the heart-wrenching trade-offs or how to achieve a balanced life in modern motherhood.
I've given the whole matter a lot of thought. I don't think I have any firm answers, but here's what I want to guide me:
Strive for balance and not perfection. Know that everyone's balance is different and find the work/home/children/partner/health/spirituality/creativity balance that lets you be most true to yourself. Don't look at your neighbor and wonder. Know that your children will remember the time you spend with them, not without them, and make that time together count. Don't let momentary sadness cause you to regret your big decisions -- remember you can't avoid the trade-offs. Remember that children grow up healthy and happy in a broad array of imperfect circumstances as long as they feel loved. Love yourself and let them know they are loved.
This post is part of a series produced by The Huffington Post in conjunction with our women's conference, "The Third Metric: Redefining Success Beyond Money & Power," which took place in New York on June 6, 2013. To read all of the posts in the series and learn more about the conference, click here. Join the conversation on Twitter #ThirdMetric.
Related