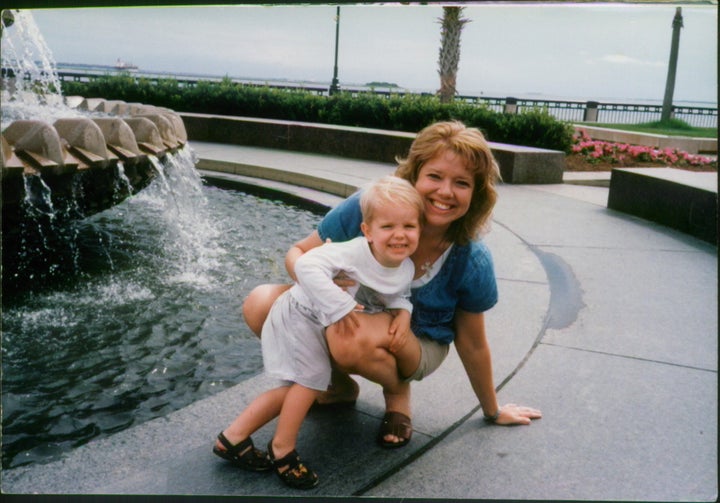 Wednesday Facebook COO Sheryl Sandberg launched the new social network LeanIn.org devoted to helping women encourage each other to "lean in" to their careers. This week and going forward, HuffPost Women will be featuring posts from women reflecting on the moments in their careers when they "leaned in" -- pursued their ambitions despite their fears -- or "leaned back" -- focused more on other aspects of their lives so that they could lean in with more energy later on.
At the age of 34, I was the consumer affairs reporter at The Atlanta Journal-Constitution. I was happily married with an 18-month-old son. And my best friend and mother was dying.

She was in the hospital in Dallas, Texas, in a coma, suffering from septic shock that had resulted from a severe infection.

My life was unraveling and I didn't know which way to turn.

Bizarrely, right when my father and I were making the heart-wrenching decision of whether to remove life support, I was offered the job of my dreams -- the position of foreign correspondent, based in Miami, covering the Caribbean and Latin America for the Cox Newspaper chain.

Ever since I had watched journalist Sydney Schanberg in The Killing Fields in 1984, I had wanted to work overseas, a dream that only grew more intense when my husband and I moved to Central America in 1990, where we married and worked as struggling freelancers for two years.

But how could I take my fantasy job with a toddler in tow and my mother withering away in the hospital in another city?

I couldn't -- not initially, anyway.

But then my husband had the wherewithal to look beyond the sadness that was burying me alive. And then he talked -- or pretty much forced -- me into it. When I told him I planned to turn it down, the man who isn't often serious grabbed my hands, looked me square in the eyes, and said I had to do it. "Your mother would have wanted it... you know that," he said.

My mother died on the 10th of September and I was sent to Haiti the next week on my first assignment, sobbing on the plane for both my mother and my little boy.

Over the next three years, I traveled to just about every country south of the border, from Cuba to Brazil. I gave birth to a second child -- another boy -- and felt my heart break every time I left my kids for the airport.

Finally, I had to give it up. It was just too hard to leave my sons. But am I glad I plunged into my career at a time when I had just lost my mother and had a young child at home? You bet. It was the best thing I could have possibly done. My husband was right. I wrote about the poor people in places like Haiti and felt less and less sorry for myself every time I did.

You can't predict when opportunities will come along. Sometimes, you just have to trust that it's the right thing to do and go for it. And what I learned, now that my boys are teenagers and I have a 12-year-old daughter to boot, is that it's often much more important to have a parent in the house when the kids are older than when they are toddlers. Today, my husband works out of the house so he can be there when the kids get home from school -- and I'm working full-time in an office.

But our lives would never have unfolded in the way they have if I had allowed myself to be caught up in the moment and to bypass the chance to throw myself into my career.
Have a "Lean In" or "Lean Back" story of your own? Please email it it in 500 words or fewer, along with a headshot, bio and personal photo to women@huffingtonpost.com.
PHOTO GALLERY
11 Quotes From Sheryl Sandberg's "Lean In"
REAL LIFE. REAL NEWS. REAL VOICES.
Help us tell more of the stories that matter from voices that too often remain unheard.